Fashion store fundraisers help disabled 8 year old get specialist help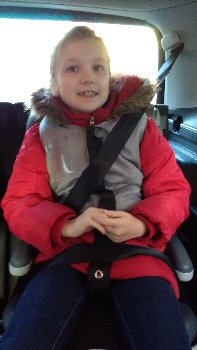 FABULOUS fundraisers at the River Island fashion store in Chapel Street, Southport, have helped a local disabled girl get the specialist equipment she needs to keep her safe.

A specialist travel harness is now making a world of difference to car journeys for the family of 8 year old Lucy Taylor, from Walton.

Lucy has Autistic Spectrum Disorder and learning disabilities; and no awareness of danger. She has a booster seat for journeys, but she could undo her safety harness and bounce around the car.

Dad Colin Taylor said:- "Whenever we were driving we would find her arms around our shoulders so an adult would always have to sit in the back of the car with her. On one occasion we were driving down the Motorway to Blackpool, to see the lights when she got out of her seat and the other people in the car couldn't persuade her to get back in. There was merry hell going on behind me and I just couldn't risk that happening again. Lucy's support worker told us about specialist secure harnesses, and we were advised to contact Newlife the Charity for Disabled Children for help with funding."

Newlife is the UK's largest charity provider of specialist equipment for children with disabilities and terminal illness; and with funding support from the Chapel Street River Island store it delivered the £545 harness just in time for the recent school holidays.

Colin added:- "It's been a huge help. Lucy is happy wearing the harness and, because she can't get out of it, everyone's safety is improved. It's even possible now for 1 person to take her out in the car on their own."

River Island's Chapel Street store manager Natalie Dyer said:- "The staff really got behind the fundraising activities for Newlife; it shows the camaraderie and work ethic at the store. We organised cake sales and staff donated a prize for a 'guess the number of sweets in the jar' competition for customers; we also dressed up and had a bucket collection. It was really lovely and it has been a real pleasure raising the funds for Newlife, a charity which River Island has been associated with for many years. And it's a real boost to the staff to know how their efforts are directly benefitting a local disabled child."

Newlife provided the harness through its Equipment Grants service. The charity also works with families to offer Emergency Equipment Loans, often within 72 hours of an application being made, a Play Therapy Pod service for those with complex needs and Comfort Capsules so families of terminally ill children can make memories together.

Newlife has supported 608 disabled and terminally ill children across Merseyside, with equipment totalling £556,885. If you would like to find out more about how the charity helps local families to go online.

Newlife guarantees that 100% of monies donated or fundraised in Merseyside will be used to specifically help local children with disabilities and terminal illness.
Incident in Vincent Road, in Litherland
MERSEYSIDE Police, on Tuesday, 24 January 2017, were called to a house in Vincent Road, in Litherland, at 2.30pm, following reports that a woman in her 40's had suffered stab wounds. We are told that the woman was then been taken to hospital where her condition was described as "serious, but stable." As a result of enquiries, Officers then attended a 2nd house, also on Vincent Road. Upon entry to the property, Officers are said to have found the body of a male, who is believed to have been in his 40's. We are told that his death is not being treated as suspicious. At this stage both incidents are thought to be linked and nobody else is being sought in connection with the incident at this time.

Brake welcomes Police crackdown on drivers using mobiles
A Police campaign to catch drivers who break the law by using mobiles behind the wheel has been welcomed by road safety charity, Brake.

The clampdown comes ahead of plans, announced in 2016, by the UK's Department of Transport, to double the punishment for using a mobile phone while driving.

The charity says the use of mobiles is a growing menace, especially as devices become more sophisticated. A recent survey by Brake and Direct Line revealed around ½ of drivers aged between 25 and 34 are taking huge risks by:- texting, using apps or going online on their mobiles when they are behind the wheel.

55% of 25 to 34 year old drivers questioned admitted they had sent or read a text message on their mobile, while behind the wheel of their car, in 2016.

Despite it being illegal to use a hand held mobile phone at all while driving, 42% revealed they send or read messages, at least once a week.

1 in 5 young drivers (18 to 24) confirmed they regularly text and/or instant message when they are behind the wheel.

49% of drivers aged 25 to 34 admitted they sometimes go online or use apps (other than Sat-Nav apps) while driving. Almost a ⅓ of drivers in that age group said they do that several times a week at least.

Driving is a highly unpredictable and risky activity, so it requires full concentration at all times. Drivers who divide their attention between their phone and the road are significantly increasing their risk of causing a devastating crash.

Reading and writing messages; whether texting, emailing or using apps or social networks; while driving is even more distracting than talking on a phone, as it takes your mind, hands and eyes off the road. Texting drivers' reaction times are 35% slower and they also have poor lane control. 1 large scale study found texting drivers were 23 times more likely to crash than a driver paying full attention.

Reaching for a mobile phone can be an irresistible temptation for some, despite knowledge of the risks. In the UK, experts have warned of increasing levels of smartphone addiction, by users who are unable to go without checking their phone for short periods or through the night.

A study of in vehicle video footage estimated that 22% of crashes could be caused, at least in part, by driver distraction. It also showed that drivers who perform a secondary task at the wheel are 2 to 3 times more likely to crash.

Many drivers allow themselves to be distracted because they believe they are in control, and do not believe distraction poses a significant risk. However, research shows drivers are not able to correctly estimate how distracted they are and 98% are not able to divide their attention without a significant deterioration in driving performance.

Gary Rae, campaigns director for Brake, said:- "We welcome this crackdown by Police forces. The law needs to be much tougher with this type of offence, which appears to be growing in numbers. Younger drivers, especially those aged between 25 and 34, simply aren't getting the message about the dangers of using a mobile phone while driving. Doing any other complex task while driving hugely increases your chance of crashing. These drivers are putting their own and other people's lives in grave danger by taking this risk. If a phone has to be used as a Sat-Nav, it must be programmed before setting off on the journey and properly secured. There is no other acceptable way to use a phone while driving."
A statement by Chief Constable Andy Cooke following the death of Merseyside Police, PC Paul Briggs
MERSEYSIDE Police have confirmed that PC Paul Briggs sadly passed away on Saturday, 21 January 2017. Chief Constable Andy Cooke, said:- "On behalf of PC Briggs' colleagues and friends at Merseyside Police I want to let his family know that we are all thinking of them at this tragic time. I have met with Paul's wife Lindsey and the last 16 months have been devastating for her and Paul's family, but they bravely. fought for the Paul's right to die. Paul was a young man and his death is a tragedy, but I know that Lindsey, his daughter Ella, and his family, will find some comfort in knowing that Paul is now at peace and his wishes have been honoured. Paul joined Merseyside Police in 2004, following in his father's footsteps by choosing a career in policing after leaving the Army. He was 1st posting was in Wallasey between 2004 and 2007. From there Paul joined the Roads Policing Unit in 2007, where he quickly became a valued member of the team. Paul dedicated his career to protecting the public and the force is flying the flag at half mast in his honour. Our thoughts and condolences are with Lindsey, Ella, his family, friends and colleagues."