National Education Award given to Southport's Monira Ahmed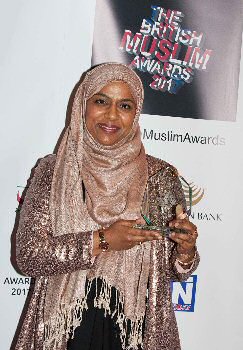 A University of Central Lancashire (UCLan) careers adviser has won a 'British Muslim Award' for her service to education. Monira Ahmed beat off stiff competition from research professors and high profile academics from across the United Kingdom to claim the prestigious prize.

The part time careers and graduate employability adviser, from Southport, Merseyside, attended the ceremony in Leicester on Wednesday, night, said:- "I was so honoured and very proud to have made the shortlist of 10 alongside some very high profile academics so I didn't think I'd have a chance of winning it. Being a finalist was such an amazing achievement so to be named the winner was wonderful. The announcer didn't read the winning name straightaway but started talking about the person's career. As soon as they mentioned careers adviser I knew it was me so I turned to my dad and said 'I've won, that's me they're talking about.' It was an absolutely wonderful feeling and then my main concern was then walking to the stage in killer heels and a long dress!"

The 39 year old, from worked in higher education for nearly 20 years and has spent the past 5 years at UCLan's Campus in Preston.

Monira, who also writes a careers blog, said:- "When I was a student at university I was listening to a talk about the challenges which British Muslims face in education and employment. That talk was the catalyst and it paved the way for my future because I knew from that moment on I wanted to help people, particularly from disadvantaged backgrounds, with their ambitions and goals."

The Services to Education Award 2017, which was sponsored by Qatar Charity UK, is not the 1st award for Monira. In 2016 she scooped the national Careers Champion award as well!
Free online skills session being held in Southport for people with sight loss
A free online basic skills session is being held in Southport, on 8 February 2017, to help blind and partially sighted people get online and take their 1st steps in using technology.

Sight loss charity RNIB (Royal National Institute of Blind People) has been holding workshops across the UK to support people living with sensory loss in getting online as part of its ambitious Online Today project.

Partner organisation Action for Blind People will be holding the workshop, at Galloways Society for the Blind, 22 Wright Street, Southport, PR9 0TL. The session will take place, on Wednesday, 8 February 2017, between 2.30pm and 4.30pm.

The session will be hands on, including interactive demonstrations of how to get the most from products such as tablets, smartphones and eReaders.

Supported by the Big Lottery Fund, RNIB's Online Today project aims to help 125,000 people living with sensory loss to get online, enabling them to use the internet for everyday tasks such as shopping, banking and staying in touch with friends and family.

Andrew Coleman, Assistive Technology Coordinator at Action for Blind People, said:- "Access to the internet and technology can open up a whole new world for people, but knowing where to start isn't always easy if you've got sight or hearing problems. Our Online Today sessions are the perfect introduction, providing the basic skills and confidence to get online and explore all that is on offer. If you're living with sight loss and are keen to take your 1st steps in using technology, sign up for the session, on 8 February 2017, and find out the difference getting online could make to you."

To find out more and to book your place at the Southport session, please call Galloways Society for the Blind on:- 01704 534 555. You can also learn more about Online Today, by visiting:- RNIB.Org.UK/OnLineToday.

Liverpool Teacher awarded for Outstanding Achievements
A local teacher for her outstanding contributions to Ormiston Chadwick Academy in Widnes last term has been recognised by Hays Education, the leading recruiting experts for her:- "Outstanding achievements in Teaching." Anita Stephens was awarded the 'Outstanding Teacher of the Term' award in recognition of her work as a hugely dedicated teacher. During her time at Ormiston Chadwick Academy, Anita built up excellent relationships with staff and students delivering insightful lessons across the Business Studies department. Upon receiving the award, Anita said:- "I'm delighted with the award and the Academy is a fantastic place to teach."

Kathryn Evans, Deputy Head teacher at Ormiston Chadwick Academy, said:- "Anita has been an outstanding teacher and has made a real difference to the School. She has gone above and beyond the call of duty and has contributed immensely to the department."

Graeme Lovelady, Business Director at Hays Education said:- "We are pleased to be able to recognise the vital role that our excellent supply teachers play in schools across Halton. Teachers like Anita show how much of an impact supply teachers can have on a school and its pupils, we extend our congratulations to Anita on her award."

Hays Education has been running the awards for several years, recognising the continued hard work and dedication of temp teachers. For further information on local recruitment opportunities please visit:- Hays.Co.UK.
Ryanair new Milan Malpensa route has been launch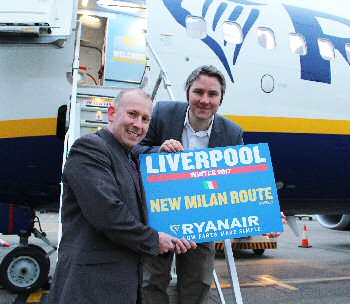 LIVERPOOL John Lennon Airport (LJLA) is celebrating its 1st new route announcement, that Ryanair will be adding flights from Liverpool to Milan Malpensa, at the start of their Winter 2017/18 flying programme. Flights are due to commence in October 2017 and will operate 3 times weekly as part of Ryanair's Winter 2017/18 schedule which will go on sale soon.
Paul Winfield, LJLA's Director of Air Service Development commented:- "It's great to be able to celebrate our 1st new route announcement of the year so early into 2017 and for another airport in Italy! We expect this flight to Milan Malpensa to prove popular with the region's travellers looking to travel to this part of Italy and also look forward to welcoming visitors to the Liverpool City Region from Italy on this service too."

Ryanair's Robin Kiely said:- "Ryanair is pleased to announce a new route from Liverpool to Milan Malpensa, with a 3 times, weekly service, starting in October, as part of our Liverpool winter 2017 service, which will be launched soon. Liverpool customers and visitors can look forward to even lower fares when they make advance bookings for their summer or winter holidays, so there's never been a better time to book low fare flight to or from Liverpool."
Tower Road closed this weekend for emergency bridge repairs
EMERGENCY repair works to the 'A' Bridge on the A554 Tower Road between Birkenhead and Wallasey means the route will be closed to traffic. The road will be closed between the 12 Quays Ferry Terminal and the Dock Road/Birkenhead Road Junction, on the Wallasey side of the bridge, from 8am, Saturday, 28 January 2017. It will reopen from around 6pm, on 29 Sunday 2017. The usual diversion route; via Rendel Street, Cleveland Street, Duke Street, Dock Road and vice versa; will be in place and will be clearly signed using temporary traffic signs and the electronic variable messaging system. Pedestrian access will be maintained across the bridge at all times while the works take place, as will access to the Ferry Terminal, from the Birkenhead side of Tower Road. The work is to repair the nosing plate, which links the bridge deck to the quayside. If allowed to deteriorate further, it could completely fail in the near future which would result in a much larger repair and a longer period of closure. The decision to carry this work out this weekend is to minimise the disruption to those travelling to and from work or education, particularly given the works that are already taking place on the local rail network. The Council has recently confirmed that work will start in March to replace the 'A' Bridge and the 'C' Bridge permanently to address long standing maintenance issues with these outdated structures.