North West Ambulance Service set to save millions with RRVs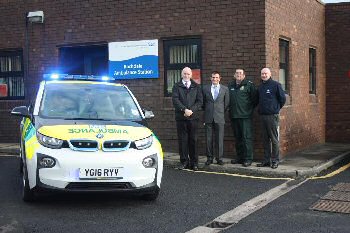 WHEN you hear of electric vehicles you probably think of milk floats, but would have thought rapid response vehicles? Well if you did, you are spot on... The North West Ambulance Service NHS Trust (NWAS) are now all set to become more environmentally friendly as they plan to introduce electrically powered rapid response vehicles (RRVs) into their fleet. NWAS will be 1 of the 1st Ambulance Services in the Country to introduce electric cars as part of their standard fleet and it is expected that it could save the Trust up to ₤2.5 million in fuel costs, over the 4 year lease period. RRVs are motorcars that have been converted into emergency response vehicles. They are designed to be able to attend emergencies quicker than regular ambulances because they are smaller and can get through traffic more easily. Although they don't generally carry patients to Hospital, they are staffed by a Paramedic who is able to administer life saving treatment at the scene of an emergency.

Neil Maher, Assistant Director Service Delivery Support for North West Ambulance Service said:- "The Trust relies heavily on rapid response vehicles to be able to attend patients as quickly as possible. The introduction of these electrically powered cars will not only provide huge cost savings for the Trust, it will also have a huge impact on our carbon footprint, reducing the carbon contribution from our RRVs from 1379.28 tonnes to 100.8 tonnes, a reduction of 73%."

Maintenance and lease costs are also reduced with the introduction of the new RRV model, with an overall expected annual saving of over ₤4,300 per vehicle. NWAS currently has 174 rapid response vehicles throughout the North West and will initially be introducing four electrically powered vehicles as a trial. The Trust will look to replace all RRVs with the new electric models gradually in the coming years once the life span of the current vehicles comes to an end.

The 4 vehicles, initially being trialled in Bury and Rochdale, will be an updated version of the BMW i3 model which has won various awards including UK Car of the Year and Green Car of the Year. The BMW i3 REx AC model, which is already being used in Police and Fire Services within the UK, is equipped with a system that can support the vehicle by extending the mileage range using a small petrol engine that can generate electricity for the battery. This will only be used in extreme circumstances, but will provide additional reliability for NWAS.

Neil continues: Neil continues:- "Although electric cars have been around for some time, improvements in technology from BMW have allowed the Trust to be confident enough to use them for emergency response units. The vehicles are fitted with additional technology meaning the engine can be powered by petrol in the unlikely event that the battery does run out. With the correct charging routines and future battery advancement it is hoped that this system will only be used on a small number of occasions to allow the Trust to achieve a target of zero emissions. Although the technology available on the market has not yet advanced far enough to allow the Trust to introduce electric vehicles throughout its entire ambulance fleet, this is a very exciting starting point and we are looking forward to further advances in the future."

A number of electric charging points have been installed across the Trust and the 1st vehicles are expected to be in operation by early April 2017.

Green waste collections resume
HOUSEHOLDERS whose gardens are littered with debris from Storm Doris are being reminded that green waste collections resume from Monday, 27 February 2017.

The service was suspended for the winter, in early December 2016, for the period when there is low demand.

Following the recent bad weather, the Council is starting with a full allocation of rounds for the 145,000 households who receive the service, rather than increasing them gradually as it has done in previous years.

Councillor Steve Munby, Cabinet Member for Neighbourhoods, said:- "We know that the City was battered during Storm Doris and many front and back gardens will be littered with branches, bushes and other green waste, so the reintroduction of the service could not be more timely. We placed stickers on all bins to notify people about the date for the reintroduction of the service and anyone who is unsure can check on our website."

The Council is on target to collect over 18,000 tonnes of green waste in 2016 to 2017; are up on the 16,378 tonnes collected the previous Tax year (2015 to 2016).

✔ The following items can be put in the Green Bin:-

► Grass cuttings, hedge clippings, dead plants and weeds.

► Cut flower and shrub prunings (woody waste)

► Bark, leaves and small twigs.

► Branches no larger than 7.5cm or 3 inches in diameter.

✘ Green Bins will not be emptied if they contain:-

► Stone, concrete, timber or builders' waste.

► Glass, plastic, metal, paper or cardboard.

► Plant pots, soil or turf.

► Household rubbish and food waste.

Bin collection dates can be found online.
Appeal for information following fire in Bootle
MERSEYSIDE Police are appealing for witnesses after a fire was started deliberately, in Bootle, on Tuesday, 21 February 2017.

We are told that the Emergency Services were called to an address, in Bibbys Lane, at around 8.35am, following reports of a house fire. Officers found a flat at the premises on fire. 2 people in the building were evacuated safely. Merseyside Fire and Rescue Service attended and were able to control the fire.

It is unclear what motive is behind the incident and an investigation has been started.

Detective Inspector James Belmar said:- "The investigation is at a very early stage, but the indications are that this was started deliberately. This was a very dangerous incident and could have led to someone being seriously injured. We will be increasing patrols in the area and I want to reassure the community that we are focussed on finding those responsible. I appeal to anyone who saw anything suspicious in the area of Bibbys Lane or who has information to come forward and tell us so we can take action and prevent this happening again."

Anyone with information can contact Merseyside Police of:- 0151 777 3810, via 101, or through Crimestoppers, anonymously, on:- 0800 555 111.