Dog with large tumour on face was living in squalid conditions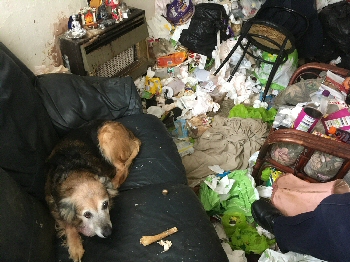 AN elderly dog with a facial tumour the size of an orange was rescued from a house where he lived in squalor, in a case which left the RSPCA inspector who investigated shocked and upset.

Timmy, a 16 year old collie type dog, was found by the local fire crews at a house in Selby Street, Wallasey, Merseyside, who forced entry after becoming concerned about the state of the house while doing routine checks in the area.

They found Timmy lying on a sofa in the living room of the property, which was strewn with rubbish, faeces and mouldy food and there was a strong smell of ammonia.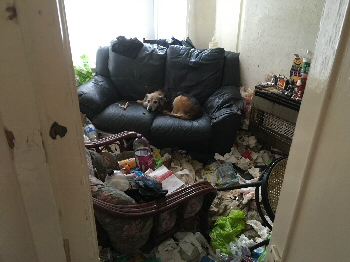 RSPCA inspector Anthony Joynes said:- "The fire crew could smell something very strong and unpleasant through the letterbox and were concerned that there was a dead body in the house, so they gained entry with the Police. That's when they found Timmy, so they contacted us. The house was in squalor; every room was full of faeces. It was very hard to not stand in faeces as the carpet was full of it. It was one of the worst environments I have been in. The ammonia smell from the urine was very strong and there was mouldy food and rubbish on the floor. There was no evidence to suggest someone had been living there; there was no food in the fridge and there was no electricity. Timmy was essentially using the house as his kennel and as his toilet."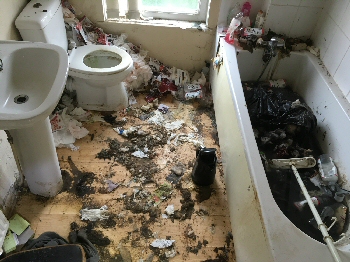 Additionally, there were flies all over the house. Inspector Joynes said:- "It was a wonder that Timmy wasn't suffering from flystrike too, which happens when flies lay their eggs on an animal's flesh, with a wound like that on his face. If he hadn't have been found when he was, we could have been dealing with a dog on the brink of death, or even the body of a dog. I went home that night quite upset and shocked, just thinking about what Timmy went through. He is an elderly dog and should have been relaxing on a sofa in a lovely home, not living as he was, in a lonely, dirty environment."

Timmy was treated by a vet, and his owner was interviewed by the RSPCA.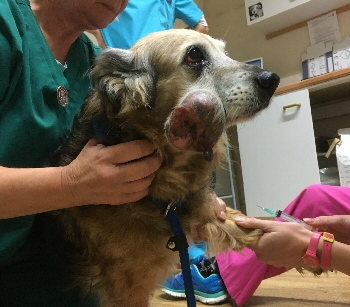 In the meantime, Timmy began to recover.

"He had so many hurdles to overcome. He had to have a series of tests to determine if the tumour was attached to any bones, or if it had spread elsewhere. Luckily, these tests came back as negative so it was something which could be surgically removed safely. He survived the operation, however due to the size of the tumour which had been removed, he was in some discomfort for a few weeks afterwards, but he has overcome that and now he is living such a nice life. It makes all the bad thoughts from that day worth it. Timmy is now living with a vet on a farm in Cheshire and he is having such a lovely life. There is a genuinely happy ending to such a sad case." said Inspector Joynes.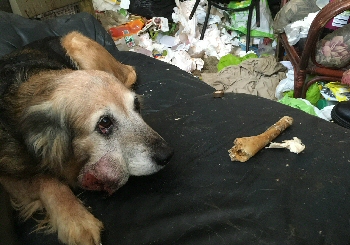 Timmy's previous owner, Christine Daley, 60, appeared at Wirral Magistrates' Court, on Wednesday, 8 March 2017, where she pleaded guilty to causing unnecessary suffering to Timmy by failing to provide veterinary treatment to the tumour, and for failing to meet the needs by not providing him with a suitable environment, between 1 October and 25 October 2016.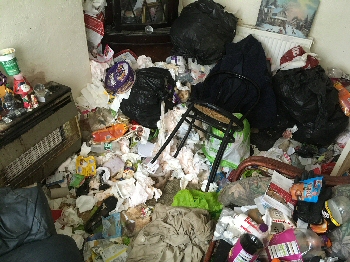 Magistrates disqualified Daley from keeping all animals for 10 years, gave her a 6 week prison sentence, suspended for 6 months and ordered her to pay costs of ₤1,075.

Timmy's story will feature on Channel 5's The Dog Rescuers later this year (2017.)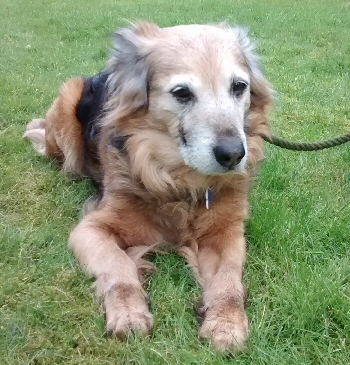 World Heritage Big History Weekend returns to St George's Hall Liverpool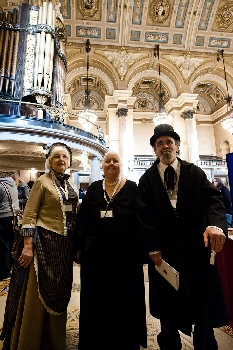 KEN Pye and St George's Hall Liverpool are delighted to announce the return of the fascinating and insightful:- 'World Heritage Big History Weekend,' which is back bigger and better for 2017.

The 2 day event takes place on Saturday, 29 April and Sunday, 30 April 2017, in 1 of the most historic and iconic venues the City has to offer. The event will take place between 10am and 5pm on both days.

Admission is ₤2 payable on the door, free entry for under 16's. The admission cost will support the restoration of the iconic Minton Tiled floor in the Great Hall of St George's Hall Liverpool.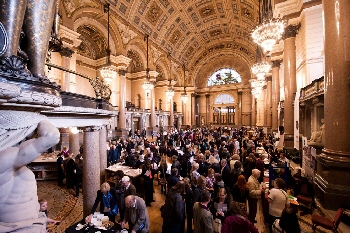 Local history fans and geology enthusiasts can look forward to a full programme across the weekend, including a diverse choice of talks, guided tours and exhibitor stalls.

A series of 8 talks by guest historians will take place across the weekend, giving an insight to a variety of local subjects.

Guest speakers include Steve Binns MBE, expert on St George's Hall Liverpool; Ken Pye will focus on Liverpool's renaissance from a fishing village to a major port on the world stage; Clare Moorhead will give guest a fascinating insight into the life of Joseph Williams, the man behind the Williamson Tunnels; and Spencer Leigh, who will highlight 60 exciting and memorable years of the iconic Cavern Club.

For visitors wanting to learn a bit more about the City's history or for those who have a question about the City they've always wanted to ask, then the Local History Question Time is an absolute must. The panel line up will be announced shortly.

Tickets for the special guest talks and the Question Time panel event are ₤2 each.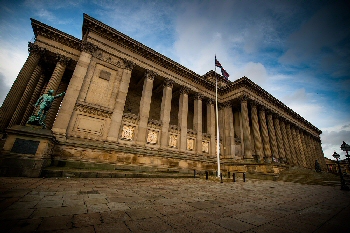 Visitors can also look forward to meeting representatives from a range of groups and societies from across Liverpool City Region who specialise in local history, family history and heritage.

More than 50 groups and societies will be exhibiting throughout the weekend including the Friends of Williamson Tunnels; Liverpool History Society; Liverpool Record Office (Central Libraries); Merseyside Polonia; and West Kirby Museum.
Visitors to the World Heritage Big History Weekend at St George's Hall Liverpool will also have the opportunity to discover and explore the iconic venue through a Privileged Guided Tours which take in the Great Hall, Concert Room, Courts and Catacombs. Tickets for the tour are ₤3.50.

Joint organiser Ken Pye from Discover Liverpool commented:- "The annual Big History Weekend is the grand culmination of two weeks celebrating Liverpool as a World Heritage City. Over the two days in the glorious setting of St George's Hall Liverpool, we will be showcasing local history and heritage from across Liverpool City Region. With over 50 stalls and exhibitors, eight outstanding guest speakers, guided tours of St George's Hall and a few surprises during the weekend, this event has something for the whole family. It is all about who and what we are; and that's the wonderful people of Liverpool and Merseyside."

St George's Hall General Manager, Alan Smith said:- "St George's Hall is delighted to welcome back to the hall the Big History Weekend. This time the event coincides with a World Heritage fortnight of events at St George's Hall. These include the magnificent Minton tile floor reveal, the chance to walk on the floor in the evenings, a series of talks about the hall and its history, the amazing Steve Binns talking to visitors at the floor reveal in the Great Hall, a series of behind the scene tours, and then culminating in the Big History Weekend. It's a real feast for lovers of history, heritage and culture, for which Liverpool excels."

A full timetable will be announced shortly. Tickets for the guest talks, Question Time panel and guided tours can be purchased on the day, or they are available in advance from the heritage centre shop at St George's Hall Liverpool.

Refreshments will be available to purchase from the Heritage Café.

For more information visit:- STGeorgesLiverpool.Co.UK.
New law makes vegan option compulsory in Portuguese public canteens, is Britain next?
THE Portuguese Parliament has approved an obligatory vegan option in all public canteens; a huge step for vegan catering for all. The recently approved new law compels all public canteens (eg. Schools, Universities, Prisons, Hospitals) to provide a strict vegetarian option in their menus within the next 6 months.

The significant achievement follows a popular petition promoted by the Portuguese Vegetarian Society (Associação Vegetariana Portuguesa) in 2015, which rapidly amounted to over 15,000 signatures and was discussed at the parliament early in 2016.

Nuno Alvim, spokesperson for Associação Vegetariana Portuguesa, said:- "We feel as if this is a major breakthrough in Portugal because it's the first time we have any law that specifically mentions vegetarianism. It will promote diversity of eating habits and encourage more people to choose the veggie option as it become more widely available. This of course is predicted to have a significant impact on the population health foremost, but also on animals and the environment in the long run. Promoting the rights of the vegan population is as important as campaigning and informing people to adopt veganism, in our perspective. This law seems to be an important first step on the political level."

The new law results from a conjoint political initiative of 3 left wing political parties, and was approved by a large majority on 3 March 2017, with the abstention of some right wing parties.

With Portugal paving the way, The Vegan Society is even more optimistic about promoting the diversity of eating habits by campaigning for vegan catering for all.

Some of this work aims to improve understanding of how to provide adequate vegan meals in Hospital, and highlight that they are suitable for most people.

The Vegan Society's Dietitian Heather Russell, who provides education about vegan catering, said:- "Hospitals, prisons and places of education need to cater in a way that respects equality and diversity but, unfortunately, it can still be difficult to obtain vegan meals in some settings. Staff training can contribute to this issue as people working in institutions may not have been educated about a vegan diet. Our campaigning work aims to achieve just what the Portuguese law has; to ensure that nutritious vegan food is always readily available. I am working with health professionals and caterers to help them make this a reality."

The approval of this measure is widely celebrated by the Portuguese community as an important achievement for the vegan community, while also meeting with the expectations of those who follow the diet, whether it is for ethical, health or ecological reasons.

A petition for vegan options on every:- School, College, University, Hospital and Prison menu, in the UK, has reached over 16,000 signatures; a thousand more than the Portuguese 1, but it needs 100,000, by 3 April 2017 to be considered for debate in Parliament.

So what are your views on this? Do you think we should make a law making:- "vegan option compulsory?" Please send your views to:- News24@SouthportReporter.com as we would love to know what you think.