Agencies launch community campaign across Merseyside for Arson Awareness Week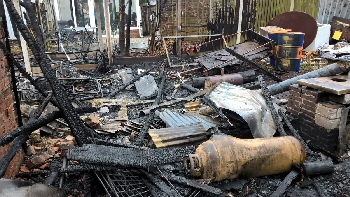 MERSEYSIDE Fire and Rescue Service is joining forces with partner agencies to highlight the dangers of deliberately setting fires as part of Arson Awareness Week.

The initiative, which runs from Monday, 20 March 2017, until Friday, 24 March 2017, will see Merseyside Fire and Rescue Service team up with Merseyside Police, local authorities across Merseyside and housing providers to highlight the consequences of setting fires.

Teams of staff, advocates, PCSOs and volunteers will visit homes and businesses in:- Kirkdale, Everton, Litherland, Kirkby, Speke, St Helens Town Centre and Egremont in Wirral, throughout the week, to carry out Home Fire Safety Checks, distribute information leaflets and identify residents who may be vulnerable to arson attacks.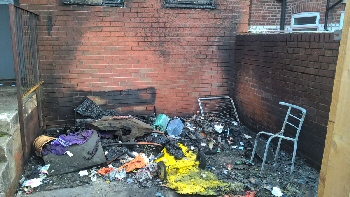 They will also provide skips to remove fly tipped rubbish from communities, give advice to business owners about waste management, engage with homeless people to raise awareness of the dangers of fires and provide support to residents concerned about anti social fire setting in their neighbourhoods.

'Mini' Police Officers from Hatton Hill Primary School in Litherland will join the teams around Litherland to hand out safety leaflets and give advice.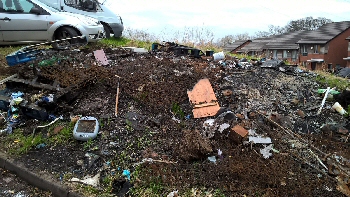 Station Manager Paul Kay, Arson Reduction Co-ordinator for Merseyside Fire and Rescue Service, said:- "This campaign will see organisations from across our county come together to raise awareness of the dangers of arson and the impact fires have on our communities. Arson is a serious criminal offence which puts people's lives at risk, causes damage to homes, businesses and community facilities and impacts on wildlife and the environment. It can range from mindless criminal damage to a deliberately targeted attack but, either way, the potentially deadly consequences remain the same. If fire appliances are called out to deliberate fires this may delay the response to other emergencies, which could endanger lives elsewhere. We want to make people aware that deliberately setting fires in a public place is arson and, if caught, those responsible may face legal action."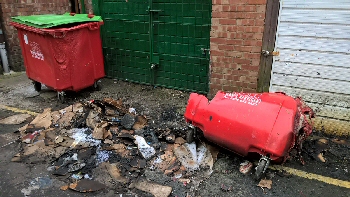 Merseyside Police Chief Superintendent Peter Costello, Head of Local Policing, said:- "Merseyside Police is delighted to be supporting Arson Awareness Week, and we will be carrying out extensive work alongside MFRS and our other local partners throughout the week. We will also be using this as an opportunity to target serious and organised criminals operating across the county, in order to disrupt their criminal activity. The consequences of arson can be catastrophic in our communities, putting lives and businesses under threat and greatly impacting on the response of Merseyside's emergency services. Educating people about the dangers of arson in all its forms is vital in reducing this impact. Alongside MFRS, we will robustly investigate incidents of arson and prosecute all those identified as being responsible."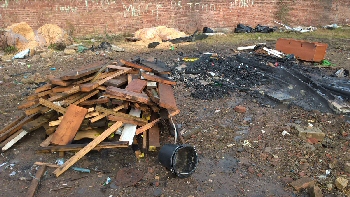 Cllr George Davies, Wirral's Cabinet Member for Community Safety, said:- "Arson attacks not only put lives at risk but also people's homes, businesses and local facilities. In Wirral we have been working closely with Merseyside Fire Service to combat the problem of fires in fly tipped rubbish. We would urge residents to report any suspicious activity immediately, particularly the initial dumping of rubbish as this can give us the opportunity to get it removed before an even more serious incident happens."

Cllr Trish Hardy, Sefton Council's Cabinet Member for Communities and Housing, said:- "Sadly, deliberate fires take up a large amount of firefighters' time which could easily be avoided. Many fires are started deliberately and this irresponsible behaviour needs to stop so supporting Arson Awareness Week can really help raise awareness about this. It is great to see pupils at Hatton Hill Primary School in Litherland getting involved in the project and I hope that it will have a lasting impression on them and their local communities."

Cllr Eddie Connor, Knowsley Council's Cabinet Member for Neighbourhoods, said:- "We are delighted to be working with Merseyside Fire and Rescue Service to help raise awareness of this important issue. Arson can not only cost lives, but also costs a lot of money in repairs and we will do everything we can to support this campaign."

Leisure, culture, parks and library services set for a boost
FACILITIES including:- Leisure Centres, libraries, parks and the Floral Pavilion are set for a major boost in Wirral following the 1st Phase of the Council's review of the services.

The Council's cabinet will soon be be asked to approve the development of a 'business case' which will see leisure and culture services throughout the borough redesigned, with the potential to create a charitable trust to run the services 1 of the options on the table.

Cllr Ann McLachlan, cabinet member for transformation, leisure and culture, said:- "We know how important these services are to local people. Having a library, a leisure centre and fantastic museums and theatres on your doorstep is 1 of things which make Wirral such a great place to live. As Councils up and down the country are forced into making blunt cuts to these vital community facilities, as they battle to cope with ever increasing funding reductions, I'm delighted we are taking such a different, imaginative approach in Wirral. We have brought in national experts to review what we do, and how we do it, and help us come up with new ideas to deliver these services in a better, more modern way; for less money. We're determined to make sure Wirral residents are able to access leisure, culture and library services of the highest possible quality and the work which has been d1 so far is a big step forward."

The report which cabinet will be considered at a meeting, due to take place on 27 March 2017, provides details of initial research and analysis which has been completed, and will propose 3 options for the future delivery of the services are explored further:-

► A redesigned set of in house, Council Services.

► The creation of a Council owned community interest company to deliver the services.

► The creation of a charitable trust to deliver the services.

Options already ruled out include creating a commercial company to run the services, and the 'outsourcing' or 'privatisation' of the services.

Cllr McLachlan continued:- "The outcome of this work is going to provide Wirral residents with an outstanding set of services to enjoy. Leisure, libraries, culture and arts are incredibly important; they are 1 of our key Pledges. Despite the continuing financial challenges we face, through the work we are doing I am entirely confident we can find ways to improve our services while making them financially sustainable for the long term."

Subject to Cabinet approval on 27 March 2017, the Council will develop a 'full business case', exploring the 3 remaining options, before a final decision is made on how the services will be provided in the future in early summer 2017.
19 year old sentenced for stabbing a Police Officer
ON Friday, 17 March 2017, Callum Ashes, 19, from Huyton, was sentenced to 9 years detention at a Young Offenders Institution, by Liverpool Crown Court. His sentence was given to him for the wounding with intent of Constable Daniel Hughes on Tuesday, 13 September 2016.

The Court had heard how Callum Ashes, who was wanted on suspicion of rape in Liverpool City Centre on 18 June 2016, had been spotted by a Merseyside Police Office, on that day in September 2016. The Officer then radioed his colleagues for assistance to Ashes. Other Officers then respond and 4 Officers, including Constable Hughes, then to arrest Ashes, on Westmorland Road, Huyton. As they did this 1 of the Officers was thrown to the ground and Constable Hughes, who was walking towards Ashes, tried to intervene. At that point a struggle ensued between Ashes and Constable Hughes and it was during that struggle that Constable Hughes was stabbed 6 times to the head and body. The 3 other Officers managed to separate Constable Hughes and Ashes, but he tried to escape, before being arrested.

Deputy Chief Constable Carl Foulkes said:- "Callum Ashes is an extremely dangerous individual and the sentencing reflects the danger he presented on the streets of Merseyside. He didn't think twice when he pulled out a knife and stabbed Constable Hughes, who had gone to the aid of a colleague who was trying to arrest him in connection with a serious offence that had occurred in the City centre earlier in the year. Most Officers join the Police because they want to give something back to the community and to keep their communities safe. This incident highlights the dangers Officers face every single day, putting themselves in harm's way to deal with dangerous individuals. The very nature of the job means Officers frequently find themselves in challenging situations. When Officers join the Police Service they know the risks they will face, but despite this they make the decision to join the job and put themselves on the front line protecting our communities every day. I would like to take this opportunity to thank Constable Hughes and his colleagues for the bravery they showed last September and to thank Police Officers across Merseyside for the work they do on a daily basis to keep the public safe day in, day out."
The Miss England competition have launched a new award to their regional heats and final for 2017
THE Miss England Inspiration Award is a new award that is being introduced across England by the national director Angie Beasley.

The contestants in the Miss England regional heats and final are being invited to nominate someone who inspires them and why. It might be a parent, family member or friend or someone they know in the community.

"Many of the Miss England contestants and heat organisers across the country have already achieved so much charity work in their local community and have raised thousands of pounds. Now we want to hear who really inspires the contestants and who deserves to be recognized at our national final this year. Its also to dispel the myths that the Miss England contest is just a beauty pageant , parading on a catwalk. We also want to highlight the good work that's been done over the years in the competition. We continue to encourage fundraising as part of the competition but it would be great to recognise inspiring people at our national final." said Angie.

Over ₤1Billion pound has been raised for charity helping disadvantaged children and causes around the world at the Miss Miss World competitions using the Miss World slogan Beauty with a Purpose.

The chairwoman of Miss World Julia Morley is one of the few people in history to receive the Variety Humanitarian award.

How to enter...

Contestants and organisers are invited to submit approximately 100 words of who inspires them and why with a head shot photo. The regional organiser of Miss England heats will be selecting a top 5 who will then be invited along to the local event. Judges will elect 1 winner who will receive the Miss England Inspiration Award for their region. Each regional Miss England Inspiration award winners story and their photo will then be submitted by email to the Miss England HQ for final judging. The top 3 Inspiration Award winners from across the country will be chosen and invited along to the Miss England Grand final, at Resorts World Birmingham, on 14 July 2017, to compete for the Miss England National Inspiration Award. If the nominees are not able to attend or if they have an illness or disability preventing them , their story will be featured in a video which will be played about their inspirational story on the night of the final. For more information visit:- MissEngland.Info.