Liverpool Based Charity Plea to Donate First Pound Coin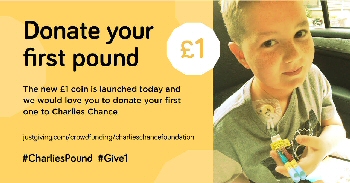 FOLLOWING the launch of the new 1 Pound Coin, the Liverpool based #CharliesChance fundraising team is asking people to donate a pound to the charity. The #CharliesChance team would love it if people could donate their 1st Pound to the Charlie's Chance Foundation, which helps other children in similar situations as Charlie.

Charlie's mum, Sophie, said:- "The support we received for Charlie and funding his treatment has undoubtedly got us through this incredibly difficult journey and continues to keep us focused every day. We know 1st hand how hard it is to fund treatment abroad as well as dealing with your child having cancer and we aim to be able to ease that pressure. It makes all the hard work worthwhile when you enable such deserving children a chance to live and that's why we are so passionate about what we do."

If you are able to get involved, donate either online or by dropping off a new Pound Coin, at The Good Catch Fish and Chip Shop, Crosby, Liverpool Road, Donnas doll house vintage, Crosby Road North, Waterloo or Waterloo Eye Centre, South Road Waterloo in Liverpool.

Let others know if you have been able to donate by take a picture of yourself with the new Pound Coin and share it across social media using the hashtags #Charliespound #Give1.
Major change to taxation of landlords ahead
THE Chartered Institute of Taxation (CIOT) is reminding landlords of residential properties that the 1st Phase of the restriction of Tax Relief they get for mortgage interest to the basic rate of Income Tax, begins in April. The change means that finance costs such as mortgage interest will no longer be able to be deducted in full to work out taxable property profits. All individual residential landlords with finance costs will be affected. The restriction works by disallowing finance costs in calculating the taxable rental profit, and then introducing a Tax Credit, that is equal to 20% of the disallowed costs. Brian Slater, Chair of CIOT's Property Taxes Sub Committee, said:- "This is one of the most significant changes to the buy to let market in decades and will particularly affect heavily geared buy to let landlords. However, it is sensible for landlords to be cautious about making any knee jerk moves in response to the changes. A decision to sell properties may be tempting for those that are highly geared, meaning they are carrying a lot of debt from perhaps buying many properties or a couple of expensive ones and can no longer benefit from the relief. Helpfully the change is being phased in over 4 Tax years, so that the full effect of the restriction will not be felt until Tax year 2020 to 2021. This will give landlords extra time to consider their options. Taxpayers may have to decide whether to continue in buy to lets with reduced profits or simply sell their properties, which may impact on the number of houses and flats available to buy. Or such people could move into commercial property renting, but they will find that to be a more specialised field. The restrictions apply to individual landlords and not to companies, which will continue to receive relief for mortgage interest and other finance costs in the usual way. This means that the change may impact on the look of the rental landscape in the future if many individual landlords choose to incorporate and become companies, although this is not without difficulty and incorporation itself can involve Tax charges; these may be Stamp Duty Land Tax on the market value of properties and possible Capital Gains Tax on properties transferred into a company."
Man from Prescot charged in connection to fatal road traffic collision
MERSEYSIDE Police have confirm that Aidan McAteer has been charged in connection with a fatal road traffic collision that happened on Prescot Road, on Friday, 24 March 2017. The 23 year old, McAteer, who is from Prescot, has been charged with causing death by dangerous driving, causing serious injury by dangerous driving and theft of a motor vehicle. The collision killed 4 year old, Violet Grace Youens, who died from injuries and her grandmother Angela French remains in Hospital, in a serious, but stable condition. After the collision lead to a massive hunt to locate him, as it was said that he might have left the country following the fatal road traffic collision. We are told that McAteer has since appeared at Liverpool, Knowsley and St Helens Adult Remand Court, Derby Square.
Police Officer in collision with motorbike in Southport
MERSEYSIDE Police are investigating reports of a fail to stop collision that happed in Southport, on Monday, 27 March 2017. The incident is reported to have happened at around 7.30pm, on Hargreaves Street, when a motorbike was said to have been involved in a collision with a Police Officer and a parked car. An 18 year old male was detained at the scene, on suspicion of unauthorised taking of a motor vehicle. We are also told that the motorbike and a helmet have been recovered from the scene. Now a search for a 2nd male, who is reported to have left the scene is ongoing. We are told that the Police Officer suffered bruising in the incident. Anyone with information is asked to contact Merseyside Police on:- 101 or the Crimestoppers line anonymously on:- 0800 555 111.

Easter Holiday Fun at The Atkinson, Southport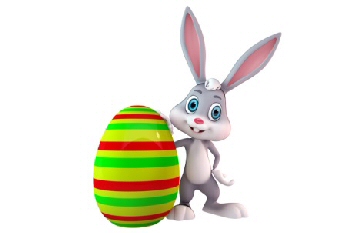 THIS Easter holiday come and Discover Ancient Egypt, uncover stories of the sea, meet the Easter Bunny and take a trip to the merry old Land of Oz! Taking place from Saturday, 1 April to Monday, 17 April 2017, there is something to keep everyone entertained with free activities and fun events for all ages.
Families and children aged 2 to 7 are invited to discover the truth behind the tale of the Easter Bunny and meet him afterwards to receive a special Easter present! Easter Bunny's Eggs-ellent Adventure is taking place on Monday, 10 April 2017, at 11.30am and at 2.30pm. Tickets:- ₤9 / ₤7.50 child / ₤28 family.

Starring Coronation Street's Steve Arnold, families and children aged 2+ can join Dorothy as she befriends a brainless Scarecrow, a loveable Tin Man and a cowardly Lion on their quest to thwart the evil powers of the Wicked Witch of the West! The Wizard of Oz on Tuesday, 11 April 2017, 2pm and at 6pm. Tickets ₤12.50 / ₤10.50 under 16s / ₤28 family (3) / ₤40 family (4)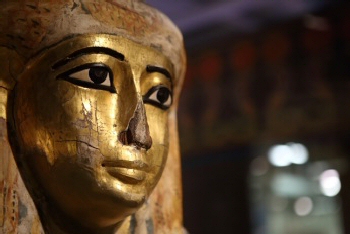 Over the 2 week holiday, families are encouraged to get involved with our latest exhibition, the Sefton Open and its fun, free activities. The Sefton Open is an annual, large and vibrant exhibition that showcases talent from across Sefton. Many of the artwork is for sale and with the new Own Art Scheme; this is affordable! Speak to a member of our team.

Pick up one of our Arty Aprons during your visit and explore the galleries with tools, every day from 11am to 3pm (subject to availability). Families can get creative in an activity inspired by the Sefton Open at Make It! on Monday, 3 April and on Monday, 10 April 2027, at 1pm and 3pm. All Ages.

The popular monthly Construction Club is also returning on Saturday, 1 April 2017, from 10.30am to 12.30pm where young inventors, creators and builders are invited to join us and build with Lego. Ages 5+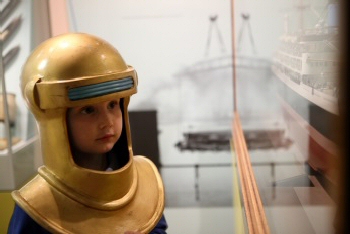 Why not take a trip in our glass elevator to the second floor and explore local history and the ancient Egyptians in our Museum? Open every day with free admission.

Between Land and Sea: 10,000 Years of Sefton's Coast explores the history of the Sefton coast from prehistoric times to the present day showcasing the development of Sefton's towns from Bootle to Southport. With lots of interactive displays; its fun for all the family!
You are invited to Discover Ancient Egypt and see the stunning Mrs Goodison's collection un-seen for over 40 years until 2014. Here visitors are taken on a journey through what life was like in ancient Egypt at the time of the Pharaohs.

Come and handle some of our museum objects in the family Hands On! sessions Tuesday, 4 April and 11 April 2017, from 11am to 3pm. Suitable for all Ages.

To book your tickets please visit theatkinson.co.uk or call the Box Office team on:- 01704 533 333.
Please be advised that there is a ₤1 per ticket booking fee for telephone and online sales and a 2% fee for credit cards at the Box Office.