A First Aid Success!

Photographs By Patrick Trollope.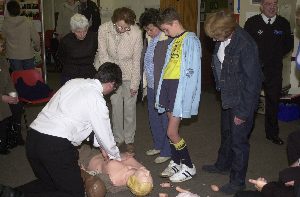 FORMBY St Johns had a fantastic day of sign up 53 people for a first aid course during the evening on Wednesday 7 May. Mike from Formby St. John Ambulance said, "It has been a big success and I reckon that all the members deserve congratulations for their efforts." The night gave the opportunity for members of the public to see what will be taught over a 3-hour taster course that is to be held this weekend.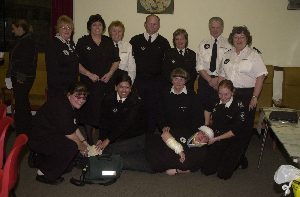 CITY HOSTS PRESTIGOUS TV AWARDS SHOW


THE Royal Television Society's North West Awards are to be held in Liverpool this year.

This is a prestigious event recognises TV talent in the North West - from regional programmes to Network productions made in the region - from Granada Reports (last year's winner for Best Regional News Programme 2002) to Brookside (best actor last year.) This year's event is set to be the biggest yet with almost 1,000 people involved in the industry expect to attend the gala show.

Liverpool city council welcomed today the decision for the city to play host to one of the biggest and glitziest showbiz event of the year, with all the North West's top TV faces and industry bigwigs present.

Council Leader Mike Storey said:- ''Liverpool and the North West produce some of the most talented people in television both in front and behind the cameras. Our region produces people and programmes which entertain and inform the nation from Peter Sissons and Fiona Bruce in BBC news, to award-winning programmes on ITV such as Coronation Street and Tonight with Trevor McDonald."

''Here in Liverpool, we are also home to the largest independent TV company which produces shows such as Brookside, Grange Hill and Hollyoaks. On the big screen, we are now the most filmed city in the UK outside London."

''I'm delighted that the city is hosting a fantastic occasion to celebrate local talent. It is just another example of why Liverpool is bidding to be European Capital of Culture in 2008. When it comes to developing talent nowhere else comes close.''

Peter Berry, Granada News Editor and Chairman of the RTS North West, said:- "We're delighted to be bringing this year's North West Awards Ceremony to Liverpool. It recognises the City's tremendous talent and contribution to the Television industry in the region and to TV screens in homes across Britain. We've got something very special planned, I can't go into details at the moment because negotiations are still taking place, but believe me, on the night everyone will be saying "wow"."

"It's our way, as well, of supporting Liverpool's bid to be European Capital of Culture 2008, which will bring enormous benefits to the City and to the North West - it would also be great TV!"
SEFTON CHAMBER OF COMMERCE WOMEN IN BUSINESS MAY MEETING
MONDAY 12th May at Southport and Ainsdale Golf Club. 6.30pm Start. Jane Gallagher is giving a brief talk on 'what Journalists want' and Gill Fell of Impact PR will be giving a short presentation on 'how to develop your business by asking for referrals' A business referrals system will be set up after the meeting.

There will be a buffet included and the price for Chamber members is £10 plus VAT and for non-members £15 plus vat
Edge Hill College staff will be put through their paces!
STAFF at Edge Hill College will learn their lessons in physical fitness by joining this year's Wirral Corporate Cup on Sunday, June 1.

A group from the learning development and information services departments have entered the event in the hope of getting fit.

The unfit four admit they aren't great runners but will put their best foot forward to raise money for Macmillan Nurses and the British Heart Foundation.

Lindsey Martin said:- "There's so much sporting equipment and a fantastic running track at the college that we seized the opportunity to train. We took part in the Sefton Corporate Cup and enjoyed it so much we decided to join the Wirral event. We aren't fit yet but we are getting there. And the events give us a chance to set our own personal goals."

She added:- "We have called ourselves the 'Three Ten Bobs and a 50p Piece' because three of us remember pre-decimal and the other one doesn't, which gives away our ages a bit!"

You can see them at the Wirral event, which starts 11am at Birkenhead Park. It is a 5-kilometre (3.1-mile) run/walk, which suits people of all abilities.

The Wirral Corporate Cup is the third event in the NHS North West Corporate Series. Wirral's run/walk is organised by Healthstart and developed in partnership between Health Links (Wirral Specialist Health Promotion Service), Bebington and West Wirral Primary Care Trust (PCT) and Birkenhead and Wallasey PCT.

The aim behind it is to promote healthier lifestyles and encourage people to take part in more physical activity, which can help prevent cancer and coronary heart disease.

Lisa Corkhill, Healthstart's Events Manager, said:- "The Wirral Corporate Cup allows participants to set their own goals. If the thought of running the course brings you out in a sweat then don't worry, you can walk it. It's also a good way to combine getting fitter with friends and colleagues."

Entry requirements will be accepted from teams of four, including one woman, the minimum age for entrants is 16 years. Organisations in both the private and public sector can enter as many teams as they like within the Division 1-3 categories. There is also a Family and Friends category for teams who don't fit the above criteria. It's £28 per team and if you decide to join the Wirral event, Healthstart have even prepared a training plan.

The closing date for entries is May 28th. However, if you miss the Wirral Corporate Cup, the next in the Series is the Preston Corporate Challenge on Sunday, June 15th.

For entry forms or for more information contact Healthstart on 0151 707 2566

Report by Nicky Williams, Healthstart.
__________________________