Secretary of State for Health visits Southport Hospital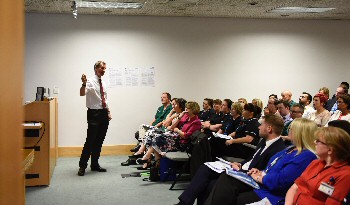 SECRETARY of State for Health, Jeremy Hunt, on 22 August 2017, visited Southport and Ormskirk Hospital NHS Trust to talk to staff about improvements in patient safety at the Trust and across the NHS.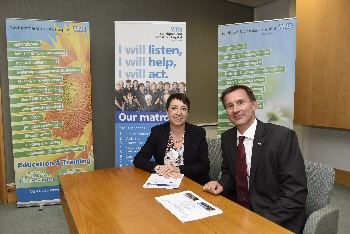 Karen Jackson, Interim Chief Executive at the Trust, welcomed the Health Secretary and Jane Cummings, Chief Nursing Officer, at NHS England to the Hospital. Sheila Lloyd, Chief Nurse at the Trust then gave a presentation to the Health Secretary and staff from across the organisation on the work the Trust is undertaking to improve patient safety.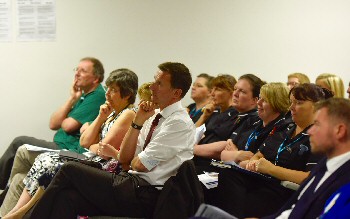 The Health Secretary also gave a presentation on the wider work being done throughout the NHS to improve patient safety. Staff from the Trust were also given the chance to ask questions, of which there were many!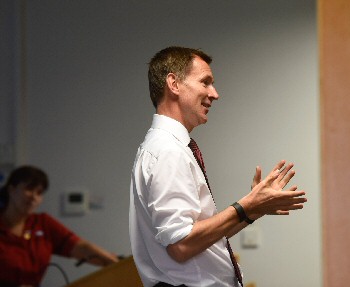 Health Secretary Jeremy Hunt, said:- "It was a privilege to meet staff at Southport and Ormskirk Hospital NHS Trust, who do such a wonderful job delivering care to patients. I was hugely impressed by the way the Trust is embedding patient safety at the heart of its culture and these important steps will help us all make the NHS the safest healthcare system in the world."

Parenting Study in the North West
A nationwide survey of 2,000 mums and dads found they have a very clear idea of when their children should have achieved, or be allowed to, do particular things. They believe their little ones should begin to get pocket money at nine, start putting their own clothes in the wash at 8 and be old enough to have Facebook, at 14. Youngsters are considered mature enough to walk to School alone and have their own mobile phone at 12 years of age. Teaching children the value of belongings and how to avoid loss are among the things that cause mums and dads the most problems as their youngsters get older. Commissioned by My Nametags, manufacturer of durable sticker and iron-on labels, the research of parents with kids aged 2 to 18 also found 70% believe privileges are granted too soon nowadays.

Lars B. Andersen, Managing Director at My Nametags, said:- "The survey just goes to show some of the many intricacies of being a parent. Of course, every child is different and may be able to do things or take on certain responsibilities later or earlier than our results show. However, it's fascinating to get some indication of when mums and dads will typically allow or expect their kids to do certain things."

Mums and dads will let their kids watch 12 certificate movies alone at 12 years old, 15 certificate movies at 14 and 18 certificate movies aged 16. Once they reach 16 they can have friends over when mum and dad aren't around and also be out after dark. While 15 is the age they can listen to explicit songs, go on dates and start buying their own clothes.

Parents are happy for their youngsters to have a TV in their bedroom at 11 years old and trust them to surf the web unsupervised when they are 12. WhatsApp and Snapchat accounts are permitted at 14, while MP3 players and tablets are allowed at 12 and laptops are considered acceptable at 13.

10 is the age they can have friends over for sleepovers and go to their pals for overnight stays too. And 13 is the point when parents trust their children to be in the house alone and also go out on their own.

Those polled believe children can stay up until 8pm at 8 years old, not go to bed until 9pm aged 10 and not get their heads down until 10pm aged 12.

29% of mums and dads consider themselves to be stricter than other parents. However, 56% said that they granted many of the privileges featured in the research earlier than they were granted them by their own Mums and Dads. 40% said they feel peer pressure from other parents to allow their kids to do certain things, while ½ have fallen out with their partner over certain privileges.

Lars B. Andersen, Managing Director at My Nametags, said:- "It's also really interesting to find that a parent's biggest worry is their child losing something, especially as we don't expect children to be responsible for their possessions until the age of 10; which is halfway through Primary School. That's a lot of School Kit, which can go missing before they learn to take care of it, exactly why our name labels for children are so popular!"
For further information, please visit:- MyNameTags.com/Schools-Nursery-PTA.
---
Local business owners should prepare for pensions spot checks, warns local Tax specialist
LOCAL business owners should prepare for spot checks on their staff pension schemes a local Tax specialist has warned. Andrew Geddes who runs TaxAssist Accountants in Southport said:- "Spot checks are being carried out across the country by the Pensions Regulator to ensure that employers are complying with the new rules on workplace pensions. Local business owners need to prepare for the short notice inspections, which will check whether they are automatically enrolling qualifying staff in a company pension scheme and contributing to their pension pot. Every month, the Regulator is announcing a clampdown on new Towns and Cities, with spot checks already carried out in London, the North West, Midlands, Yorkshire and Scotland. We're advising many local businesses, which have now received notices from the Pensions Regulator giving the date from which they must comply with automatic enrolment. Many have planned well in advance and have fully compliant pension schemes up and running already. But for those employers who are yet to comply with the new rules, there is the prospect of a ₤400 fixed penalty escalating to daily fines set at a minimum of ₤50 per day. Those fines increase to ₤500 per day if they have over 5 employees and can reach a maximum of ₤10,000 per day if they have 500 or more employees, with the possibility of civil penalties and court action." In the 1st 3 months of 2017, the Pensions Regulator issued more than four thousand fixed penalty notices and over a thousand escalating penalty notices. Some 200,000 employers per quarter will be reaching their staging date for workplace pension schemes this year.