Concern at impact of planned allowances on Self Assessment
THE Low Incomes Tax Reform Group (LITRG) is urging HMRC to be ready to publicise new income allowances when they come into force to prevent confusion as to who is supposed to register for Self Assessment this time next year (2018). By law, people have to notify HMRC of a new source of income, such as receipts from a trade or business, or rental income, by 5 October, in the Tax year following that in which the new source began.

According to LITRG, things could get very confusing for those who start work or rent property in the 2017/18 Tax year due to the likely introduction of the new trading and property allowances. From 6 April 2017 those with rental and/or trading income (or miscellaneous income) below ₤1,000 will no longer have to tell HMRC about the income by the 5 October 2018 deadline or pay Tax on it. If the trading or property income exceeds the allowance, they will need to notify HMRC and can choose whether to calculate their Taxable profit in the usual way or by simply deducting the ₤1,000 allowance.

LITRG is concerned that, without appropriate publicity or guidance, some Taxpayers may register for Self-Assessment and complete a Tax return when they do not need to do so. Others with trading and/or property income above ₤1,000 may not realise that they need to register and complete a Self Assessment Tax return, which could subsequently result in significant penalties for late notification and filing.

LITRG Chair Anne Fairpo said:- "We call on HMRC to be ready to make available very clear guidance on these changes and to publicise them sufficiently. Ideally, there should be worked examples and also an online calculator. It is also crucial that such information is available in hard copy format as well as online to help the substantial numbers of Taxpayers who are either digitally excluded or find it difficult to engage with Government online."

LITRG is also concerned that these new allowances will cause further confusion for Tax Credit and other benefit claimants. For example, this income will have to be declared for Universal Credit claims, even if it is fully covered by the new Tax allowances. The group recommends that all benefits claimants who can use these new allowances check whether they still need to declare this income as part of their claim.
---
Residents invited to join Good Neighbour scheme
WIRRAL Council and Involve Northwest have teamed up to deliver a new pilot scheme to promote what it means to be a good neighbour.
Residents are being asked to show how proud they are of where they live by putting a sticker in their window saying that they are a good neighbour. It is hoped that this simple act might start conversations will bring people together, celebrate good neighbours and serve as a symbol of community spirit.
The scheme has been designed to nurture and celebrate community spirit, or at the very least encourage neighbours to say:- 'hello' to each other.
Feeling connected to our neighbours and our communities can help to increase our health and wellbeing and reduces social isolation.

The Good Neighbours scheme is being delivered by Involve Northwest's Community Connectors who work in:- Prenton, Noctorum, Oxton, Birkenhead and Tranmere, St James, Claughton, Bidston Village, Beechwood, Woodchurch, Overchurch, Upton, Eastham, Bromborough, New Ferry, Rock Ferry, Wallasey, Seacombe, Liscard, New Brighton, Leasowe, Moreton and Saughall Massie. Organisers are inviting people living in those areas to take part.

Involve Northwest said:- "We are proud to be launching the Good Neighbour scheme as part of the Connect Us project. It is in perfect synergy with the aspirations of the project and it is a pleasure to be introducing yet more positivity to our day to day interactions within communities. In times where there can be strains and challenges for communities, it is important to not forget how much good and strength there is within our neighbourhoods. Since the Project started in February we have been overwhelmed by the passion, talents and community spirit we have encountered. The Good Neighbour scheme is a simple way of celebrating this. Look out for your local Community Connector knocking on your door, you are guaranteed to be greeted with a smile!"

Cllr George Davies, Chair of Birkenhead Constituency Committee added:- "Social isolation can be a real issue for some people across Wirral and the Good Neighbour scheme will help local people get involved. We hope that local residents will get on board, improve community spirit and help isolated neighbours feel they live in a friendly and supportive neighbourhood."

Residents who would like to get involved won't be expected to give any extra time if they don't want to and it doesn't mean you'll be responsible for any of your neighbours. However, the more people who display a good neighbour sticker in their window, the greater the sense of living in a friendly and inclusive community.
For more information or to get involved in the Good Neighbour Scheme please call:- 0151 644 4516. Alternatively, email them for more information. Alternately you can also visit the Involve Northwest website.

Hospital League of Friends transforms children's waiting area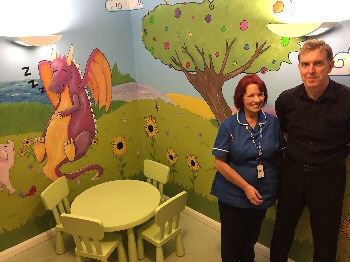 A children's waiting area at Ormskirk Hospital has received a makeover thanks to the League of Friends. The waiting area within the antenatal and gynecology clinic has new child friendly furniture, flooring and a mural painted by local artist Gary Scarisbrick. The area allows children to be entertained while their mothers or carers wait for their appointment. Robin Rootes is a midwife in the clinic and helped design the mural featured on the wall. She said:- "The new children's area has had a complete revamp and it's made such a difference to the atmosphere in the clinic. The children now have somewhere inviting to play while they wait, which helps their mum or carer relax. We couldn't have done it without the support of the League of Friends." Now the area is complete the team are looking to get some new toys for the children to play with as the current ones are a little worn and tired. Any donations of new toys would be gratefully received.
---
Arriva Merseyside up for top City Bus operator award
ARRIVA staff in Merseyside are celebrating after the company was hailed as 1 of the country's top operators as the finalists were announced at the prestigious UK Bus Awards. The shortlist was unveiled at a special event at the Museum of Transport in Greater Manchester, on 12 October 2017 and the award winners will be announced in a glittering ceremony to be held, at The Troxy, in the heart of London, on 21 November 2017.

Arriva Merseyside, which operates across 6 garages covering Liverpool City centre, Knowsley, Wirral, Sefton and St Helens, has been nominated in the:- 'Top City Bus Operator' category. The company provides more than 80 million passenger journeys a year and has a fleet of over 600 buses; including hybrid and fully electric powered vehicles.

The judges heard that customers are at the heart of everything Arriva Merseyside does, with regular service reviews taking place, and customer surveys and road shows offering the opportunity to consult with passengers to ensure the company provides responsive, reliable and efficient services.

They were told that the reliability of services has been significantly improved by the introduction of on bus radios for drivers and depots, providing immediate notice of diversions and delays.

Arriva Merseyside was also praised for its social media work and community action, receiving awards such as:- 'Best Viral Campaign' for its support for the Hillsborough victims with the:- 'Remembering the 96' message displayed on all of bus service destination blinds.

Arriva Merseyside Area Managing Director Howard Farrall said:- "Arriva Merseyside is a company with heart and passion, which puts people; both employees and customers; at the heart of all we do. A close knit management team inspires confidence and good morale at each individual site and everyone in the Arriva Merseyside team pulls in the same direction. There is a real sense of pride in our work with service and customer care being paramount. We are often used as a trial area for initiatives which are then rolled out across the company. Innovation and forward thinking are high on our list of priorities and we embrace change positively. There is a can do attitude, even in challenging times."

The UK Bus Awards, one of the major events in the bus industry calendar, feature categories especially for the people who work in the business, as well as for high quality bus operations and a range of technical and professional skills. In 2017 there were more than 250 nominations for the awards.

Mark Yexley, Chairman for the UK Bus Awards, said:- "We have some truly inspirational people working in our industry, leading innovation and outstanding improvements in the customer experience. They show unrivalled commitment in delivering a 1st class service day in, day out. We're very proud to be able to recognise and reward these people and initiatives that really make a difference. Our Finalists' Announcement is a very special day for all those involved, it's been great to visit the North West, and what a great setting to be able to celebrate the people, projects and organisations that will shape the industry of the future."

For more information about services and timetables, either download the free Arriva Bus App via the Apple Store or Google Play, or visit:- ArrivaBus.Co.UK/North-West.