Citizens across the North invited to get moving and help heart research in UK digital health 1st
NOKIA and the Connected Health Cities (CHC) programme have launched CityMoves, an 8 week step challenge taking place from 23 October to 21 December 2017. The challenge promotes healthy living and the positive use of data and technology in health and research. It is an opportunity for citizens across the North of England to help advance science's understanding of how low intensity exercise improves heart health. Participants will be able to track their steps through the Nokia Health Mate app that also allows users to measure their pulse rate using their smartphone camera.

The project will be delivered across Connected Health Cities 4 City regions including:- Greater Manchester, Yorkshire, Liverpool and the North West Coast and Newcastle and the North East. Each region will be able to see how the amount of steps they have taken over the period compares to the others.' As well as daily updates on the dedicated website, each week users will get personalised feedback with information about their progress and how they compare to others from across the North.

Throughout the 8 weeks of the challenge CHC and Nokia will keep people motivated with motivational content, seasonal tips to get moving more, hundreds of fitness tracker give aways and awareness messages on how to keep your heart healthy. After the 8 week period de-personalised data will be sent to The University of Manchester's Connected Health Cities programme where data scientists will look for changes in heart rate across the study period.

Prof John Ainsworth, Director of Connected Health Cities said:- "More effective use of data and technology has great potential to deliver health benefits for all of us. The CityMoves study is a great example for people to see the positive impact that their data can have. In CityMoves study we aim to develop a better understanding of the relationship between increased physical exercise and resting heart rate, a key indicator of health."

To join the programme participants can register at nokia.ly/Citymoves, choose their team and begin measuring their steps and watch as they rise up their team's leader board.
---
More street lights replaced with modern LED lamps
A further 600 street lights in Wirral are being replaced with new LED lamps as part of an ongoing programme of work to modernise and improve the borough's street lighting network. In the latest phase of work, which begins this week, 280 lighting columns will also be replaced as Wirral Council continues to make further significant investment in its highways infrastructure. Jones Lighting Ltd have been awarded the contract to carry out this work from now until the end of December 2017, although subject to confirmation of further funding, there is scope to extend this contract until March 2018 and replace even more lanterns and columns with modern LED lighting. Councillor Stuart Whittingham, Wirral Council Cabinet Member for Highways and Transport, said:- "I am delighted that the Council has allocated ₤500,000 from its Capital Programme to help us continue our street light replacement programme and address the current issues we have with broken lighting equipment. In addition to this investment from our capital budget, we are also going to be bidding for Salix funding to replace over half of the remaining lighting stock with LEDs next year. With these significant investments, I am confident that a number of problem locations with longstanding street lighting faults will be tackled and that we are now moving towards a modern, energy efficient and more reliable street lighting network that is fit for the future."

It is widely-known that the Council has had issues with how it manages the volume of reports about faulty street lights and the backlog of repairs. However, better arrangements are in place with the contractor to respond to urgent repairs, while work is also well-advanced to improve how information is provided to residents once they have logged a street lighting report. Cllr Whittingham added:- "We are committed to upping our game when it comes to street lighting, but it is important that when we commit investment to an issue, we are able to deliver long-lasting improvements. That's why we are continuing with the replacement programme; LED street lighting technology is now economical, more energy efficient and longer lasting than old sodium equivalents."

Further information and a full list of locations where the latest phase of work will take place can be found on the Council's website.

Norovirus warning for Hospital visitors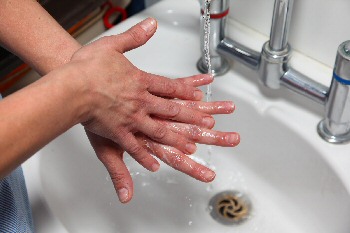 VISITORS are being asked to stay away from Hospital if they have recently suffered from vomiting or diarrhoea. Norovirus, the winter vomiting bug, is circulating in the community and 1 case was confirmed at Southport and Formby District General Hospital. A number of beds on wards 7A and 10A where temporarily closed to new admissions, as a precaution.

Andrew Chalmers, Deputy Director of Infection Prevention and Control, said:- "Instances of diarrhoea and vomiting are always investigated when they occur in hospital. As a precaution we may close bays within wards while we investigate the cause, which is usually due to a patient's medical condition rather than infection. Coming to Hospital as a visitor when you are poorly with sickness and diarrhoea risks spreading germs to patients and staff. Please stay away unless it is absolutely necessary. If a visit is essential, please telephone the ward manager 1st."

Symptoms of norovirus include a sudden onset of vomiting and/or diarrhoea. Some people may have a temperature, headache and stomach cramps. The illness usually resolves in 1 or 2 days and there are no long term effects. If you are affected, stay at home, drink plenty of fluids, wash your hands after using the toilet and prior to eating, and clean or disinfect contaminated surfaces.
---
The British Heart Foundation appeals for North West businesses to join the fight against heart disease
COMPANIES across the North West are being encouraged to help beat heart disease in the local area by joining forces with the British Heart Foundation (BHF) - Europe's largest funder of heart and circulatory research. Heart and circulatory disease kills nearly 160,000 people in the UK each year, stealing them away from families and loved ones. In the North West alone, close to 18,000 lives are lost to heart and circulatory disease and around 840,000 currently live with the burden of these devastating conditions

The BHF is calling on organisations across the region to help end this devastation by supporting the charity's lifesaving work and becoming an official charity partner. Last year, companies in the North West raised around ₤75,000, which will help BHF researchers identify revolutionary new ways to prevent, diagnose and treat heart and circulatory disease. Companies can also play a vital role in helping the BHF create a nation of lifesavers. By training staff in how to perform lifesaving CPR, local businesses can empower colleagues with skills they need if someone suffers a cardiac arrest.

Michelle Bailey, BHF Fundraising Manager for the North West, said:- "Heart disease is heartless. Too many lives are lost in the North West each year, and we're determined to do everything we can to keep more families together. We urgently need more funds to help end the devastation caused by heart disease, which is why we're calling on the support of companies; large and small; across the region. Every pound raised through partnerships will help make a difference to the millions living with the terrible burden of heart disease."

BHF research has helped halve death rates from heart and circulatory disease over the past 50 years, but there is still a long way to go. Through the public's generosity the BHF will fund half a billion pounds of new research by 2020. For more information on how the BHF works with corporate partners, as well as how your business can get involved, visit the BHF website.