Amazing seminar series in Jane Sheehan's Home Village, Scarisbrick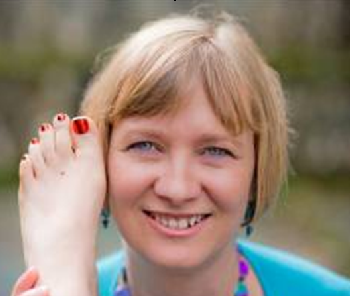 TV'S celebrity Foot Reader, Jane Sheehan, is to share the secrets of the hidden meanings in feet and toes when she reveals the techniques used to 'read' personality traits and emotions in the feet in a special seminar in her home town of Scarisbrick, over 21 November and 22 November 2017.

Jane is a regular on ITV's This Morning, and has also featured on BBC's 'Strictly Come Dancing' spin off show 'It Takes 2.' As the UK's leading foot reader, Jane has been teaching her skills to reflexologists and other therapists for over a decade.
Foot reading is an additional skill adopted by holistic therapists to help them work with clients at a new level of understanding.
As well as therapists, Jane sees many individuals attending her classes in order to develop a deeper self awareness and make changes and improvements in their own well being.

Foot reading reveals personality strengths and weaknesses, and highlights hidden potential and undervalued talents. By learning what their feet say about them, therapists and individuals can use that information as a tool for personal development and growth.
Anyone attending 1 of Jane's seminars can expect to holistically enhance their knowledge, by learning an unusual skill that will allow them to consider their own personal development and growth from a completely unexpected source whilst having lots of fun and insights about themselves in the process.

Jane makes regular TV appearances (ITV's This Morning in the UK, The Afternoon Show on RTE in Ireland, Sama TV in Dubai, Inside San Diego and Fox in the Morning in California and Channel 9, in Australia). She is also the author of several books:- 'Let's Read Our Feet!' is now on its 2nd edition and is also available as a portable guide:- 'The Foot Reading Coach' explains how foot reading can be used as a tool for self improvement for everyone and her most recent book:- 'Sole Trader - The Holistic Therapy Business Handbook,' is based on her own experiences in setting up her successful international business.

Jane's seminar in Scarisbrick forms part of her regular international seminar series, where she has taught her skills across:- Europe, the USA, United Arab Emirates, Ireland and Australia.

Tickets for the Scarisbrick seminars are available online.

Jane said that:- "We are all used to changing our facial expressions and hiding our true feelings, but we can't do that with our feet; they tell the truth. Simply by analysing the shapes of feet and toes, we can tell an awful lot about a person. Anyone coming to my seminars will not only learn something of use to their clients, but also learn about themselves via their feet. They love hearing the anecdotes I use to illustrate the points and they love applying the knowledge to their own life story and often during the classes there are moments where you can see the students moved to delight when they realise that the blemish I'm interpreting also relates to a long term client of theirs and gives them an insight that will help progress their treatment."
---
Gary's marathon effort crosses the finish line at The Clatterbridge Cancer Centre
A runner plans to complete 31 marathons, in 31 days, at The Clatterbridge Cancer Centre, on Sunday, 29 October 2017. Gary Morton, from Rossendale in Lancashire, started the marathon challenge on 29 September 2017,to raise money for The Clatterbridge Cancer Charity. His mother Gillian Walker is being treated at Clatterbridge after being diagnosed with skin cancer, 4 years ago, that spread to her liver and lung. His final run will be from Wigan where Gillian, 62, lives, to the Centre in Wirral. Friends and family, including Gillian, will be there to meet him. Gary, 43, said:- "It has been a really tough few weeks but the support of family, friends and people I have never met before has kept me going. It will be very special to finish at The Clatterbridge Cancer Centre and we hope to raise as much money as we can to help people with cancer."

Fraudster grounded by Jet2.com and Jet2holidays
A criminal who attempted to defraud Jet2.com and Jet2holidays has today been sentenced, thanks to the Jet2.com and Jet2holidays fraud department and their collaboration with Greater Manchester Police (GMP). Kurtis Mulvaney, 30, of Salford was sentenced at Manchester Crown Court after pleading guilty to 2 counts of fraud by false representation at an earlier hearing during which Jet2.com and Jet2holidays gave evidence. He was sentenced to 14 months suspended for 12 months, ordered to 180 hours of unpaid work, and must also repay Jet2.com and Jet2holidays ₤10,000. Between March 2013 and April 2016 Mulvaney used credit cards that did not belong to him to buy airline tickets and holidays with Jet2.com and Jet2holidays, as well as with another airline, totalling approximately ₤15,000. The Jet2.com and Jet2holidays fraud specialists discovered that a credit card had been used fraudulently to make bookings and alerted GMP. As a result, in April 2016 Mulvaney was then arrested at Manchester Airport when he tried to check in for a Jet2.com flight to Palma using a compromised credit card. Following an extensive investigation by GMP, which Jet2.com and Jet2holidays played a key role in, he was then charged. Steve Heapy, CEO of Jet2.com and Jet2holidays said:- "This is welcome news in the fight against fraudsters, and sends out a strong message to anyone who thinks they can get away with it. I would like to pay tribute to our fraud department who work tirelessly to prevent this type of deception taking place, and who work closely with police forces across the UK, such as GMP, to stamp it out." Detective Sergeant Alex Wild of GMP's Airport CID said:- "Mulvaney thought he could live the lifestyle he wanted, with luxurious holidays and flights abroad, without paying a penny for it. Thanks to the work of officers and the help of the airlines he defrauded, Mulvaney was caught and will now pay the real price for his exotic holidays, as he now has a criminal record and has to pay back ₤10,000. Let this be a warning to anyone who thinks they can get away with fraud, you will eventually be caught."
---
Sam Cook murder investigation
MERSEYSIDE Police have confirmed that a number of people have been arrested and released pending further enquiries following the murder of Sam Cook in Liverpool City Centre on Saturday, 21 October 2017. 2 males aged 20, both from Anfield, were arrested on suspicion of murder and conditionally bailed to appear on a date in November 2017. A 22 year old man from Anfield was arrested on suspicion of murder and released under investigation. A 24 year old man from Anfield; a 28 year old man from Anfield; and a 21 year old man from Tuebrook, were arrested on suspicion of assisting an offender and bailed to appear on a date in November 2017. A 19 year old woman from Walton and a 19 year old woman from Norris Green were arrested on suspicion of assisting an offender and released under investigation.

The family of Sam Cook said:- "Words can in no way begin to described the devastation and despair that has gripped our family since the senseless passing of Sam on Sunday. We stand together in a tunnel with no end, in a darkness without light; every question should have an answer and every nightmare an awakening, and yet we turn to each other and can offer nothing. But Sam will show us the way. Sam always wanted to help people. He was happy, caring and passionate about life and he will continue to look after us all... sitting with his Grandad Jack. Sam approached his 21st birthday with a bright future ahead. Under the guidance of his dad, he was to follow in his footsteps and become an electrician. He studied hard and worked harder and earned the respect of all of those he came into contact with. Like so many young men in Liverpool he was immaculate and always tried to look his best, much to the amusement and general mickey taking by his Grandad Dave. He tried to attend every Liverpool game accompanied by his two younger brothers, siblings who have lost their hero and their role model. We are thankful that in such a short life he accomplished so much, made so many friends and experienced the love and companionship of his girlfriend. But he was just 21, a young man with so much more to give. The memories of a happy, beautiful little boy kicking a ball about in the garden or tucking him safely into bed, seem like only yesterday... Our Sam is and will always remain in the hearts and thoughts of his Mum, Dad and Step Mum Claire, Nans and Granddad, brothers and cousins, Uncles and Aunties, Girlfriend and friends. Our lives can not and never will be the same. We hope and pray that throughout his life and in his final days he knew that no one could be more loved. We would like to take this opportunity to thank family and friends for all their support, to thank the brave members of the public and emergency services who fought in vain to save Sam's life and to express our gratitude to the wider Liverpool community who have, in their thousands, offered such tremendous support. No family should experience the desolation of such a cowardly attack. Life is too short and should be treasured above all else. We know the police are doing everything they can and are leaving no stone unturned but we would appeal to anyone who may have any information to come forward so that justice will be done for Sam."

Detectives are also asking for anyone who was in the Empire Club on Saturday and took photos or videos to send them to a dedicated email address:- SamCookMurder@Merseyside.Police.UK for further investigation. Merseyside police said that:- "Please be assured that anything sent will be treated in confidence."

Anyone with further information to assist the investigation is asked to contact detectives on the hotline number:- 0800 230 600, or you can contact Crimestoppers anonymously on:- 0800 555 111.