Cirque de Lumiere to captivate ACC Liverpool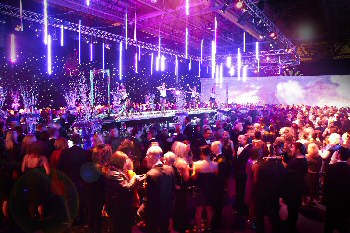 FINAL preparations are underway at the ACC Liverpool, where Vivid Experience are hosting a series of 'Cirque de Lumiere' themed Christmas parties during December. Ten thousand guests are already confirmed to attend the world class events, coming to Liverpool for the first time in 2017. However, there are still tables available for you to join in the fun. The Premiere Launch Night takes place tonight and to celebrate the beginning of party season this evening's guests will enjoy a glass of fizz, compliments of Vivid Experience.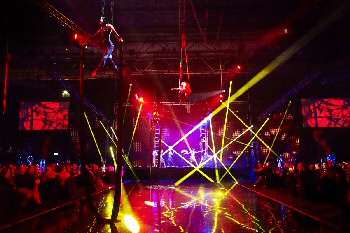 The team have been working hard over the last few weeks, building the immersive sets which will transform Liverpool's leading party venue and now the final coats of paint are dry and the final touches are being added so that guests enjoy a real wow factor upon entry to the welcome canapé reception. Guests attending the Cirque de Lumiere parties can expect to enjoy a sumptuous 3 course dinner, whilst enjoying a spectacular stage show, featuring some of the best aerial artists and dancers in the world. After dinner, they will be entertained with a fun casino, fairground stalls and full sized rides! Those hitting the dance floor will be accompanied by a leading DJ, whilst those looking for quieter contemplation can enjoy coffee and chocolates in our chilled lounge. Midnight breakfast will be served to keep guests fortified. All this comes with a Moet and Chandon champagne bar, cocktail bar run by professional mixologists and plenty more. Enjoy an unforgettable Christmas party that will amaze and delight.
If you attend this show, please email us your thoughts about it to our newsroom via:- News24@SouthportReporter.com.

Access all areas? 17 years of the 'right to roam' in the North West
THE Ramblers launches a guide to help people in the North West enjoy their 'right to roam' as research reveals that 70% haven't heard of open access. 17 years ago (30 November 2000) the Countryside and Rights of Way Act was passed, which revolutionised access to the countryside by opening up more than a million hectares for everyone to explore. But new YouGov research commissioned by the Ramblers has shown that only 30% of adults in the North West have heard of the right of open access. However, once the term was explained, 36% said they had used this right in 2016. 50% of people in England would be more likely to use access land if they knew more about their rights, so the Ramblers has produced a free guide giving people all the information they need to confidently explore open countryside.

Chief executive of the Ramblers, Vanessa Griffiths said:- "17 years ago we saw an Act passed that gave us the right to walk over much of our mountain, moorland, heathland and down and common land. But this research tells us that not everyone knows about the right of open access or understands what it means. Simply put, if you're on access land, you have the right to leave the footpath, walk freely and explore wild, open landscapes. We're encouraged to see that the younger generation are leading the way in making the most of these hard won access rights; 18 to 24 year olds are using open access land more than any other age group, followed by 25 to 34 year olds. But we want everyone to be able to enjoy the freedom that access land brings, which is why we've produced our free guide."

Access rights have enabled thousands of walkers to step off the path and explore beautiful landscapes every day, as well as giving people the chance to enjoy other outdoor activities, from running and climbing to photography, orienteering and birdwatching. The Ramblers guide promotes responsible access. It details where people can and can't walk, any restrictions that apply to open access land and outlines the responsibilities everyone must respect to protect and enjoy the outdoors. With the YouGov results suggesting that only a minority of people know about their access rights, the Ramblers is also seeking to find out more about people's walking habits and their thoughts on access in the future. People are being asked to share their views by visiting:- Ramblers.Org.UK/Accesssurvey.
---
Southport Charity Christmas Parade 2017 Is Ready To Go...
ON Sunday, 03, December 2017, Southport will host a Charity Christmas Parade, with vehicles decorated with lights on them. The event starts at 16:00 and the best viewing points will be along:- The Promenade, The Esplanade, Lord Street West, Lulworth Road, Waterloo Road, Liverpool Road and Pinfold Lane. For more information visit their Facebook Page or go to their EventBU Page.
The organisers have asked us to add:- "To all the guys on the Floats on Sunday:- I need everyone on the The Float, they are meant to be on by 3pm at the latest, so there is no messing around last minute. Guys on the Elf Workshop Float, Elf Costumes or Christmas Jumpers are a must! I'm afraid if you are there later than 3pm you will not be able take part on the float. Volunteers NEED from 12pm (noon), if you cannot be there for 12 we will have to find other people, sorry! Thanks guys, your help is very much appropriated..."