People travelling to, from and within the Liverpool City Region advised to plan ahead of rail strikes in January 2018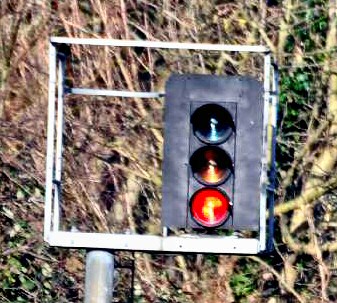 PASSENGERS travelling to, from and within the Liverpool City Region are being urged to plan their journeys and check before they travel ahead of planned industrial action by members of the RMT Union on Merseyrail and Northern Rail services on:- Monday, 8 January, Wednesday, 10 January and Friday, 12 January 2018.

► Merseyrail services are planned to run every 30 minutes, with the exception of the New Brighton to Liverpool services which will be every hour, from around:- 6:30am to 7:30pm, with a break in service between approximately:- 11:00am and 1:30pm.

► Wirral services will start and terminate from James Street Station.

► There will be no services on the following lines:- Hunts Cross, Liverpool Central; Ellesmere Port, Hooton; Chester, Hooton, Kirkby, Liverpool Central and Ormskirk, Maghull.

Merseyrail tickets will be accepted on Arriva Bus services, except between:- 7:00am to 9:00am and 4:00pm to 6:00pm. All passengers are strongly advised to check the Merseyrail's website and Twitter before travelling, as it is possible that timetables will change prior to, as well as during, strike action.

Northern Rail will operate a reduced service, with the majority of available trains operating between 7:00am and 7:00pm. Services on some routes will finish earlier and some Stations will have no service, for more information please visit the Northern's website.

► Mersey Ferries are due to run as planned and valid cross river rail tickets will be accepted on the ferries on the 3 days.

► Key advice for everyone in the City Region needing to travel on these dates is:-

► Plan ahead and consider your alternative travel options. You can use the Merseytravel journey planner.

► Check timetables and leave more time for your journey.

► Avoid travelling at peak times where possible.

► Don't aim for the last bus or train home as services are likely to be very busy.

► Stick to public transport wherever possible to reduce congestion on key routes in and out of the City Centre, including Mersey Tunnels.

Speak to your employer about whether there is any flexibility in working times or the possibility of working from home.
Said Andy Heath, Managing Director at Merseyrail:- "I am really disappointed with the strike action being taken by the RMT that will, after the previous strike days, yet again result in more disruption to your services. The timing of these latest strikes, 3 within a week, has been deliberately scheduled so as to cause as much impact as possible to you as a passenger. At the request of the Metro Mayor, we agreed to independent conciliation with the RMT Union with no pre-conditions, but to date, the RMT have refused to meet without pre-conditions. I am very keen to begin a meaningful dialogue and engage in a detailed negotiation to find a middle ground which will satisfy all parties. As always, we will ensure that we deliver as robust a timetable as we can that will best serve your travel needs."

Sharon Keith, Regional Director at Northern said:- "We are doing everything we can to keep our customers on the move during the 3 days of industrial action affecting our network. We are still working to determine the exact services we will be able to operate, but those trains that do run will be on an amended timetable and are likely to be extremely busy. We ask our customers to plan carefully, allow extra time for travel and check the Northern website for the latest information."

Frank Rogers, Chief Executive of Merseytravel said:- "Merseytravel, together with transport operators, have been working to ensure a robust transport plan is in place to support customers with their journeys in January. In the past customers have responded well by planning ahead and in many cases making changes to their usual journey when necessary. We are confident that by continuing to plan ahead, our customers, both local and from further afield, will be able to go about their business, whether they choose to travel by rail, bus, ferry or car."

Southport and Formby donate over 18,000 pairs of old glasses to Africa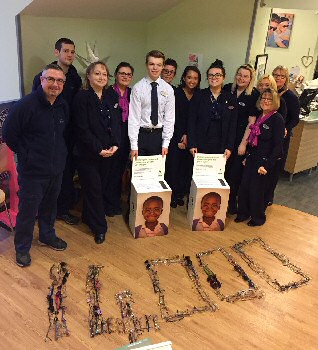 SPECSAVERS in Southport and Formby have thanked customers for donating more than 18,000 of their old, unused glasses this year, as part of a charity campaign to help people in Africa to see more clearly. The Southport store had 14,000 donations during 2017, while Formby were able to donate over 4,000 pairs to the charity. Founded in 1985, Vision Aid Overseas has been helping some of the poorest people in the world to see properly for more than 30 years. The charity's mission is to enable people living in poverty to access affordable glasses and eyecare. All the collected glasses are recycled and the money made is used to help provide optical services in developing countries. Working with Vision Aid Overseas, staff and customers at Specsavers Formby and Specsavers Southport have shown their generosity by bringing a record number of old glasses to the store for donation over the past year.

Southport store director, Victoria Dunn, says:- "The campaign this year has been a massive success thanks to our very kind and generous customers bringing in their old glasses. Every single one will make a difference. In a country where opticians' services are readily available, such as the UK, it is easy to take our vision for granted. In poorer parts of the world where people don't have access to eye care services, these donations and Vision Aid Overseas can make a significant impact on people's lives."

VAO has been Specsavers international eyecare charity since 2008. The group has raised over ₤600,000 for Zambian eye care including an optometry technologists training course at the Chainama College of Health Sciences in Lusaka, 10 staffed vision centres across Zambia and a national eyecare outreach programme.
---
Springview staff and patients share new and old memories this Christmas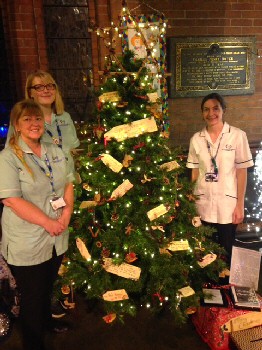 PATIENTS based at Wirral mental health unit Springview took a festive trip down memory lane to decorate a special tree for the Hoylake Christmas Tree Festival. Over recent weeks, staff, patients and carers from Springview's Meadowbank Ward; a specialist inpatient service supporting people with dementia; have been writing down their festive memories to decorate a memory filled Christmas tree. In addition to providing a fun activity for people accessing the service, the project also aimed to encourage the therapeutic benefits that reminiscing can provide for people with dementia. Susie Walsh, lead occupational therapist at Springview Hospital, said:- "Springview is a hospital for patients who are mentally unwell, including those living with dementia, so we tried to make our tree interactive and enjoyable for everyone, but particularly for those living with dementia."

The Springview team, run by Cheshire and Wirral Partnership NHS Foundation Trust, also worked with people accessing the service to create a special Christmas audio book of memories and songs, which was played alongside their display at the Hoylake Festival. Susie added:- "We chose the theme of Christmas memories to enable everyone to reminisce together about Christmas. Our patients, their carers / visitors and staff have been sharing their Christmas memories with each other. This has drawn on the strengths of our patients with dementia in discussing their longer term memories, which were written down on wooden gift tags and hung on the tree."

Springview is CWP's mental health inpatient unit based at Clatterbridge Health Park on the Wirral. It comprises of two acute mental health wards for adults of working age, an older people's mental health ward, an eating disorders ward and a psychiatric intensive care unit Springview contains a number of state of the art healing rooms and gardens. It also has:- gym facilities, a cyber cafe, spiritual care room and activity centre.