NWAA DROPS IN FROM THE BLUE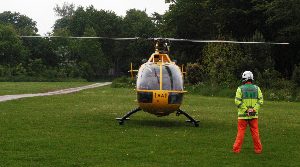 NORTH West Air Ambulance Charitable Trust held is birthday party in the historic surroundings of Meols Hall, in Churchtown. The annual running costs of this service are c£700,000.00 and it is thanks to sponsorship, donations and local fund raising that this service is a reality. This event marking the fourth anniversary, had fundraisers and some of the many casualties who have been saved by the service, being invited to a party, with the chopper flying in on a visit.

The yellow Bolkow 105 DBS ambulance hovered, with the rotors humming above the guests. It seemed small, but when on the ground it took on another dimension. The helicopter, which has the capacity to take 2 stretchers, with a crew of one pilot and two ambulance staff, becomes a lot bigger in close up. This was a good opportunity for members of the public to see where their money goes. The chopper takes off from Blackpool Airport and covers an area of 300 miles, taking in some of the most congested roads in the UK and the UK's most populated coastline. It is one of the most important bits of kit in the front line of life saving, reaching all motorway incidents, serious incidents, major incidents, difficult patient access situations and serious RTAs. Its crew, provide Lancashire and Merseyside with a vital link, getting accident victims to hospitals much faster than by road, saving lives that would otherwise be lost. Operations Manager of the service told me that, "This vital service is largely forgotten by the public. It is thanks to the hard efforts of fundraisers that the service is here today. It is provides a fast and direct link to the hospital that saves lives. This day is set-up to say a very big thank you to some of the countless people who supported us over the last 4 years."

One of the visitors said, "It is a fantastic service. It has to be supported by us all of us. If everyone from in Merseyside would give ten pence a year, it will guaranty that this life saving chopper is kept flying."

For more information just hover over their web page on:- http://www.northwestairambulance.co.uk/



The North West Air Ambulance can benefit from your old ink cartridges and mobile phones. They can sell them on to raise vital funds, so please call the appeals office on 0151 527 2511 to arrange a collection. Also if you have any way of fundraising, let them know and help them keep this vital service in the air. You never know who might need it next!
Photographs by Patrick Trollope.