New Recruits Qualify to Join Liverpool's Booming Tourism Sector
Photographs and report with

thanks to Liverpool City Council
TOURISTS visiting Liverpool will be able to pick the brains of 17 newly qualified guides to the city who graduated at a special ceremony today (Thurs 12th June).

Each of the new Liverpool experts has earned a special Green Badge qualification in a training scheme accredited by the Institute of Guiding, a national body responsible for setting and maintaining high standards throughout the tourism and visitor industries.

The course undertaken by the new graduates lasted 12 weeks and was an initiative jointly supported by The Mersey Partnership; Liverpool Community College, Englandsnorthwest Tourism Skills Network, Liverpool City Council and the existing Merseyguides.

During their training period the Guides completed a full programme of lectures and familiarisation exercises covering the history of Liverpool and a range of practical activities including walking and coach tours.

As they gain more experience the newly qualified guides will be able to join a Professional Development programme organised by Liverpool Community College.

Chris Brown, Director of Operations of The Mersey Partnership, said:- "We're pleased and proud to be welcoming these new guides to Liverpool's booming tourism sector. They have all undergone a rigorous and exhaustive training programme to qualify them for the important contribution they are going to make to welcoming more visitors to Liverpool and we wish them all every success."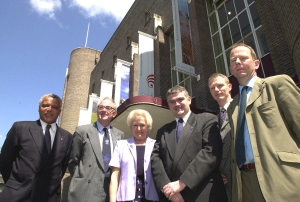 Top photograph:- All the guides receiving their certificates... Peter Allman; Margaret Carey; Elizabeth Davey; John Horrigan; Joseph Hunter; Sandra MacMillan; Miriam McCauley; Paul McCombs; Jane Mills; Neville Powell; John Rigby; Rachel Roberts; Marie Rolf; John Seaman & Keith Williams. The picture above:- Wally Brown, Principle at Liverpool Community College; Paul Crossey, Blue Badge Guide; Jenny Oulton of the Institute of Tourist Guiding; Chris Brown, Director of Operations at The Mersey Partnership; John Rigby, Green Badge Guide; and, Phil Ready, Tourism Projects Manager at Northwest Development Agency.
'HIGH 5' WAYS TO MAKE CONSTRUCTION A DECENT AND SAFE PLACE TO WORK

A NEW leaflet explaining the High 5 ways to make construction a decent and safe place to work has been launched at a recent construction industry safety and health awareness day. The High 5 leaflet is aimed at people running small construction businesses and at workers on small
construction sites and has been produced for the Working Well Together (WWT) campaign by the Health and Safety Executive (HSE). 75% of those killed or injured in the construction industry are self-employed or work for small businesses of 15 or less employees and these small businesses make up 98% of the economically active construction industry.

Principal Inspector Ray Cooke launched the new High 5 leaflet at the scaffolding demonstration held as part of the safety health awareness day at Aston Villa Football Club in Birmingham.

In launching the leaflet Ray Cooke said:- "Construction is a high risk industry. Following the advice on the High 5 issues that are described in this new leaflet will help you keep safe and healthy."

The High 5 issues identified in the leaflet are:

· HIGH 1 - Tidy sites and decent welfare
Slips and trips are the most common cause of injuries at work. Tidy sites and decent welfare are the basics of a good site.

· HIGH 2 - Falls from Height
Falls from height are the biggest cause of fatal and serious injuries in construction. They account for 50% of all deaths. Many accidents involve falls from roofs, through fragile materials, from ladders and from leading edges.

· HIGH 3 - Manual Handling
Manual handling injuries from working with heavy, awkward materials, often in cold and wet conditions, are one of the most common reasons why workers leave construction.

· HIGH 4 - Transport
When people and vehicles collide, people come off worse – so keep them apart!

· HIGH 5 - Asbestos
Many buildings in the UK contain asbestos. If you are thinking of working in a building that was built or renovated up to the 1980s, you should assume it contains asbestos until proved otherwise.

The leaflet introduces the High 5 health and safety issues and directs readers to a range of additional related guidance and information for each topic. Copies of this new leaflet are being handed out free to people attending WWT safety and health awareness days that are happening around the country throughout the year. The next safety and health awareness days are:-

22 July Bridgewater
9 September Cardiff
22 September Shetland
24 September Haydock
13 October Fort William
4 November Carlisle
17 November Perth/Stirling

A copy of the leaflet will soon be available to download free from the WWT website at www.wwt.uk.com. Alternatively single copies of the High 5 leaflet and any of the free and priced publications listed on the High 5 leaflet can be ordered online from www.hsebooks.co.uk or from HSE Books, PO Box 1999, Sudbury, Suffolk, CO10 2WA, telephone on 01787-881165 or fax on 01787-313995.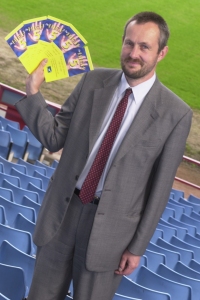 Picture above:- HSE Principal Inspector Ray Cooke holding up copies of the new High 5 leaflet at the safety and health awareness day in Birmingham on 3 June 2003.
Report and photograph with thanks to the HSE.