FIREHEAD - A GENERAL'S LAST CAUSE

Exclusive interview and photographs by Dominic Bonner
ROLLERCOASTER rides often are seen as a good-scaled picture of life. Particularly when fame has been issued with fate and the expected fall from grace has issued its hand. But Jamie Murphy and Firehead strive for a new battle plan to smooth out the bumpy ride that leads to success and to vanquish the past.

Liverpool based Firehead have seen many up and downs within their short career. A recent split with their life long manager Mark Cowley, the recent removal of former keyboard player Vince with the chaos that has seen reluctant singer Murphy almost quit music for good. These difficulties have seen them to reassess their goals as to where their aims of musical ambition lie. Ben Keenan (Drums), Matt Keenan (Guitar), Geoff Jones (Bass) and a new keyboard player have all been forced to forget the limelight for the interim and focus on getting back to basics.

Their outlook appears rather modest and relaxed from the outset of the interview, considering the jealousy that has been forked upon them due to Murphy's past with the band Space, but it is clear at least that there is a willingness to set the record straight.

Firehead are under no illusion about the shadow that continues to haunt them from Murphy's past will ever be broken. The personalities within his former band may not be the focal target but he describes his feelings towards the musical aspect of Space as something he loathes and refuses to be proud of - despite their massive success.

The past reveals a curious meeting in Kirby for the twin brothers from Crosby and their former idols, whom they met on a football pitch. In spite of Murphy's keen allegiance to Liverpool football club and Ben Keenan's staunch Evertonian support, this friction was ultimately to see the band form, with his brother to join at a later stage.

It is from this beginning, Murphy is keen to speak about where his goals and his aspirations are for the new band, "It would have been nice to start at the top again, but you have to get into the real world. At the end of the day, these four lads that I have got around me now, I want to do it for them. Geoff was my roadie for years and years and we always said that one day we would do it together. I want to do it for the members of my band more than I want it myself because they deserve it. But then, that's why they call me the General of the band." He smiles wryly and continues, "The great part about it is that I have been through all this, we were playing stadiums, at the end of the day the best gigs that you are going to do are the ones where you are in front of the audience. When we were doing all the stadiums just before I left, it was f*cking shit."

Togetherness and being friends with a band works with many bands, Firehead are no exception to this rule - which Firehead strongly affirm an unbreakable bond. They vehemently admire the Beatles and many other current and latter day influences that bind them. But there is a recognition that the Liverpool image of the fab four is somewhat of an anathema to the way that they are perceived,"We wanted a harder band than what space was, but people come to our gigs because they know of Jamie's background and anything the slightest bit wrong they will come round and pick on it. It's not like the Beatles stuff at all and we are tired of that image," remarks Ben.

Despite Murphy's rather ambivalent attitude towards his former band, he has no regrets about leaving. "I consider my differences between space and I buried. I still love Franny, I love him from the bottom of my heart and I still socialise with him. Tommy and I will always have our grievances, and he has said things about me on the internet, which I do not like. I would never do that to any of our band. And at the end of the day, Space was never a band and we were millions in debt."

Talking to Murphy further to give him his opportunity for the record to set things straight, he seems willing to be pushed a little further on the subject, "But the honest truth is that Tommy won't talk about me and I won't talk about him. If I heard musicians going on about how bad, Tommy was I would batter them.

But if he heard anyone going on about me," he takes a pause as to remind me that I am being to clever and that he has to be careful with me, " I want to keep my profile down and the bands profile up, and not have Space mentioned in the same breath."
It is true that the acrimonious split from Liverpool band Space has done Murphy much damage in the nature of finance and credibility, as some of his former band mates sought to discredit him from returning to making it in the world he loves most - music.
But everything from his previous fortune is now gone - the houses, the flash cars and the heady rock star lifestyle leaving his ideals about life in a state of confusion.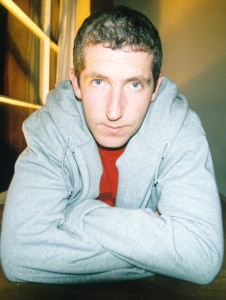 His personality by his own admission is somewhat of a rubics cube and this may have been the result of two nervous breakdowns in the period of six years mixed with the combination of a turbulent lifestyle.

Upon asking him how he would have dealt with life, had this band not formed? He seems rather candid to answer the fact that his musical talent could have laid to waste in the form of a taxi driver or even worse, the skulduggery of his family, who refers to affectionately as "gangsters from Huyton". And that he did not care about it anymore. But he points out that if it was not for his current girlfriend 'Emma' as he points to as his rock, that he has no real idea of where or what he would be doing now and is thankful for the band he has now due to new addition Matt Keenan's inspiration. But savouring some of the hard times that he believes that are making Firehead stronger is more than just a mere gesture.

It is evident from his demeanour that there is an undercurrent of anger about the way Murphy's hand has been dealt to him by the music industry. He feels bitter to the fact that his first record contract with Space was signed to the whole band for a measly "five grand" only to see the company profit from his efforts by a further two million pounds within 2 years. "I am never going to get tied into a deal a deal like that again. They (Sony and Epic Records) recently tried to sign us to a five-album deal. But I will never put this band in a position that I was in - even if it takes yet another year.

You know that you have some c*nt sitting in his office in London still, now and he is saying, 'You know that bastard from Space? I am still pulling it all in from them', nothing is going to happen to me ever again. We know that we are going to get about 1.5 million quid back from money owed to me. But that it annoys me that fat cat still puts songs out of mine on the greatest hits. I would never put these in that position again.

I could not handle the fact that they were sitting there making money out of me. But the deal has got to be right. F*ck the first year and the first two years, the deal has to be right for the whole of it," Murphy says adamantly at he points to industry greed.

Firehead have been a source of much discussion within the regions music world. So much so that many have gone out of their way to discredit them and refute any remnant ideas about their possibly being the next big thing to spawn musically from Liverpool.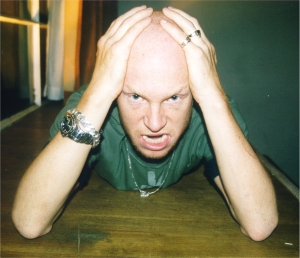 But the band are indifferent to any comments made about them and are more concerned with the business of making music and it is the prolific togetherness of the band that will see them achieve their place of recognition in music with the promise of a new album in the future. But as bass player Jones equally remarks, "the excitement and adventure of going on tour has its attraction, but we are just fine playing together with or without an audience." That unity shows they are prepared to make no compromise to break either their bond or their ambitions.