IT'S THE NEW CD ROM BATTLES BULLYING
THE new project is part of the city council's drive to combat bullying in schools. It will offer advice and support for children who are the victims of bullying, and let them know where they can get help.

The CD Rom will be available to all schools and anti-bullying organisations in Liverpool. Produced in consultation with headteachers across the city, it will be a valuable resource for pupils, parents and teachers in the battle to make sure bullied children don't suffer in silence.

The CD Rom, which is supported by the Liverpool Echo and Radio City, will be launched at the beginning of 2004.

Council Leader, Councillor Mike Storey, said:- "Liverpool City Council is committed to combating bullying, and we are using every available means to reach out to children. We want to let them know that we take bullying very seriously, it will not be tolerated, and there is always somewhere they can turn to get help.

Most children are tuned in to computers and technology, and a CD is a unique, powerful and far-reaching way of making sure children have all the advice, support and information they need."

The city council's Executive Member for Education and Lifelong Learning, Councillor Paul Clein, said:- "This new CD Rom will help us stamp out bullying in schools, and make sure that children don't have to wake up each day dreading what should be the best days of their lives.

I am looking forward to the city council, schools and anti-bullying organisations working together, in the latest part of our bullying blitz."
THE Paranormal Runcorn & Cheshire Group sent us this picture... with this email:-
"Hi we are a small group that go looking at Haunted Places. On the net we found a story about the spirt of a woman that roams Formby point and a dog that also haunts there so with camera in hand we went to Formby point on Monday night around 11pm here are to pictures we had taken at the point is this the woman's sprit? you decided..."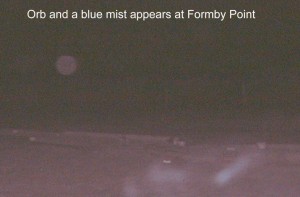 Well we have taken a look at the images you sent them our expert opinion. But what do you the readers think? EMAIL US...

Britain's most

haunted historian!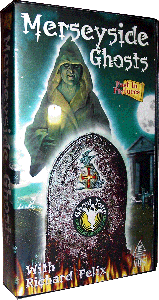 FOLLOWING THE success of the internationally renowned Ghost Tour of Derby, owner of the old Derby Gaol, and guest presenter on Living TV's 'Most Haunted' series have interacted with Richard Felix latest film project.

Having been picked up by Fox Entertainment and broadcast in America on 'The Most Scary Places on Earth' this video created a mini tourism boom for Derby attracting a gulf of American tourists on the lookout for our ghosts and ghouls.

Realising the fascination people have with all things supernatural spawn the notion of the Ghost Hunting Tour of Britain. Felix has travelled the breadth of the country, county to county, filming both his own experience at sights of supernatural activity, and eyewitness accounts from local people.

Having become somewhat of an expert on the paranormal, Felix's flamboyant style of presenting combines the telling of the traditional 'ghost story' with more contemporary explanations as to their presence; stone tapes, energy sources etc. This has resulted in a superb collection of best-selling videos covering the whole of the country, taking viewers on ghostly tours of their hometowns.

As well as the regional films the team have also compiled 'The Most Haunted Trilogy'. Three compilations concerning, 'Most Haunted Places', 'Most Haunted Pubs and Inns' and 'Most Haunted Graveyards'. All of these videos as well as the regional films have provoked a huge response from the public.

Taking in sights from the notable to the notorious and shedding an eerie light on seemingly normal regions, fascinating anyone who dares watch them!

From the comfort of your own home visit the after life residences of grey monks, phantom dogs, and the first man ever to be run over by a train. With a little help from Merseyside ghost expert Tom Slemen, Felix encounters everything from Penny Lane's poltergeists to the Mersey tunnel's phantom hitcher.

'Merseyside Ghosts' is available on video (£15-99) and DVD (£17-99) from HMV, Virgin Mega stores, Asda an WH Smiths local to your area, or direct from:- www.ghostvideos.co.uk