Southport FC v

Everton FC

Monday August 4 2003

Report and Photographs by Sally Devine.
EVERTON fielded a strong line up for this senior cup-tie, including Duncan Furgurson, Lie Tie, Alixandersson and Chadwick. Wayne Rooney was a spectator in the directors box accompanied by Everton manager David Moyes.

Southport started the match determined not to be out shone by their full time rivals and Peater Thomson went close early on with a strong header. The Sandgrounders kept up the energy levels throughout the first half and were unlucky throughout. The bad luck lead to two goals for Everton. With only five minutes to the break remaining Schumacher on the left wing crossed the ball, Alixanderson got a touch and Duncan Ferguson slid it into the net. Then Nick Chadwick powered the ball into the back of the net from twenty yards on halftime. Halftime left Southport nil and Everton two, but Southport did not let the score deflate them and with the goal fixed in their minds they went into the second half stronger. Pressing forward at every opportunity and they were rewarded with a blockbuster from Peter Thomson, seventy-five minutes in to the game, scoring from 30 yards. Then Lee Ashcroft was handed a golden opportunity to level the score, but he blasted the ball over the bar from close range.

Overall a workingman like performance from the yellows, taking into account the calibre of the opposition.

Southport will play one more friendly game at Rossendale on the 9 August, before the Unibond Premier League starts the following weekend with an away match against Wakefield and Emley

Score:- Southport 1 Mints 2
Competition:- Liverpool Senior Cup Quarter Final.

Southport Team Line Up:-

Dickinson; Williams; Clitheroe; Stone; Whitworth; Pickford; Byrne; Soley; Thomson; Mulvaney; Ashcroft.

Everton Team:-

Turner; O'Hanlon; B Moogan; Gerrard; Clarke; Schumacher; Alixandersson; Lie Tie; Chadwick; Ferguson; McLeod.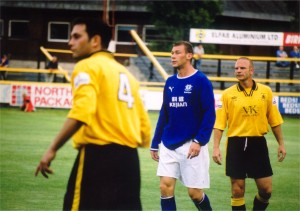 (Above) Ferguson of Everton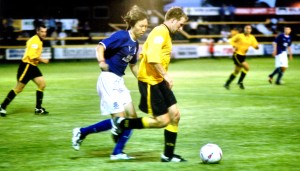 (Above) Lie Tie of Everton v Pickford of Southport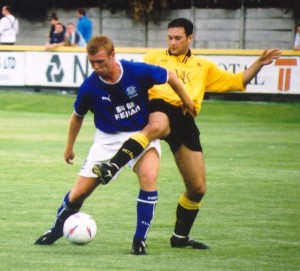 (Above) Stone of Southport v Schumacher of Everton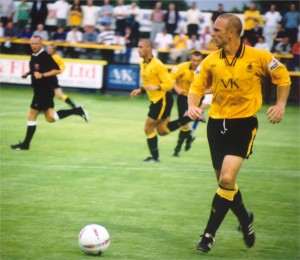 (Above) Whitworth of Southport