Launch of 0708 VAVOOM!
AN exiting and highly exclusive restraint opened in Southport this week. On the 7 August over 200 guests came to Southport from as far as London and Glasgow, just to experience the coronary delights of what is seen as Southport's newest gourmet capital. Owners Eric Clarke and Brenda Kelly, who also own the Masons Arms, told us "We would like to thank all who came to our opening. We are both pleased to have this opportunity to give our guests a small sample of what we are going to offer in our menu and to offer the town a new asset."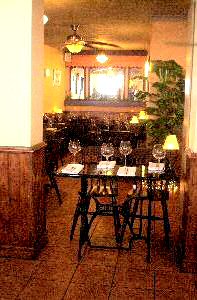 Eric went on to tell me that "I could not get down until well gone ten o'clock as I was having to make more and more food. As soon as I did get down every one asked what the patty was. The customers were all raving about it so I had to tell them it was rattlesnake, smoked and made in to a delicate delight.

The most interesting thing I played with that night was a dish that was made with scorpions."

I had to ask what made him use such unusual dishes and he replayed, "I have been a chef in twenty countries and all the experience and zest that that has given me, I wanted to give to Southport. Cooking such unusual foods fills me with joy and contentment, but I also cook normal foods like Black Angus Beef, and that to gives me grate satisfaction. All my cullenty talents will be on offer to my diners and I am a profexonist so all my foods no matter how simple or unusual they are must be cooked just right. To do that makes the customers feel fantastic and that makes you feel on top of the world. I have no compromises, no presumes, I just want to give Southport the chance to taste all foods equally all the time."