Knowsley

Flower Show

Photographs and Report by L Trollope
ON Sunday 3rd of August, Knowsley Leisure and Community Services held their 5th Annual Flower Show it is a very pleasant surrounding. In Court Hey Park, Huyton, home of the National Wildflowers Centre, even the weather proved conducive to enjoyment as a happy throng of all ages milled round to the various locations. It was all in the very best of British tradition. The programme was varied and there was plenty to capture interest.

The marquee and stalls were well attended, despite the heat and offered such delights as floral displays, many craft items and information aplenty about various organisations especially winning conservation and the hearts and minds of the public.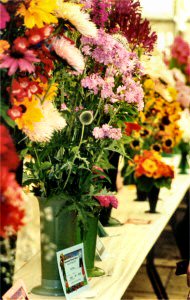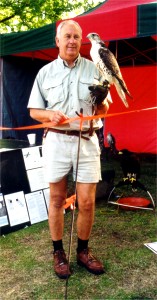 There were interesting walks and trails, well-produced music including Samba, percussion and classical, as well as items on gardens and a gardener's question time. In the arenas were amongst spectacles of falconry a plethora of displays and curios stalls, all performed with panache's. Also contributing to the scene were a Punch and Judy show, a peripatetic clown and displays of traditional crafts including Dave the Bodger. It is fascinating to see real craftsmanship these days.

We were also able to admire the handiwork of various school parties who entered a competition for best mini garden. All were very inventive and the winners were Plantation school, Halewood with a superb miniature park, complete with a tiny bench.

If the foregoing were not enough, there was always the National Wild Flower Centre and its very pleasant café to visit. Altogether a very remarkable day.