Yet more Additional engineering work on the West Coast Main Line this weekend...
VIRGIN Trains is reminding its passengers that Network Rail has announced an additional closure of the West Coast Main Line for engineering works over the entire coming weekend (16 and 17 August) in the Milton Keynes area.

Passengers traveling from Glasgow, North West England, Manchester, Liverpool and the West Midlands to Watford Junction and London Euston will need to alight at Northampton for an express replacement coach service to Hemel Hempstead. Silverlink will be operating a connecting train shuttle service from Hemel Hempstead to Watford Junction and London Euston. Trains from North Wales will terminate at either Stafford or Crewe for connections to Northampton.

To avoid the coach journey the following alternative train services can be used:-

Between Scotland and London - Great North Eastern Railway Between Manchester and London - Midland Main Line Between Birmingham and London - Chiltern

Holders of Virgin Value Advance tickets are not allowed to use the above trains.

Journey times will be extended by up to two hours and passengers are strongly advised to make advance enquiries particularly if they are traveling late in the evening.
A full list of details and the revised timetable will be available on:-
or you can get the information via the National Rail Enquiry Service
Tel:- 08457 48 49 50.
Passengers traveling to Milton Keynes from the north can stay on the trains until they terminate in Milton Keynes station. They should not alight at Northampton as the coach service is fast to Hemel Hempstead.

Similar arrangements will apply in the reverse direction for passengers traveling to the West Midlands, North West England and Scotland from London Euston.
Clean bill of health for Trust
STANDARDS OF cleanliness according to the Governments cleanliness and food inspection results for Southport and Ormskirk hospital proved to be of the highest quality after achieving the 'green star status' in the cleanliness category.

All three hospitals rated 'amber' status in the food section, which means the Trust maintains acceptable standards.

The Trust is extremely pleased with the ratings and will continue to maintain its high standards and make even further improvements.

Steve Taylor, Director of Facilities, said:- "We are delighted with this year's results, which reflect the hard work of staff and the satisfaction of our patients. The Trust will continue to maintain and build on its high standards for the safety and comfort of patients and staff."

One of the reasons the Trust scored top marks in cleanliness can be attributed to the recent introduction of a housekeeping scheme, which has proved a real hit with nursing staff and patients alike.
WANTED...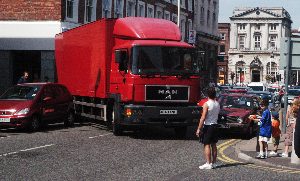 PLEASE send in your top 10 driving hates to us over the next 2 weeks.
Thinks like:- 1 ... bad parking, 2 ... Single yellow lines, 3 ... Mobile Phones being used on the motorway. etc....