It's The 1st

Annual...

Liverpool Elvis Festival

at the one and only... Albert Dock

Programme of Events... 15 - 16 August.

Friday 15th August 2003
8:30pm - 10:30 pm Free Entry into the Fingerprints of Elvis Exhibition:- Don't miss this exclusive opportunity to view the largest collection of Elvis memorabilia outside the US. Highlights include his 1976 Harley Davidson, his unique Gold Mercedes and of course, an actual set of Elvis' fingerprints! Unique Audio Tour by David Stanley (Elvis' stepbrother). You can't get any closer to the real Elvis.

9:00pm - 11:30pm Lights! Camera! Elvis!
Not just content with being a rock 'n' roll sensation, Elvis also had an outstanding movie career. Take time to watch the legend in action on one of our 2 big screens.

10:00pm - 11:00pm Night Time Vigil and Dockside Procession:- Join us in remembering the greatest and most influential entertainer of the 20th century. The candlelight procession will be accompanied by the Urban Voice Gospel Choir. Gather your thoughts and lay a flower on Elvis' first gravestone.

11:00pm - 11:30pm How Great Thou Art
Urban Voice perform more of Elvis' favourite songs

11:30pm - 12:00midnight "Elvis Has Entered the Dock" Chris Clayton, one of the finest Elvis impersonators, will take centre stage from "Fantasia" in the centre of the dock and pay homage to some of Elvis' greatest ballads.

12:00midnight - 12:15am A Tribute from David Stanley:- Elvis' stepbrother will close the evening by giving a personal and moving eulogy to the undisputed King of Rock'n'Roll.

Elvis celebrations will be continuing in the Pan American Club and Blue Bar until 2:00am.

The 1st Annual Liverpool Elvis Festival
Albert Dock
Saturday 16th August 2003
2:00pm - 5:30pm Merseycats presents:-
Live entertainment on our floating stage. Merseycats, the merseybeat groups of the 60's entertain throughout the afternoon.

2.00pm Jukebox Eddies
3:00 pm The Undertakers
4.00pm The Mojo's
5:00pm Kingsize Taylor and The Dominos (featuring Lee Curtis)

2:30pm - 4:00pm Book Signing by David Stanley:- Elvis' famous stepbrother will be signing copies of his book "The Elvis Encyclopaedia" by the Fingerprints of Elvis exhibition. Be sure to arrive early for this fantastic opportunity.

1:00pm - 6:00pm Eat Like The King:- Le Crepe Rit (next to Fingerprints of Elvis) will be serving a selection of Elvis' favourite foods throughout the day. Here's your chance to sample his legendary peanut butte and banana sandwich!!

4:30pm & 5:30pm Elvis Jet Ski Competition
Queens Dock will host the first ever Elvis Jet Ski competition. Thrills and spills are guaranteed at this exciting and exhilarating show.
SPECIAL OFFER
Anybody in Elvis costume will be admitted into the Fingerprints of Elvis exhibition for free!

EMAIL US YOUR Views Today!
Summer Vandals Out Again.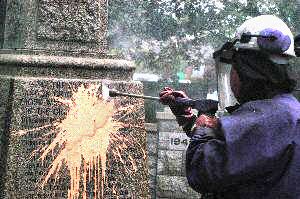 THIS week vandals desecrated the war memorials in Sefton following 3 separate incidents across the region.

Merseyside Police launched an operation earlier this week to find the culprits that damaged three war memorials with terracotta paint. The latest memorial targeted was on the corner of School Lane and Three Tungs Lane in Formby Village, that suffered the redecoration tactics in a fashion poorly mimicked of the recent banana sheep in Liverpool.

Officers believe that this incident is linked to two memorials that were damaged in Waterloo and Crosby over the weekend.

As the cleanup got underway on the Formby memorial, the passers bay were all saying it is an "absolute disgrace that mindless thugs should do such a thing." A view echoed by Norman Farrell who is the president of Formby's Royal British Legion who said:- "They have no respect for anyone or anything." Another shopper said that "They must be brain dead to consider such a mindless act."

A Neighbourhood watch team has joined forces with local detectives to catch the vandal and would like to appeal to members of the public for their help in tracing him. He is described as a white man, of normal build and aged between 35 - 45 years old. He has been seen wearing a blue T-shirt and pale coloured shorts, and either running or cycling away from the monuments.

Sefton Superintendent Philip Barr said:- "This is clearly completely unacceptable behaviour, and something that we will not tolerate. We have no idea what the motive is behind these incidents, but we will do all that we can to find the individual responsible.

We are looking for help from the people of Sefton, and I would urge anyone with any
information, or anyone witnessing suspicious activity around other local monuments, to contact the police immediately. This is mindless thuggery that not only creates an eyesore, but damages a precious monument to people who gave their lives for this country."

Anyone with information can contact Crosby Neighbourhood on 0151 777 3652 or Crimestoppers anonymously on 0800 555 111.

2 Out of 8 Cultural Challenge
Museum of Liverpool Life picture idea...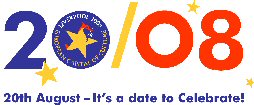 WILL YOU BE A WINNER? National Museums Liverpool are joining in celebrations for 20/08 with a winning opportunity. By having the Passport to Culture stamped at any 2 out of 8 National Museums Liverpool venues, visitors can enter into a prize draw to win a weekend break for four people in Dublin! The prize includes a return ferry to Dublin with the Steam Packet Company, hotel accommodation and €200 spending money.


All visitors have to do is take the Passport to Culture to 2 out of 8 National Museums Liverpool on the 20th August.

· Liverpool Museum
· the Walker
· Conservation Centre
· Sudley House
· Lady Lever Art Gallery
· Museum of Liverpool Life
· Merseyside Maritime Museum
· HM Customs and Excise National Museum