Summer Showcase 03

Photographs by Patrick Trollope
WELL sun came out on Saturday 2 August as the second Weekend Showcase took place out side the Town Hall Gardens Café. Despite some slight glitches at the start due to acts being stuck in traffic, the showcase soon got under way entertaining the crowds. Performing at the event was Lisa Cailes' very own dance school called STARMAKERS who came by coach all the way from Aintree. Multi-talented Lisa interestingly preformed at the Search for a Star on Thursday, (click 4 report).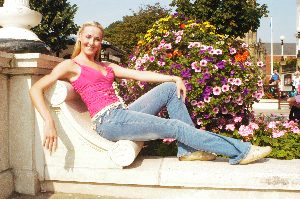 Well done to all who took part in the last Showcase.

The next Showcase will be on the 16 and 17 August on the Town Hall Gardens.

Performing for you on Saturday 16 August will be:-

1:00 Hot Club Band. (Lovely Jazz Instrumentals)
1:30 Betty Boo (Female vocalist performs pop standards)
1:45 Kade (Winner of this years Search 4 a Star, Heat 1, who jumps to grate highs and sings like a bird)
2:10 Joanne (Musicals)
2:15 Gemma Docherty (A fabulous Female vocalist, performs pop mixes)
2:45 Leah and Robbie (Two young vocalists)
3:00 Amanda and Katy (Duo of pop martial also sing solo)
3:30 Hot Club Band (Lively Jazz Instrumentals)
4:10 Liz Rushton (Winner of this years Search for a Star Heat 4)
4:25 Nicola West (A young and exciting vocalist)
4:30 Rob Cherry (Excellent vocalist and guitarist playing rock and pop.)

Performing for you on Sunday 17 August will be:-

1:00 Heaven Sent (Excellent singing and dancing by a 5 piece pop group)
1:30 Sam Hopper (He is a fabulous male vocalist performs pop mixes)
2:00 Jeanette Jarrel (Female vocalist)
2:30 Heaven Sent (5 piece pop group)
3:30 George Long (Instrumental and vocal mix)
4:15 Her Benny (A small selection from the his musical)
4:45 Joe Mercer (Rat pack style easy listening music)
5:00 Anthony Hannah (Male vocalist performing pop mixes)
6:00 Ken Nicholson (A fantastic round up male vocalist singing crowd favourites)

EMAIL US YOUR Views Today!