HEAT 4 of the North West Search for a Star was a very firey one at that. Not only did this heat have singers but a Fire Juggling Expert. Also present was a band. Sadly the juggling juggler did not get through. Taking to the stage were Kate Blair from Bebington on the Wirral;The Beat Beatles; Rachel Cain from Orrell Park Liverpool; Chris Lafferty Chris ,16, from Pontefract West Yorkshire; Giovanni Mercury from Haskayne; Adele from Hesketh Bank; Sam Hopper from Southport; Mandy Amanda Nicholson from Ainsdale; Jeff Allan from Skelmersdale and Anthony Webb from Knotty Ash in Liverpool.
The winner of the heat was Chris Lafferty and only 16 years old. He has been singing since he was 8. He won his first solo singing competition when he was 11. Since then he has performed for The Duke of Edinburgh at Windsor Theatre and at The Water Rats Ball. Over the past few years his performances have raised thousands of pounds for charity. No stranger to high profile competitions Chris appeared on ITV's Steps to the Stars. He is a lover of all kinds of music from pop to classical.
Second Place went to The Beat Beatles. A fantastic group who are playing on Bank Holiday Monday in Liverpool at the Beatles Festival. Their average age is 16 but already they have appeared on I.T.V's Kids Stars in Their Eyes. They have been together for 12 months as a Beatles tribute band who pride themselves on their period instruments and costumes. They have performed at the famous Matthew Street Festival and at St. George's Hall for Liverpool's Capital of Culture Events and will be performing at The Empire in September.

Anthony Webb at age of 18, came in third. He has been singing semi - professional for the past four years. In 2002 he won the Rotary Club Search For a Star and has performed on Radio Merseyside and is currently starring in and directing an amateur production of Grease. Anthony has also worked as a compare for the past year and is currently studying for his BA in Creative and Performing Arts.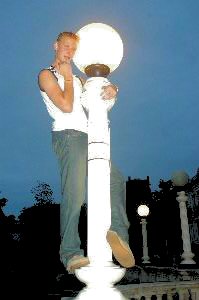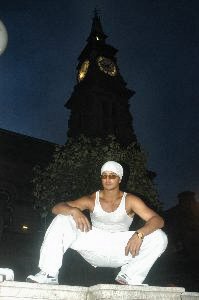 EMAIL US YOUR Views & News, Today!