SPEEDING? Well...

SMILE PLEASE!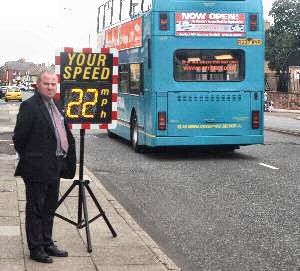 IT tempting to want to get to work faster or get home faster, we have all done it. As our lives get increasingly hectic, our speed goes up and driving skills get worse. This has resulted in a lot of tragic accidents on our roads. As a result drivers in Liverpool were given a chance to slow down in a summer friendly speed campaign organised by Liverpool City Council's Highways Road Safety Section in partnership with Merseyside Police.
Our Editor Patrick Trollope went to Aigburth Road, opposite the TA Barracks to find out more about the campaign that started on Tuesday August 19 and targeted speeding drivers.
All motorists who keep within the 30 mph speed limit along the Aigburth Road Corridor had a smiley face displayed at them, but those who exceed the speed limit were shown a scowling face. The faces flashed on an electronic display and that was triggered by a radar gun.
The summer education campaign is in advance of a Merseyside Police enforcement initiative. Merseyside Police will have officers along the Aigburth Corridor with a Mobile Radar Gun to enforce the speed restriction.
The new campaign is in response to the high number of motorists who were caught speeding - 2419 in 2002, along the corridor and the resulting accidents.
Cllr Peter Millea, Executive Member for Regeneration, said:- "I hope that Liverpool motorists will heed the warning and continue to drive along the corridor within the speed limit and with smiles on their faces"
This is not the end of the tail though…. Remember the scheme is still in operation and some times it carries a fine with the frown!