Last Day Of The Championship -Saturday, 20 July 2008
Report by Sally Devine & photos by Patrick Trollope
THE stage was set for a grandstand finish today at the Open with Padraig Harrington going for his second Claret jug in succession. Seasoned campaigner, Greg Norman was paired with Harrington and hoping to roll back the years with a third win overall.

The two of them went head to head around the course, the large crowds for the last day giving the pair plenty of vocal encouragement.

Norman's touch deserted him over the last few holes as Harrington remained steady and was able to stride up the fairway of the 18th green knowing that barring a disaster, he would retain the title he won last year. The crowd stood as one to greet both the champion in waiting and Norman who had pushed him all the way. Harrington gave the crowd an anxious moment, taking 2 shots to make the final hole on the green before punching the air in delight as the realisation of his win sank in. The Final score for him was 283 and a final day of 69, which is 1 under par in the better weather conditions. Greg Norman finished joint third on 289, along with Henrik Stenson.

Young Englishman ,Ian Poulter, with his aggressive approach to the game was a surprise late contender for the title; his fine second place bodes well for the future, 287 being his score. Fifth and sixth place went to Jim Furyk from the USA and leading amateur Chris Wood.

Wood's performance was nothing short of magnificent, the young man from Bristol was not overawed by the occasion and richly deserved the silver award for the top amateur in the competition. His total was 290 and at one stage in the proceedings was only three shots off the lead On Ian Poulter he said:- "Amazing he is such a great player, I was pleased for him to see him holing that putt on the last hole."

Weather wise the day began with heavy showers for the early starters but by lunchtime Royal Birkdale was bathed in sunshine as the crowds flocked in. Attendance for today was 40, 000 which was nearly six thousand up on Finals day last time the Open was held at Birkdale. Total figures for the week are 201, 500 which are more than initially expected with the inclement weather.

One of the favourites, Sergio Garcia, faded badly over the last 2 days eventually finishing joint 51st on 297 over the four days. He said:- "Whatever chances I had today I threw them away on the back nine. I just went brain dead, my body just didn't react to my thoughts. I couldn't think straight and didn't make any good decisions"

Colin Montgomerie fared even worse ending the day on 298, his thoughts on the week:-"I don't know what you can take out of it; I had to drive the ball better and hit my irons better. It was all wind and keeping it down and getting it up whatever the case might be. It was difficult all round so those who have kept it around par have done very well."

With reference to Greg Norman's display, Monty said:- "It proves this game has longevity that other sports don't have. If you keep yourself in shape and are mentally aware it's always possible."

K J Choi, who many thought could win at Royal Birkdale, commented:- "My putting was bad and continued today. I had no feel for my putting and it was similar today especially with the windy conditions. I feel I am close to winning a major; I'm not that far away. I learned a lot this week, I am not disappointed."

For this final day most players added a humorous touch to proceedings by having animals as their golf club covers, with stuffed cats, chickens and rhinos for an example! Pablo Larrazabal from Spain was having fun on the course; he celebrated by dancing in delight on the green as he sank his putt.

Padraig Harrington, in his press conference later, said referring to his wrist problem earlier in the week:- "Beware of the injured golfer, this took all the pressure off me it was a nice psychological distraction for me. I was not aware of Poulter's score during the game, I heard a big cheer over on the 14th and thought he may have scored a birdie, but I was confident in my play I felt I was hitting the ball as well as I possibly could. I knew I could win"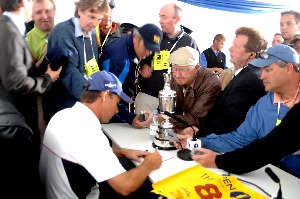 Page 1 of 5