Open Golf Practise Day Monday 14 July 2008

Photographs and report by Sally Devine.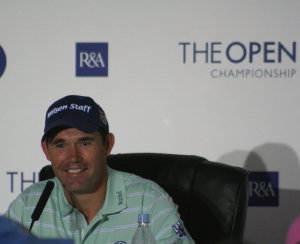 UNEXPECTED sunshine greeted the spectators for today's third practise day at Royal Birkdale. The weather has been dry since Sunday and crowds gathered early to see competitors such as Sergio Garcia and current champion Padraig Harrington make their first appearances at the course this tournament.

Colin Montgomerie chose to stay out of the limelight until later in the day beginning his practise time at 3.45pm and going round solo.

Open Golf favourite to win is Sergio Garcia, hoping to make amends after last years dramatic play off with Padraig Harrington at Carnoustie. It would be a hat trick for Spain if he does, complimenting the Spanish football team European win and Nadals success at Wimbledon.

The crowds are enthusiastic and appreciative of the fine golf on display at Birkdale and the four days of the Championship could break all attendance records. Merseyrail are running six carriage trains at 10 minute intervals during peak times to ensure the swift movement of passengers.