If you go down to the Woods Tonight…

Photographs and report by Patrick Trollope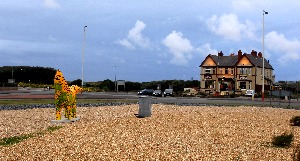 HE might not have been able to attend, but fans of Tiger Woods will be very delighted to find he has still had an impact on this year's Open Golf. On the Coastal Road, Roundabout, next to Pontins Ainsdale, a strange creature has been installed today (16 July 2008).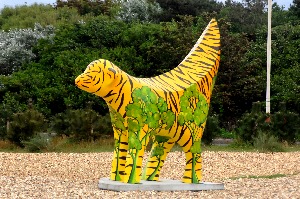 The Superlambanana, Tiger Woods, is sited at the main junction that joins the Temporary Beach Helicopter Landing Pad where the VIP Helicopter will land for the Open Golf and the roads into the Open. Already, as it had just been installed, it has caused quite a stir, with cars pulling up to take photographs on mobile phones. These are a few snaps shortly after his arrival…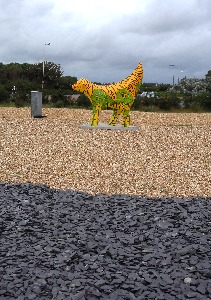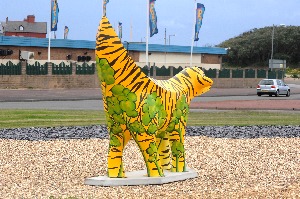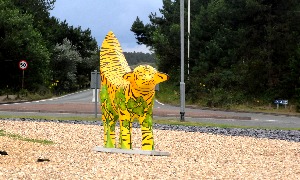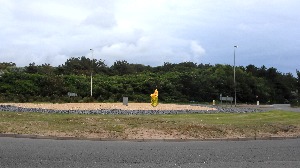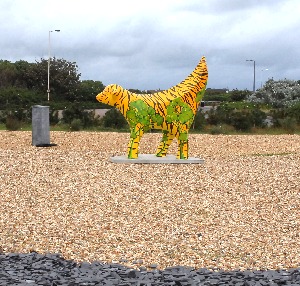 13 year old Jutanugarn becomes first girl to win The Junior Open
Report by R&A
MORIYA Jutanugarn, a 13 year old from Thailand, became the first girl to win The Junior Open, The R&A's biennial 54-hole championship for under-16s. Moriya added a round of 78 in extremely difficult conditions to her opening 72-75 to finish on a nine-over-par total of 225. Moriya, from Bangkok, is a scratch golfer and is the Girls' Champion of Thailand. She had never played golf in Europe before and had not set foot on a links course prior to this week.

Overnight leader Steven Lam of Hong Kong retained the lead with nine holes to play, but had a triple bogey on the 13th to fall behind, and failed to birdie the par-5 closing hole to draw level. 14 year old Jordan Spieth of Texas tied for second with Lam after a birdie at the last and his challenge could have been stronger had he not bogeyed the 11th, 13th and 15th.

"I had a great putt for a birdie that rimmed out at the 17th It was that kind of day for me. Moriya was a little bit lucky to chip in for an 8. If she hadn't done that, we could have had a play-off. But she deserved it. A great little player." said Spieth.
R&A JUNIOR OPEN - Hesketh Golf Club, Southport
GOLD CATEGORY FINAL TOTALS - Par=216
| | | | | | |
| --- | --- | --- | --- | --- | --- |
| 225 | Miss Moriya Jutanugarn | 72 | 75 | 78 | |
| 226 | Steven Lam | 73 | 73 | 80 | |
| 226 | Jordan Spieth | 72 | 76 | 78 | |
| 227 | Meen-Whee Kim | 72 | 78 | 77 | |
Other scores:-
230 Miss Mami Fukuda (Japan) 70 80 80

231 Frederik Hammer (Denmark) 76 77 78, Miss Laetitia Beck (Israel) 75 79 77, Robert De Biase (Venezuela) 73 78 80

232 Harry Whittle (England) 76 75 81

234 Scott Vincent (Zimbabwe) 74 79 81

233 Joaquin Lolas (Peru) 83 74 76

236 Miss Kristen Park (USA) 75 82 79, Sam Dix (Wales) 75 81 80

237 Miss Maria Yacaman (Colombia) 73 82 82, Paul McPhee (Scotland) 76 73 88, Peter Valasek (Slovak Republic) 76 83 78

238 Daniel Murphy (Ireland) 78 77 83

239 Miss Jisoo Keel (Canada) 79 79 81

240 Miss Daniela Ortiz (Mexico) 76 80 84, Kentaro Toyota (Japan) 78 77 85

241 Cyril Suk (Czech Republic) 81 79 81

242 Miss Katharina Soehnlein (Germany) 76 82 84

243 Andy Yang (Canada) 79 84 80, Tanapol Vattanapiisit (Thailand) 78 81 84

244 Miss Federica Maria Costantini (Italy) 76 82 86

246 Miss Katja Pogacar (Slovenia) 83 81 82

247 Matias Dominguez (Chile) 73 79 95

249 Miss Hannah Marie Turland (England) 85 81 83, Miss Amanda Chin (Malaysia) 80 83 86

250 Shehzad Hafiz (Cayman Islands) 81 86 83, Asaf Cohen (Israel) 82 84 84, Miss Johanne Svendsen (Denmark) 78 84 88

251 Sebastian Schwind (Germany) 80 85 86

252 Miss Connie Chen (Soth Africa) 85 75 92

253 Miguel Meyer (South Africa) 80 90 83

254 Miss Manuela Carbajo Re (Argentina) 80 83 91

255 Daniel Zuluago Ocampo (Colombia) 85 80 90

256 Juan Miguel Heredia (Ecuador) 83 91 82, Filippo Zucchetti (Italy) 82 89 95

259 Thomas Boffejon (Switzerland) 86 83 90, Dayne Moore (Zambia) 87 81 91

260 Glen De Waal (Namibia) 80 93 87, Carlos Solis (Mexico) 86 90 84

266 Thomas Mantovanini (Brazil) 85 91 90, Miss Stephanie Ho (Hong Kong) 81 97 88

269 Jabulane Mabaso (Swaziland) 97 95 77

279 Subhy Hakin (Lebanon) 82 105 92