1st Day Of Competition - Update 2

Report by Sally Devine & photos by Patrick Trollope.
NOW the 08 Open is well and truly underway and what a start it was! It was a fantastic day for spectators, if not the players. Opening today (Thursday, 17 July 2008), the 137 Open Gold Championship, was Australia's Craig Parry at 6:30am GMT. The 45 year old teed off, finding the fairway with a Callaway 'Heaven' Wood, but the weather was to dampen spirits of many players throughout the first day. As Simon Dyson put it in an interview:- "Well it's the same for everyone. There will be some very high scores today. I could have been one-over after six, but I missed putts or birdie and par and all of a sudden it becomes a serious battle. It's a shame. You build up for a massive tournament like this and the weather is the worst it's been all year!" As another player told us:- "This is real golf. It pushes you to your limits and then some... Spectators must have loved it!"

Teeing off at 8:20am GMT this morning was Vijay Shigh of Fiji, his comments again summed up the mood of the players, "It was miserable, miserable, miserable weather. It was just a miserable day. You got rain blowing sideways, it was cold, it was windy and I didn't play badly. I just couldn't stand over a putt and have a comfortable putt. I was always on the defence… That is what happens. You need some momentum and you don't get any momentum that's what happens." That was what Vijay said when interviewed after getting 10 over par.

He was not the only one to complain about the wind and the rain. "I didn't have much trouble sleeping… I had a couple of drinks and went to sleep last night. If this is the summer, I couldn't live here. I wasn't hitting it solid, and the wind made it worse. I was going up on a club on every shot and that wasn't working. I need to up three or four or just go in..." said Boo Weekley said as he was interviewed greenside. He also added:- "If the wind keeps blowing as hard as it is, they may need to move the tees up."

Also in a greenside interview, Ian Poulter after being asked:- "How tough was it out there?" replied:- "Obviously standing on the range this morning it's coming in sideways. The wind's blowing 30 and as you know we only get four par fours downwind. You know it's going to be a long day. You know it's going to be relentless. When the wind and rain's like it was on the front line, it's brutal. I managed to weather it pretty good, stayed focused and I hit some good golf shots. A couple of putts, which was a bit disappointing. It was nice to get on a par five eventually. They seem to come a bit late in the day, but at least I picked up a couple of birdies."

Weather problems led Sandy Lyle to call it a day after ten holes of the first round. He stood at 11 over par after going out in 45. In an interview he was asked what it was like and he replied:- "It was early on, wind and driving rain. It's just a difficult, difficult golf course. I was out of whack with my golf game and I think it was best to call it a day." He was also asked:- "Have you ever seen conditions like this on day one of an Open." He responded:- "Not this early in the morning and it's usually a bit warmer. It was just constant rain all the time. It was difficult keeping my hands dry and of course I wear glasses, so that didn't help. It's a brutal golf course and there are not many birdie chances out there."

Thankfully for those competitors who started this afternoon the weather improved but at the end of the day only three were able to come in under par. These being Rocco Mediate, Graeme McDowell and Robert Allenby. But the first day did see Toru Taniguchi withdraw from the Open Championship due to back injury. His place was taken by Heath Slocum, USA.

Australia's great white shark, Greg Norman is in the mix with level par of 70 along with Adam Scott. As we went to press, Sergio Garcia was still on the 17th hole at 2 over par. The second day of the tournament promises better weather, so the leader board may be very different by tomorrow night.

Justin Rose finished the day at 4 over, the Englishman is still in contention, as is Ireland's Padraig Harington. American Tom Watson entertained the crowd at the 17th hole with an unbelievable shot, which he initially appeared to over hit, but it ran back down the slope to rest just short of the cup.

The crowds continued to pour into the course during the afternoon with the attendance figures posted at 36,500, interestingly up by 500 on last year. Many had travelled from down south (UK) just for the day and despite the weather, and all were impressed by what they had seen. Admission prices at £55 for the day were ruefully accepted for the calibre of competitors on show, but some complained about the food prices, £4.95 for a cheeseburger and £2.50 for chips along with £6 a program.

Some relevant tee times for tomorrow's play include Garcia off at 9:20am GMT, Harrington starts later at 1:09pm GMT and Justin Rose at 12:47pm GMT

Merseytravel are making heroic efforts to accommodate travellers to the Open Golf. For further information www.merseyrail.org or ring Travel Line 08712002233.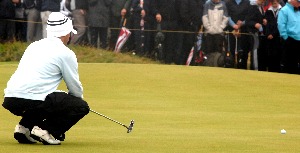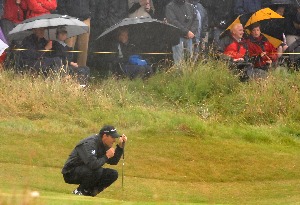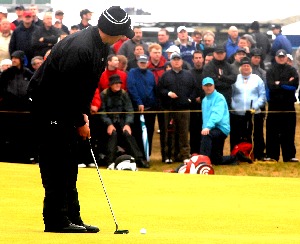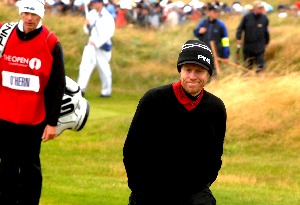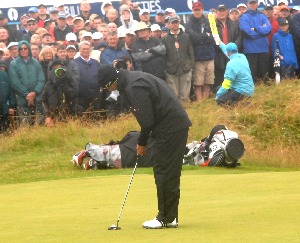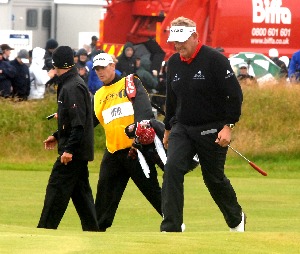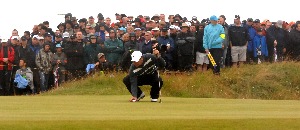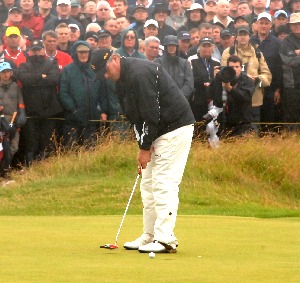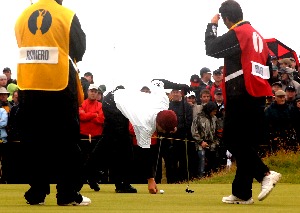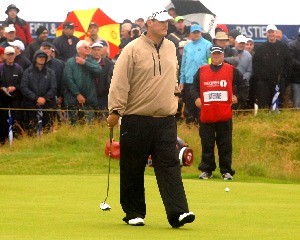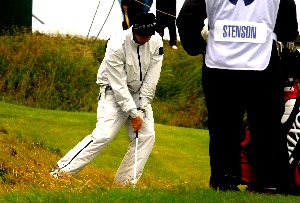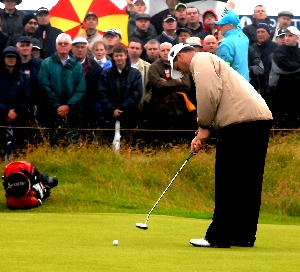 Page 1 of 4