Student Funds
After the announcement made by the Prime Minister concerning the abolition of tuition fees, the government has announced it will review student funding. The Westminster review follows a Welsh Assembly inquiry into student debt, which identified a "mismatch between the vision and the reality of the government education policy".

Teresa Rees, who chaired the investigation, recommended that an introduction of a basic grant of up to £1,500 for students in higher education.

Rees also recommended that students should be allowed to pay their tuition fees after they have graduated rather than the existing 'pay as you go' system. It is hoped a new scheme would alleviate student debt.

Steve Brooks, President of the National Union of Students in Wales, said "We are delighted by the news that the government has finally decided to review student funding. Although we've had an investigation in Wales, many of the changes students want to see nationwide can only be enacted by Westminster."

The NUS is also running a 'Priced Out Pushed Out' campaign for the outright abolition of tuition fees.

Article By Miranda Schunke and photomontage by Patrick Trollope.
Legalisation of Drugs!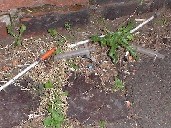 The debate on the legalisation of drugs is continuing after renewed calls for an adult debate on the subject. Last weekend, a large number of Liberal Democrat delegates called for an examination of the case for legalising all drugs. The reasons for legalisation would be to improve health by removing the impurities in black market drugs and also to end the trade of drug pushing.

The debate comes after increasing dissatisfaction with the government's current soft drugs policy. Former deputy Conservative leader, Peter Lilley called for the legalisation of cannabis in July while ex-cabinet minister Mo Mowlam called the current level of parliamentary debate on cannabis "a farce".

Police in Brixton became the first in the country to formally turn a "blind eye" to the possession of small amounts of cannabis earlier this year. Although the Prime Minister remains opposed to legalisation, Home Secretary David Blunkett has called for an "adult, intelligent" debate on the issue.

Article by Miranda Schunke and photograph by Phill Rodwell