Energy Efficiency Roadshow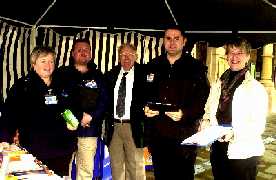 Free prize draws, low energy lightbulbs and a personalized energy plan were available to every Sefton resident who visited Sefton Councils Energy Road show at Southport Town Gardens on Saturday October 27.

Linking in with National Energy Efficiency Week Sefton Council's Energy Conservation Team, in partnership with the Merseyside Energy Advice Center, were offering energy advice and money saving tips aiming to reduce energy consumption.

This year's Roadshows follow on from last year's success when over 4,000 Sefton residents across the Borough were given energy saving advice.

Ian Weller, Sefton Council's Energy Management Officer said, "Last years response was phenomenal. We hope to build on our success, this year we have chosen Saturday's for the roadshows to help more families save money by reducing energy consumption."

If you missed the event in Southport the Energy Roadshow will also be visiting Crosby Town Centre on November 3 , 2001, and Maghull Central Square on November 10, 2001 from 11am until 3pm at each site.

However, if you are unable to go to the events call the Merseyside Energy Efficiency Advice Centre on Freephone 0800 512 012, everyone calling the hotline between now and 16 November 2001 will be entered into a draw for a Freeplay clockwork/solar radio.
Please Note.

Over the next few weeks, we are changing the layout and making the news page, more entertaining for you all, so what we are going to do is let you suggest what you want to see.

Please email us with your suggestions and we will do our best to act.
News-page-update@pcbtphtography.co.uk
Please select an article:

Should Drugs be legalised?

Picture Caption Competition Results & spooky goings on in Southport! 3 Pages!

Music and Film Gossip

Fox & Goose

THE ROCK FEST Exclusive!

Picture special with 30 Pages!

Swimming Baths Project, Eastbank Street and Scarisbrick Avenue

How do students fund them selves?

Story Comp!

Find out who won next week in the Bonfire and Halloween Edition!

Happy Birthday!

Happy Birthday to my husband Damon on the 2nd November, he'll be 33, with lots of love Julie and his little girls Courtney and Natasha. xXx.

Birthdays email us Here!

If you have an article, or want to suggest one then email us today. See this page, for more information!

Our