The secret's out…..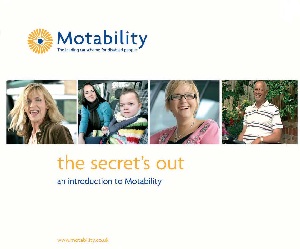 A NEW DVD has been released to help raise awareness about the Motability Scheme. The DVD, fronted by actress and disability rights campaigner, Julie Fernandez, helps bring the Scheme to life. It will be useful in informing health professionals, advisory groups, social services and other charities and organisations about the help that is available through Motability, for disabled people and their families.

Motability enables disabled people who receive the Higher Rate Mobility Component of the Disability Living Allowance or the War Pensioners' Mobility Supplement to obtain a new car, powered wheelchair or scooter. Some 450,000 customers have chosen to join Motability and 97% of them would recommend the Scheme to their friends. Yet another 1.3 million disabled people are eligible to join but haven't taken advantage of doing so. The DVD has been produced to reveal the benefits to those who think they can't afford a Motability vehicle or are unaware of the Scheme.

Julie explains in the DVD how the Motability Scheme works, from how to join to actually getting on the road. As she says:- "There are too many people out there that could be could be enjoying the freedom that their own transport would give them. But, chances are they don't know how easy and affordable it is. The Motability Scheme isn't meant to be a secret but not enough people seem to know about it. And, that is definitely something that needs to change."

Sophie, mum of 7 year old Ellie, agrees:- "My daughter Ellie has Retts Syndrome, a neurological disorder that mainly affects girls and means she'll never be able to walk or talk. But, I had no idea about Motability, I hadn't heard about it until I went to my local dealer to buy a new car and he advised me about the Scheme." 2 years later and she is thrilled with their car. Motability also provided a grant to help towards the cost of a swivel seat for Ellie so that Sophie no longer has to struggle lifting her into the car.

In the DVD Julie also speaks to other Motability customers to find out what difference the Scheme has made to them. Tracy has cerebral palsy and used to have to rely on people; friends, family and taxis, to get around before getting a Peugeot 206 on the Motability Scheme. "You could say that Motability has changed my life", says Tracy. "I learnt to drive after my daughter was born, so obviously the car helped with that and it's just made a huge difference to me."

Phil first heard about Motability when he was at his local doctors and he hasn't looked back since. As he says:- "At first I thought Motability only did cars but then I realised that they did scooters and powered wheelchairs too. So, I applied and they helped me fill in the various forms and choose a scooter that would be suitable for my needs, and within three weeks the scooter was with me. It has given me so much independence to do all the things that I wanted to do, such as going to the local shops, supermarket, to my doctors, visiting my friends and going out on social occasions."

The DVD includes options for viewing with subtitles, British Sign Language and in alternative languages. To order copies please visit the 'Marketing Literature' section of our website located within 'Contact Us' or phone our Brochure Hotline on 01279 632067.
For general enquiries about the Motability Scheme call our Customer Helpline on 0845 456 4566.
Amateur Pianists
IF YOU'RE passionate about your piano playing then make a note of THE PIANISTS, the acclaimed competition for outstanding amateur players. There's a once-in-a-lifetime opportunity for you to scale new heights and take your music from the living room to the stage of one of London's most prestigious venues.

Following the highly successful inauguration of this biennial competition in 2005, entries for the 2007 event are now being sought from amateur jazz and classical pianists. Players must be over thirty years of age and must not derive their principal income from playing – it's that simple! All you have to do is submit a short recording to the organisers and you could find yourself playing in front of a capacity audience at the Cadogan Hall in Sloane Square – one of the capital's most prestigious venues – in November. But that's only the beginning of the story.

Winners will also have the fantastic opportunity of being broadcast on Classic FM and The Jazz and achieving the ultimate dream for many an amateur pianist: the classical winner will play a movement from a concerto with The Royal Philharmonic Orchestra whilst the jazz winner scoops a set with Julian Joseph's internationally acclaimed band at a major London venue. As many people will know Julian's band stars some of the world's hottest jazz players including saxophonist Steve Williamson and drummer Mark Mondiser. Both experiences will prove truly life-changing for the successful winners.

The 1st event for outstanding amateurs was a great success and received massive publicity culminating in a sellout final at the Cadogan Hall. Pianists Sabine Vinck and Eddy James triumphed and were named the UK's most outstanding amateurs after dazzling the 1000 strong audience with fiery interpretations of Prokofiev's Sonata No 1, a beautiful Clementi Sonata and a 'Jazz Journey' from the 1920s to the 1940s.

Unique to the UK, the aim of THE PIANISTS is to provide a high profile, professionally produced showcase for the country's most passionate amateur piano players and assist them in reaching new levels whist promoting piano repertoire and piano playing to new audiences. This year's judges include Noriko Ogawa, Martin Roscoe and Piers Lane for the classical category and Julian Joseph, Jamie Cullum, Jason Rebello and Gwilym Simcock for the jazz. THE PIANISTS scheme is supported by Classic FM, The Jazz and Jazzwise magazine, who will be covering all stages and providing regular information and updates throughout the year.

Closing date for entries is the 10 August followed by the semifinal in September. The 6 finalists will then be invited to perform at the Cadogan Hall in Sloane Square – one of the capital's most prestigious venues – in November.

Yamaha's Mike Ketley comments:- 'It gives me great pleasure to be once again launching our Competition for outstanding amateur pianists. There are many competitions for young, up-coming pianists but our scheme is unique in that it offers a real opportunity for talented adults who play for the sheer love of their art to enter a vibrant, stimulating and friendly environment amongst like-minded players. For amateur pianists the opportunity to perform with the Royal Philharmonic or Julian Joseph would otherwise be impossible. We found with our first event that the quality of amateur players throughout the UK was simply staggering, these people deserve a wider audience and that's exactly what we provide.'

Pianist magazine's Erica Worth adds:- 'The atmosphere of the Finals night in 2005 was electrifying. In fact, the atmosphere throughout the whole competition from the launch to the end was totally unique. That's because all applicants were in for the sheer joy and love of the piano, not for the money and not because they had to do it. For those who made it to the semi finals and the finals, this their dream realized – that is, to actually perform like professionals on a big stage!'
Jazzwise magazine's editor Jon Newey says:- "This competition is a fantastic opportunity for talented non-professional pianists from all areas of the United Kingdom to have their skills and imagination noticed and compete for a place on the big stage. Live performance is the authentic jazz experience and the competition will greatly ignite the interest of players and audiences alike."

Classical Judge, Martin Roscoe 'I am absolutely delighted to be involved again in this exciting and innovative competition. The 2005 event generated huge interest and the final was of an astonishing standard. I can hardly wait for November!'
For full details of how to enter and further information on rules please visit www.thepianists.co.uk.