BOUNCING TO NEW HEIGHTS!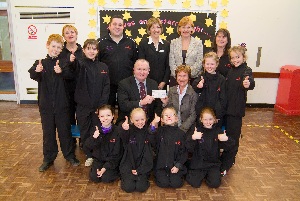 A WIRRAL primary school trampolining squad has leapt to success in the British national Gymnastics competition, becoming the North of England champions. The squad, made up of 8 youngsters from the Poulton Lancelyn Primary School, Spital, travelled to Belfast to compete in the second round of the competition, after beating off stiff competition in the earlier North West round. Wearing new kit sponsored by Redrow. The youngsters also walked away with the 'Best Dressed' award.

The pupils are now getting ready for the Schools' British Championships to be held in South Shields later this month and PE Coordinator Dan Arnold has high hopes for the team:- "We're so proud that they've managed to get this far. They've all been putting in extra practice, and working very hard, so they really deserve the success. Whatever they achieve next will just be a bonus!"

The under 11 team had to perform a set routine, before doing a voluntary individual piece to the packed Newtouards Leisure Centre in Belfast. Making up the squad were Georgina Hadwin, Charlotte Simms, Lauren Williamson, Emma McKeown, Jane Napier, Katy Gerard and Beth Williamson. There was also individual success for under 11 novice Mark Read, who after competing for the very first time, came fourth in the North of England. But before competing in Belfast, the school was tasked with finding the extra money they needed to fund the trip. And luckily, help was just around the corner.

Dan explains:- "It's so expensive to pay for a trip like this, there are flights and other travel expenses to take care of, as well as new kit, and so we desperately needed a sponsor. Redrow has a development just across the road from our school, and seemed the obvious choice."

The company also donated £1,000 towards the trip and tracksuit costs, leaving the school free to focus on springing to success! Dan says:- "Redrow was really keen to get involved and have been helpful ever since. The only way we could have raised the money without their help was by asking parents to cover the costs. The squad looks like a professional unit now, which will hopefully help us in the finals."

Patsy Aicken, sales director of Redrow Homes (North West) says:- "It's great news that the school has done so well, and I'm so pleased that we could help in some way towards their success. We always like to get involved with the local communities that we build within and as the school is so close to one of our developments at Poulton Manor development, this was the perfect opportunity. I hope our relationship with them will continue and everyone at Redrow."
BARCLAYS SEARCH FOR FAN GOGH
BARCLAYS and Arts Council England issued a rallying cry to football fans in the Liverpool area to show 'what football means to them'. 'Barclays:- Finding Fan Gogh', a nationwide art competition for football fans, celebrates the on-pitch artistry and invention football fans see, plus their passion for playing the beautiful game themselves.

Fans are invited to choose the aspect of football that inspires them, whether it's the grit of grassroots or the Barclays Premiership elite, and convey this in art form - drawing, painting, photography or collage. A panel representing the worlds of football and art will be responsible for the judging process and selecting a winner.

Barclays Finding Fan Gogh Judging Panel:-
· Sir Christopher Frayling, Chairman Arts Council England
· Sir Peter Blake, Eminent artist
· Jim Hytner, Barclays Marketing Director
· Sara Cox and Chappers, Radio 1 DJs and football fans
· Teddy Sheringham, West Ham Utd

The winner will receive £10,000 and have their artwork displayed on a giant advertising board near their local Barclays Premiership team. Five runners up will receive £1,000 each.

Jim Hytner, Barclays Marketing Director comments:- "Football and art are two of the nation's most popular pastimes, this project combines the two and gives football fans in Liverpool the chance to show what football really means to them in a creative way. We are delighted to have teamed up with the Arts Council for this exciting competition."

Teddy Sheringham, said:- "I'm obviously passionate about football, so it's going to be interesting to see what fans come up with and how they interpret the game through art. I'm sure the standard of entries will be fantastic!"

Sir Christopher Frayling, Chair of Arts Council England, added:- "Entrants don't need to be professional artists, but do need to be able to put over how they feel about the beautiful game. With the Barclays Finding Fan Gogh competition we're looking for entries that communicate visually the passion and excitement of modern day football."

Any 2 dimensional media can be used and entries must be no bigger than A4 size (210mm x 296mm) and no smaller than a postcard (139mm x 107mm). The competition is in aid of NCH – The Children's Charity and a selection of the final entries will be used to produce art that will hang in a number of NCH projects where many of the vulnerable children and young people that NCH works with, may be able to appreciate them.