Unique project to tackle trespassing, vandalism and hoax calls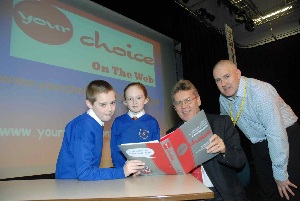 A MULTI-AGENCY campaign to tackle anti-social behaviour, trespassing on train tracks, and promoting the dangers of hoax calls and vandalism to youngsters has been showcased at a special event in Merseyside. Called 'Your Choice', the project is unique in the UK and involves a rap group, drama workshops, Who Wants to Be A Millionaire-style competition, a web detective game, vehicle tour and interaction with police horses, drugs dogs, fire fighters, and paramedics. The aim of the project is to encourage young people to think about the consequences of their actions.

Councillor Mark Dowd, Chair of Merseytravel, who organise the event alongside a number of key Merseyside agencies, said:- "This project is unique and helps children to realise that there are consequences to every action. Trespassing on train tracks, hoax phone calls, throwing stones at buses and trains and vandalism can all cost lives."

Councillor Dave Antrobus, Executive Member for Community Safety for Liverpool City Council, said:- "Education is the key to teaching youngsters the dangers of their actions and this is a really valuable project. It could well help prevent a serious injury and even prove to be a lifesaver."

A part of the showcase, the partnership launched a new website based around the event and dedicated to Merseyside's young people. The website is yourchoiceconference.org.uk.

During the showcase, rap group Systems D sung the "Your Choice" rap, using modern music to promote serious messages about keeping safe, drinking alcohol and vandalism. The Mojo Theatre Company from Kirkby performed a play about a boy called Charlie who skips school, plays on train tracks and pays the price with disastrous consequences.

The Your Choice events are supported by a number of key Merseyside agencies including Merseytravel, Citysafe, Merseyside Police, British Transport Police, Merseyside Fire and Rescue Service, Mersey Regional Ambulance Service, bus operators Arriva and Stagecoach, schools and Merseyside's local authorities.
Merseyrail tops UK rail passenger polls
PASSENGERS using Merseyrail regard it as one of the country's best train operating companies, a major UK survey reveals. The National Passenger Survey (NPS), carried out by independent rail consumer watchdog Passenger Focus, puts Merseyrail top in a number of key categories in the satisfaction survey.

Merseyrail tops the national poll for; value for money (68% satisfaction), connections with other train services (84%) and provision of information during a journey (85%). It also comes a close 2nd in several other categories, including the frequency of trains on the service (91%), the speed of trains (92%), punctuality and reliability (86%) and train comfort (81%).

Merseytravel has full powers over the performance, investment and consumer protection for the Merseyrail Electrics franchise and works with Merseyrail Electrics operators Serco NedRailways to deliver the improving services.

Councillor Mark Dowd, Chair of Merseytravel, said:- "These results are based on the satisfaction of passengers who are using the service so it is very important to us to see Merseyrail topping so many important categories in this survey. We are always looking to find ways to improve the Merseyrail network and we are never complacent. We know we have a good service, but we also know we can improve further."

Neil Scales, Chief Executive and Director General of Merseytravel added:- "We're pleased to see passengers are so positive about Merseyrail. It is a fantastic partnership and we hope people will continue to see the improvements we are making year on year. It is regularly one of the best performing train-operating companies in the UK and we are investing a great deal of money and effort into improving stations, trains and safety."

The Merseyrail network covers 67 stations, with over 30 million passenger journeys made on the network each year.

Merseytravel recently completed a programme of refurbishment of the entire Merseyrail fleet of trains, 59 units in total, at a cost of more than £34million.