BIG IDEA IN TOXTETH
INNOVATIVE community facilities for young people are to be decided with the help of a brand new steering group. The Tiber Project will ultimately transform the area around the successful Greenhouse Project in Toxteth, and now many of the people who will eventually use the space are being asked exactly what they want and need.

Liverpool City Council Leader, Cllr Warren Bradley, said:- "I'm all for encouraging the local people who are going to be the users of a facility, to be the ones who help design it. The steering group will prove a valuable asset to the area."

The Tiber Young Persons Steering Group will be launched at the 08 Place, 36-38 Whitechapel in Liverpool city centre on Thursday 22 February, 5-6pm and all media are invited to attend. Contact Clare Trenholm on 0151 233 6765 to confirm your place. The project is also part of the Big Idea, a programme co-ordinated by the National Children's Bureau around engaging and involving young people in the built environment.

Stephanie Tyrrell from the Tiber Project said:- "Members of the steering group have already been to London for training from The National Children's Bureau and members are drawn from all sorts of organisations, like The Greenhouse Project, Kingsley Football club and The Somali Youth Association. We feel that improving the facilities is crucial for engaging and developing for the future generations of Toxteth and the Tiber Project will give young people a voice they well deserve."

The launch will bring together The Tiber Board, Steering Group members, Liverpool Culture Company representatives and local MPs. Showcased at the event will be photography by the young people and films reflecting on consultation work already carried out.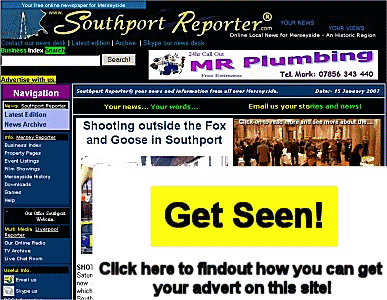 "HIS-TERIA" SCARING MEN FROM HELPING CHILDREN
75% of men will not help children in distress because they are worried about what it will look like to others. A survey of 500 men in the UK by child safety firm IdentiKids shows that because of a heightened awareness of paedophilia there is a general concern about helping children in public places who appear to be lost or in a vulnerable situation.

Of those surveyed, 75% of men expressed a fear of helping a distressed child in public and their concern would make them think twice before eventually coming to the assistance of a minor. 45% of those surveyed would take the decision not to directly help the child, perhaps finding a female passer-by or another member of the public to help approach the child. 23% of those surveyed would ignore the child completely leaving another passer-by to assist.

Their fears seem to be backed up as, although, those surveyed didn't doubt the intentions of other men when coming to the assistance of children, if the child started to cry or scream then over 67% of those surveyed would be concerned about the man's intent. This compared to just 21% if a child began to scream or cry when a woman had approached to help. Interestingly, the fear or "hysteria" men are reporting is a modern phenomenon. Of those surveyed, 80% felt more scared of helping children than they did 10 years ago.

Nadine Lewis, Managing Director of IdentiKids the organisation behind the Child ID wristbands available at Asda, Boots and Mothercare, said:- "It is a sorry portrayal of modern life that children could potentially be put in danger because men's fear and the perceptions of others. A large part of modern child safety campaigns is about educating children about "Safe strangers". The conventional wisdom that is taught to young children when they become lost is to find a "safe stranger", an older woman or a person in uniform. IdentiKids also help teach kids about "safe strangers", however maybe this is creating a climate of fear for men and is contributing towards a less safe world for children."

IdentiKids's website, contains information on what to do if the public find a lost child and also contains information which can be taught to children about "safe strangers."