Schools unite to banish bullying
LIVERPOOL schoolchildren are teaming up with the city council to say "NO" to the bullies. Every school in Liverpool is being urged to sign up to a new charter, pledging their commitment to combating bullying. Schools across the city will be asked to adopt 'The Bullying Charter for Action' with staff, pupils and parents working together to create school communities where bullying is not tolerated.

It's part of the city's new anti-bullying strategy, launched 9 July 2007. The strategy - which young people themselves played a major role in developing - puts a number of new measures in place to combat bullying and protect the most vulnerable, including children with special needs and disabilities and victims of racist and homophobic bullying.

Members of Liverpool Schools Parliament will join council officers, police, voluntary groups, PCT officers and Connexions staff for the launch. They will unveil a range of hard-hitting anti-bullying posters 'Stand Up, Speak Out' created by youngsters in support of the campaign. The posters will be placed in schools and youth centres throughout Liverpool.

The city council's executive member for Children's Services, Councillor Paul Clein, said:- "Tackling bullying is a major priority for us, and we're determined to eradicate it in our schools. To achieve that, it's vital that there's a united front between pupils, school staff, the council, police, health professionals, parents and governors. That's what this new initiative is all about. We cannot underestimate the impact bullying has on the health, learning and attendance of children. It can effect children's development and cause major problems which last into adulthood. We want to drag bullying out into the open and make it is everyone's problem. We are already doing a lot of good anti-bullying work, but this new plan will allow us to better focus our efforts and pool our resources. Above all, it will allow us to place the people who matter – our children and young people - at the heart of the fight against bullying."

A new vision for tackling bullying became a major priority in the council's Children and Young People's Plan, after consultation with schools highlighted that bullying was one of the key concerns facing young people. A bullying audit found that one in three young people in Liverpool had experienced bullying over the past 12 months.

Children and young people have been widely consulted to make sure the strategy reflects their concerns and needs. It includes plans to establish a central database to monitor and record all bullying incidents across the city as well as proposals to appoint a number of anti-bullying co-ordinators to act as a first point of contact for young people and parents across the city.

The strategy and charter will be launched at an anti-bullying forum, 'Liverpool - Reasons for Change' at LACE Conference Centre, Croxteth Drive. More than 200 delegates will be at the event which aims to raise awareness and encourage good practice. Liverpool's young people themselves will take centre stage, talking to guests about their experiences as well as their hopes for a future free of bullying. Holly Lodge Girls College will give a presentation about friendship and the city's successful Bullybusters campaign, and there will be presentations from St Cleopas and Roscoe Primary Schools.

Keynote speakers will include Councillor Paul Clein, and the council's executive director for children's services Stuart Smith as well as Granada presenter Tony Morris.

Councillor Clein added:- "I'm very proud of the work that has been done on Liverpool's new anti-bullying strategy. It's a major step forward in our efforts to make schools safer, healthier places for all young people. It's fitting that young people themselves are launching it – after all, this is all about them. They played an important role in developing the strategy, and, of course, they will have a major part to play in is future success."
Letters To Editor:- "Welcome to Southport... I don't think so!"
"ON Sunday 1 July 2007, we visited Southport on recommendation.

We parked the car in a parking bay in Portland Street. Upon our return to the car after lunch, a fixed penalty ticket was on the windscreen.

I have travelled all over this country, including the capital, where parking in parking bays on the street is free on Sundays.

I realise now I should have checked the times on the pay and display machine. Apparently parking is free on Sundays up until 1100 hours in Southport.

I wrote to Sefton Council and explained I was a visitor to the town from the South of England and was not aware of the restrictions in Southport. I received a reply stating the ticket would not be cancelled and that I was to pay £30 within 14 days or £60 otherwise.

We shall not be returning to Southport. We feel we have been discouraged from doing so by an unsympathetic Council's attitude towards visitors. I would add we are not deliberate law breakers.

Welcome to Southport, I don't think so." John White
New Taxi Rank at the Main Entrance of Southport District General Hospital.
Photograph with thanks to Tony Crabtree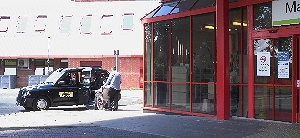 THIS week Southport Hackney Carriage Taxi Associations have now got a New Rank outside the Main Entrance of the Southport and Formby District General Hospital on Town Lane. The rank has been long awaited by both the taxi drivers, the many hospital staff and visitors to the hospital. Patients and Visitors can now enjoy a new service using their mixed fleet of
"For Immediate Hire" taxis, many with wheelchair access. Tony Crabtree who is the Sectary of the NSHCA said:- "This is fantastic new. We have asked for this for a very long time and we are extremely pleased that it has now been made reality. This will have a huge effect on the way we can service the hospital and its visitors."
ECHO AND THE BUNNYMEN TO HEADLINE ECLECTICA MUSIC FESTIVAL
LIVERPOOL'S Echo and the Bunnymen has been announced as the headline act for this summer's free Eclectica Music Festival in Victoria Square, St.Helens (midway between Liverpool and Manchester) on Saturday 11 August 2007.
The show will be offering a diverse combination of music genres, Eclectica is one of the North West's most exciting, innovative, and up-and-coming summer music festivals. In addition to Echo and the Bunnymen, Eclectica '07 will feature a similar first-class mix of exciting established bands and flourishing new talent, all for FREE!
The event is being run in association with St.Helens Council, Love Music, Hate Racism and the Citadel Arts Centre.
For up to date information all about the show then go online to myspace/eclecticamusicfestival or visit visitsthelens.com or telephone 01744 755150.