THEIR BOOTS WERE MADE FOR WALKING...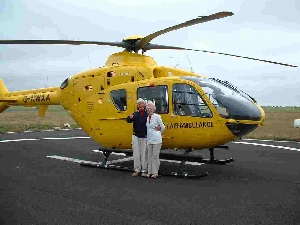 LES Pritchard (88) and Betty Kendrick (80) from Southport have walked 10 miles to raise funds for The North West Air Ambulance. The walk is made all the more significant with Les being virtually blind and deaf. He fondly refers to his friend Betty as his very own 'guide dog'..! The 10 mile walk took the pair from Heaton's Bridge in Ormskirk to Maghull via the canal.

Raising £705, the pensioners visited Blackpool Airport and North West Air Ambulance helicopter 'Katie' this week to see for themselves where their money will be put to use.

Lynda Brislin, charity chief executive for The North West Air Ambulance said:- "What Les and Betty have done is truly remarkable and I am speaking on behalf of everyone at The North West Air Ambulance when I say how grateful we are. We receive no government funding to stay operational, relying solely on the generosity of businesses and the public like Les and Betty to stay in the region's skies."

Betty volunteers at the North West Air Ambulance shop in Southport and after Les visited Betty at the shop, both agreed to take on the walk for the region's only air emergency service. The funds raised will fund almost 3 vital days of fuel for 'Katie'.

The NWAA is a registered charity receiving no government funding to stay airborne. At an operational cost of 1.8 million a year, the service in funded solely by the generosity of the public and businesses throughout the North West. The NWAA provides a vital service 7 days a week, 365 days a year, across 5,500 square miles, serving a residential population of seven million, and covers all major road incidents, sporting accidents and incidents in areas that have poor and restricted road access. On average the NWAA is called out up to 10 times a day in the summer.
Kids get ready for a Wii challenge!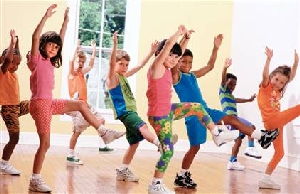 SCHOOL children across the region will be in their element this summer with a unique range of specialist sport and exercise activities. Venues in Ormskirk, Skelmersdale, Southport and Crosby will be hosting over 20 activities from expert instructors which range from yoga and Pilates to martial arts and street dance.
The 3 day camps are aimed at boys and girls aged 5-11 and are run by Burscough based Grassroots Sport UK in conjunction with the children's charity Barnardo's. The events aim to engage, motivate and inspire young people be it the school sports star or those traditionally less keen on P.E. Programme co-ordinator Emma Duxbury said:- "Our Easter events were a fantastic success and we expect to be over subscribed this summer, the children love taking part in activities they don't have access to during PE lessons in school."
Children attending the events will also have the opportunity to win a brand new Nintendo Wii games console. Emma said:- "The Wii is a great compliment to traditional sport and exercise as it appeals to children who play computer games whilst promoting physical activity due to the nature of the hand held controller. I played a tennis game on the Wii last week and felt myself getting out of breath as if it was the real thing!"
The dates and venues are:-
Ormskirk School, Ormskirk:- 24 July to 26 July 2007, 10am to 3pm

Sacred Heart Catholic College, Crosby:- 24 July to 26 July 2007, 10am to 3pm

King George V College, Southport:- 31 July to 2 August 2007, 10am to 3pm

Glenburn Sports College, Skelmersdale:- 7 August to 9 August 2007, 10am to 3pm

Places on the camps are strictly limited and must be booked in advance.
Early bird booking discounts are available.
For more information contact Grassroots Sport UK on 01704 897720.