Mosaic masterpieces unveiled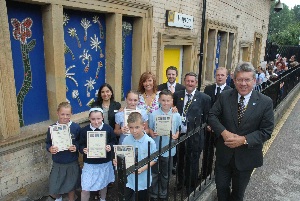 LARGER-THAN-LIFE wildflower mosaics have sprung up at three City Line stations, thanks to the efforts of a group of talented schoolchildren. The colourful mosaics, designed as part of the 'Wildflowers on the Move' project led by Merseytravel, Northern Rail and the National Wildflower Centre, now grace Broad Green, Huyton and Roby stations.

Around 100 children from 3 Merseyside schools worked under the guidance of Merseytravel's Chris Murphy and Ticky Lowe from the National Wildflower Centre to create the designs, which have given life to areas of the stations in need of sprucing up. They are now permanent displays on walls and disused windows for thousands of regular commuters and visitors to the stations to enjoy.

Councillor Ron Abbey, Member of Merseytravel's PTA, went to meet the children and to see the fruits of their labour for himself. He said:- "Every child who has contributed to this project has achieved something. They should be very proud. The mosaics are a lasting legacy of their creativity and the stations look all the better for them."

Neil Scales, Chief Executive and Director General of Merseytravel, said:- "Merseyside is a region that celebrates and promotes the creative spirit. We are delighted to have given the children a chance to contribute to brightening up these stations. They have created something special that will last for many years."

The schools that worked on the mosaics were:-
· Christ the King Catholic Primary School, Wavertree
· St Paschal Baylon Catholic Primary School, Liverpool
· Blacklow Brow Primary School, Huyton
New sporting era for Walton
SCHOOLCHILDREN and residents in Walton are celebrating the opening of their new multi-million sports centre. Pupils from Alsop School will join local people and civic guests for the official opening of the stunning £6 million Alsop Community Sports Centre.

It is a dual-use facility which will be shared by neighbouring Alsop School and the wider community, giving thousands of local people access to a first class leisure centre. The sports centre has taken almost 2 years to complete. It boasts a state-of-the-art Lifestyles gym, 25 metre swimming pool, cricket nets and huge sports hall. Some exercise machines are even equipped with their own TV screens to entertain fitness fanatics while they work out. It has replaced the worn-out Victorian facility at Queens Drive Recreation Centre, which closed in 2004 following a health and safety inspection. Queens Drive baths received almost 17 million visits during its 100 year lifetime.

Council Leader Warren Bradley will declare the new Alsop Sports Centre officially open. He said:- "We're committed to giving people in every part of Liverpool access to high quality leisure facilities, and I'm absolutely delighted that the doors are opening on this fantastic new sports centre for the people of Walton. It was my decision to demolish the old Queens Drive baths and start from scratch. It was a tough decision, but it's really paid off. It shows the huge benefits that can come from the community working together. The residents were determined to get the best and this is the result. It's an incredible facility, and one the people of Walton can be proud of. And as the first joint venture in Liverpool between a school and a community leisure centre, we hope it will be the blue-print for improving sports access across the city."

The sports hall and swimming pool will be used solely by Alsop High School between 9am and 5pm, but will be open for the whole community in the evenings. The Lifestyles fitness suite will be open to the public all day. There will be a varied swimming programme for the whole community, including lessons for adults and children, mother and toddler sessions, 50 plus sessions and swimming clubs.

Alsop is Liverpool's biggest school with more than 1,750 pupils, and headteacher Phillip Jamieson is welcoming a new sporting era for the school and the wider community. He said:- "A new sports centre has been a major priority for us for many years, and our new facility will really enhance sport and leisure not only for our pupils but the whole area. The importance of what has been built here cannot be underestimated, either in terms of the health of the local population or our school being able to provide a more rounded education to the children."

The new Alsop Community Sports Centre has been funded by the city council and the Big Lottery Fund.