Mersey Waterfront funding confirmed for Sefton Water Centre
Photograph by Patrick Trollope.

MERSEY Waterfront board members have approved £1.4million funding towards a new watersports facility in Sefton, expected to become one of the top destinations of its kind in the UK. The funds confirm Mersey Waterfront as a key funder of the Sefton Water Centre, a new £7million facility to be built on Crosby Marine Lake.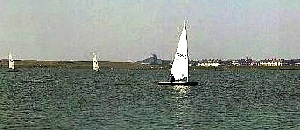 The centre will offer a mix of outdoor leisure activities, such as windsurfing, canoeing/kayaking and other non-motorised watersports for all physical abilities. It will also be home to conference and teaching facilities, specialist short stay accommodation, fitness facilities, and a cafe with lakeside terracing. Mersey Waterfront has previously funded a feasibility study for Sefton Water Centre and will be part funding its construction along with the Sports Lottery, European Regional Development Fund (ERDF), Sefton Council and others.

Carole Carroll, Deputy Director of Mersey Waterfront, says;- "Sefton Water Centre will have the potential to attract watersports enthusiasts from across the UK.
Sefton's coastline is already an outstanding natural asset and the arrival of Antony Gormley's Another Place focused national attention on Crosby beach.
This new facility will continue to build on that momentum, offering an outstanding recreational opportunity for locals and visitors alike."
The funds are part of the Mersey Waterfront's Succession Phase proposals first unveiled in April.
The Mersey Waterfront programme is funded through the Northwest Regional Development Agency (NWDA) and European Regional Development Fund (ERDF).
New exhibitions making waves at the Albert Dock
THE Albert Dock continues to showcase home-grown creative talent within its stunning World Heritage waterfront setting with the launch of 2 exciting new art exhibitions.

Following the highly successful launch of Site at the Albert Dock, a major new art gallery curated by Liverpool John Moores University and the Liverpool Biennial of Contemporary Art, with further exhibitions in partnership-working with local arts organizations, the Albert Dock is delighted to introduce the latest programme of artistic exhibitions. These latest editions are in line with the Albert Dock's new focus on leisure and tourism which aim to enhance the creative offerings that Liverpool has to offer.

The exhibitions currently running at the Albert Dock include a Peter Blake retrospective at Tate Liverpool, Conversations at Site as well 'Blake's Heaven' at the Artfinder Gallery.

Joe Edge Director of the Albert Dock Company said:- "We are delighted add to the exhibition programme, ArtLab and Meta. Two unique exhibitions providing visitors to the Albert Dock an opportunity to view unseen work from local artists, created on site. The Albert Dock Company is committed to supporting local artists as part of our leisure and tourism agenda.'
ArtLab – viewings until 30 July
ArtLab is an exhibition of prints, showcasing a group of artists from the North West region whose passion for Printmaking has encouraged them to develop their work in the professional printmaking studio based at the University of Central Lancashire.

The prints on show at The Albert Dock have all been created at ArtLab, where professional printmakers provide practical support and guidance using UCLAN's well-equipped facilities of silkscreen, lithography, non-toxic etching, relief and digital printmaking.

ArtLab provides a unique forum for the exchange of ideas and networking with bi-annual group exhibitions, guest speakers and regular demonstrations of specific contemporary printmaking techniques.
Meta – viewings from 23 July 2007 to 12 August 2007
A currently vacant space in the Grade 1 listed Albert Dock provides the starting point for this exciting project. For the first 5 days, the works of many artists will morph into a collaborative arts project creating a unique work inspired by the space and the waterfront.

Chris Wright of Meta explains:- 'We are so grateful to The Albert Dock Company for supporting this unique project. It is the first time we have collaborated in this way and I am very excited as the first stages of the work are undertaken. We are so lucky to be creating work in a unique World Heritage site, surrounded by the famous River Mersey and alongside so many creative people, with Site Gallery, Tate Liverpool, ArtLab all adding to the creative process, it's very exciting!'

Meta is collaboration between Karen Boulton, Rie Suto, Chris Wright and Liz Wroe