FORMBY RTC LEAVES MAN TRAPPED

ON Monday, 1 November 2010 at 12:05pm the Ambulance service called Merseyside Police and Merseyside Fire and Rescue to assist then after a three car road traffic collision on Church Road, Formby, between School Lane and Old Mill Lane. It is not clear as to what happened, but no witnesses have been requested nor have any arrests resulted from the incident. Upon arrival the emergency services found an elderly man, who is believed to be in his 90's, was trapped in his car following the collision. The road was then blocked off to allow the trapped driver to be freed from the car. This driver was then airlifted to Southport A&E by Air Ambulance and is believed to have suffered minor injuries. The road was re-opened at 3pm..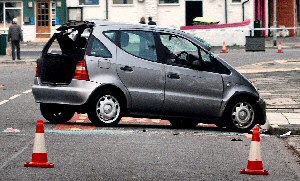 Disney dream is about to become reality for Merseyside boy
A Merseyside youngster who has a degenerative muscle wasting condition is set to leave the UK for the trip of a lifetime. 5 year old Ryan Noble from Liverpool will be a step closer to meeting his Toy Story heroes next month as he joins 24 other children battling life-threatening illnesses on an enchanting trip to Florida. Ryan, parents Suzanne and Mark, brother Sean (13) and sister Bethany (6), will enjoy precious time together on a magical week-long holiday, something they have struggled to do in recent years.

Diagnosed at just 2 years old, Ryan's condition, Spinal Muscular Atrophy (SMA), affects muscle tone, leaving him with the strength similar to that of a new-born baby. It means Ryan requires a wheelchair for his everyday needs. Since diagnosis he has had numerous chest infections often leading to pneumonia and resulting in frequent, often lengthy, hospital admissions. On top of this an accident in nursery which caused him to have a broken leg, highlighted that the youngster also had Osteoporosis which he has treatment for every three months.

The "Destination Dreams" trip is organised by national Charity, Caudwell Children, to help families coping with the trauma of their child's illness. The families will be supported by a team of dedicated volunteers and a medical team of paramedics and doctors, provided by the Charity.

Mum, Suzanne, said:- "Ryan is just so excited. He loves Toy Story and his absolute favourite is Mr Potato Head so he is amazed at the thought of seeing him. As hard as his condition is, Ryan always remains chirpy. He is the most adorable monkey anyone could meet and like all children his age he loves all things Disney and make-believe, especially Toy Story."

During the week long holiday the family will enjoy days out at DisneyWorld, Universal Studios and SeaWorld safe in the knowledge that there is a medical team there to support them should they need it.

Suzanne, added:- "Although life with SMA is the norm, I am aware of the pressures it puts on the rest of the children. Missing birthday celebrations and sleepless nights have become part of everyday life for them. Because of Ryan's needs he requires a lot more time and attention so I'm always conscious of how hard it has been on his brothers and sisters. We've missed a lot of them growing up. This holiday will give them something back and help us spend time together as a family."

The family will stay in their own villa at Give Kids the World, a unique resort specifically designed for youngsters with a high medical dependency, so special that a child can only be granted a wish to visit once in their lifetime.

To date, Caudwell Children has donated over £13 million to thousands of sick and disabled youngsters with more than 350 medical conditions throughout the UK.

Trudi Beswick, Chief Executive Officer for Caudwell Children, said:- "The Destination Dreams programme takes these families away from constant medical appointments and the stress the families and youngsters are often experiencing. It can also help families in terms of coping with the ordeal of their child's life-threatening illness by spending time with other families experiencing the same trauma. We are thrilled to be able to take Ryan and his family on this year's trip and hope they thoroughly enjoy their time in Florida."

Anyone who wishes to find out more about Caudwell Children or Destination Dreams should contact the charity on:- 0845 300 1348 or visit:- caudwellchildren.com.
Donation means Ryan can chase rugby dream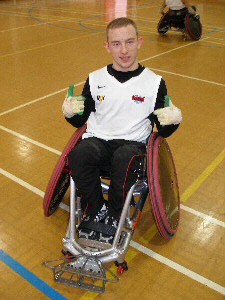 DREAMS of playing for Great Britain are within reach for a teenager who plays for a Southport wheelchair rugby team, after he received a donation worth over £5000.

Ryan Sheridan (18) has said he is "over-the-moon" after national charity, Caudwell Children, donated a specialist rugby wheelchair to aid his development in the sport. Ryan, who has Cerebral Palsy and lives in Bolton, has been given the Melrose Rhino rugby wheelchair to support his passion for the game. He currently plays for Southport-based team, West Coast Crash, where he is coached by ex-GB International, Paul Shaw.

Mr Shaw commented on Ryan's talent:- "From his first session at the club I could see potential in Ryan, his awareness and ease at picking up the game was immediately apparent. Even after a relatively short time playing I can see Ryan has a great future in Wheelchair Rugby."

Until now Ryan has had to borrow other player's wheelchairs to participate and therefore only been able to participate when a wheelchair was spare. But thanks to Caudwell Children, Ryan can now compete with his new teammates and chase his International dream.

National charity, Caudwell Children, funded the wheelchair as part of their 'Enable Sport' initiative. Supported by Barclays Wealth bank, the programme provides specialist sports equipment for disabled children to enable them to engage in sport. Launched last year, the Charity has already supported hundreds of disabled children across the UK with donations of everything from racing wheelchairs to javelins and weights equipment.

Ryan said:- "I'm delighted; this wheelchair means I can fully commit to developing in rugby and how far I take it is now all down to me. With the Paralympics coming to London in 2012 there has been a lot more focus on disability sports like Wheelchair Rugby and it is something I'm very proud to be a part of."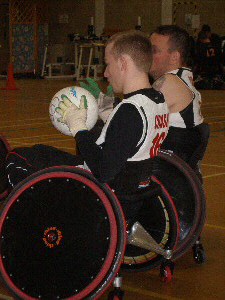 Trudi Beswick, CEO of Caudwell Children, said:- "Ryan's achievements since joining the club are very encouraging and we are especially pleased to be able to help him continue to take part in sport. In collaboration with Barclays Wealth, we have been able to locate a number of disabled children across the UK whose natural enthusiasm and ability may have been hampered through the lack of suitable equipment. We have now been able to support these children by providing direct donations of specially adapted sports equipment, allowing these youngsters to reach their full potential. We are immensely proud to be involved in the success of these youngsters and hope to support many more in the years ahead."
For further information about the Enable Sport programme contact Caudwell Children on:- 0845 300 1348 or visit:- caudwellchildren.com.
MEP warns Clegg on control orders
A Liberal Democrat Euro-MP has warned Deputy Prime Minister Nick Clegg that he must secure the abolition of control orders or face a backlash from his party.

Chris Davies says that people suspected of terrorist offences should be charged and brought to court, rather than face indefinite house arrest at the whim of the Home Secretary.

The MEP has told BBC Radio 4's 'Week at Westminster' programme that, to assist prosecutions, Liberal Democrats want juries to be able to hear evidence gained from monitored telephone calls. He said:- "Control orders represent a fundamental attack on the principles of liberty. Nick Clegg has to be seen to fight for their abolition and he has to win. If he does not, many Liberal Democrats will question the value of being in this party."

Control orders were introduced by the Labour government in 2005. Critics claim that they undermine the presumption of innocence by requiring no evidence to be presented before severe restrictions are placed upon an individual.

While Liberal Democrats are committed to their removal, Conservatives are divided. Justice Secretary Ken Clarke is backing their abolition, while Home Secretary Theresa May wants them to be retained.

Challenged to explain how he would address public concern about terrorist incidents, Chris Davies pointed out that control orders are not allowed in the USA. He said:- "Terrorists wish to undermine our values of freedom, democracy and liberty. If we sacrifice these principles ourselves, the terrorists win."