Making Liverpool a surf city
LIVERPOOL is launching a major drive to get more residents online - backed by the government's Digital Champion, Martha Lane Fox. It follows research which reveals 69% of people in the city are considered socially and digitally excluded because they don't have easy access to the internet, or know how to use it.

On Tuesday, November 9, Liverpool signed up to become a partner in the government's national Race Online 2012 project, which aims to get 4 million of the most disadvantaged people on to the internet within 2 years.

A pilot will see 50 families in 5 wards in the north of the city – Anfield, County, Kirkdale, Everton and Princes Park - given free computers, internet access and training. Some will become 'Digital Inclusion Champions' and encouraged to write blogs and articles for a dedicated neighbourhood website and encourage others to get online, as part of the government's Big Society initiative.

The project is being run in association with neighbourhood investor Plus Dane and the city council's ICT joint venture partner, Liverpool Direct Limited.

Councillor Jane Corbett, cabinet member for education, is to be appointed as Liverpool's 'Digital Champion', and will work with partner organisations to find ways of increasing the number of people who are connected to the information superhighway. Councillor Corbett said:- "It is absolutely vital that we close the massive digital divide which exists at the moment, as it is unjust and unfair. Most jobs nowadays need some form of computer skills and if you haven't got them then it makes it all the harder to find well paid work. Let's not forget the best shopping deals can be found on the internet, which saves low income families money which they desperately need. And it is far more convenient to pay bills online rather than spending time, money and effort queuing up at an office to do it. I am delighted to support a project that will provide computers and internet access for some families who will really benefit from it. This is an area where our young people are streets ahead of the older generation and I know from my own children that this is something which they we can depend on them to help us out with."

The plan will be formally unveiled at an inaugural Digital Inclusion workshop at Blackburne House, organised by Liverpool First - the city's local strategic partnership.

UK Digital Champion and co-founder of lastminute.com, Martha Lane Fox, said:- "As one of the most digitally and socially excluded places in the UK, Liverpool is an exceptionally important part of our local government strategy and I want to say a big thank you to the city for becoming a Race Online 2012 partner. It's fantastic news that Liverpool City Council is leading the way and encouraging people to get online by showing that it's thinking 'internet first' to provide better and more efficient services."

More information about Race Online 2012 is available online at:- raceonline2012.org.
Appeal to the north west to row for the RNLI's rescuers on annual fundraising SOS Day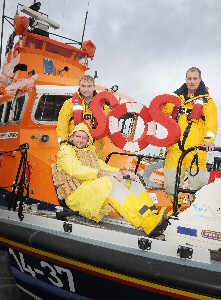 THE Royal National Lifeboat Institution (RNLI) is challenging people in the north-west to match the commitment shown by their volunteer lifeboat crews by taking part in the charity's largest annual fundraising event, SOS Day. Around the UK, thousands of supporters pledge to raise funds for the charity that saves lives at sea on SOS Day and this year the challenge to the north west is to help the RNLI row to victory.

RNLI Community Fundraising Manager, Mark Harding, said a rowathon is being held on the Mersey Ferry and 20 teams consisting of 6 rowers are being urged to sign up. He said:- "Over 10 hours on Friday, 28 January 2011, we're asking people in the north west to match the dedication shown by the RNLI's volunteer lifeboat crews by collectively rowing 247 miles, echoing the charity's 24/7 commitment to saving lives at sea."

The rowathon will see teams competing on 2 rowing machines on the Mersey Ferry as it takes commuters from Seacombe to Liverpool's Pier Head during the morning rush hour. The rowers will continue their challenge as the Ferry continues its daily cruise programme on the River Mersey.

Mark said the teams will row for a total of one hour in ten minute segments each to notch up the biggest number of miles during their time slot. He added:- "The rowathon is ideal for fitness fanatics – and those with a healthy sense of competition. It's going to be a real challenge to complete the 247 miles in ten hours and, with SOS Day falling at the end of January, we think it's a great incentive to keep people focused on their fitness over the festive season."

As well as the rowathon taking place on the Mersey Ferry, gyms and sports clubs are also invited to stage their own Rowathon events inviting members and local businesses to take part. There are lots of other ways to get involved on RNLI SOS Day. Some events take their inspiration from the SOS acronym and last year, people in the north west raised money for the RNLI by Singing our Songs, Supporting our Scuba and Supping our Soup.

The RNLI has launched its SOS Day website with ideas on how to get involved; fundraising events near you, fundraising materials and how to donate. By logging onto:- rnli.org.uk/sos supporters can register their events, share photos and ideas and be part of the RNLI's online supporters' community.

To enter a team for the rowathon on Friday 28 January, 2011 on the Mersey Ferry, log onto:- rnli.org.uk/rowathon. Registration is £10 and teams are asked to raise a minimum sponsorship of £200. Mark added:- "The RNLI relies on public donations and legacies to fund its work and receives no UK Government funding. We hope as many people as possible will get involved with the RNLI's SOS Day and help the charity's volunteer lifeboat crews go on saving lives at sea.'"