RopeWalks Looks to a Vibrant Future
THE ROPEWALKS area of Liverpool City Centre is getting a new image as it looks to build on its success as a creative and diverse quarter.

Over the last 10 years a high quality regeneration programme has seen the development of many creative industries, a number of high profile schemes, new public spaces and improved pubic realm. The area, which is also a major retail and leisure quarter also pioneered the revival of city centre living and has seen many success stories including the Foundation for Art and Creative Technology, East Village, base2stay Hotel , the Tea Factory and Vanilla Factory in the quarter.

It includes a large inner city conservation area containing many listed buildings, with part of this in the city's World Heritage Site. Many of the once neglected Georgian terraces have been restored using Townscape Heritage Initiative funding and are now home to thriving businesses or new residents.

During this period the RopeWalks Stakeholder Group – consisting of representatives of businesses and residents-was created and has been working with the City Council and other partners to build on the success of the physical regeneration of the area by making the most of its many assets.

The group is working to attract more tourists, shoppers, residents and evening entertainment seekers to the area while developing its knowledge economy through attracting more creative and independent businesses to RopeWalks as part of a hub and community with complimentary offers.

A marketing and promotion strategy for the overall area was commissioned from leading marketing consultants Blue Sail in 2009 which recommended the development of a new brand for the area and the creation of a website to showcase RopeWalks as an independent, alternative and bohemian quarter.

Led by the Stakeholder Group the new brand has been created by Uniform, who are based in the area, in conjunction with Digital Blah Blah who constructed the website.

The Stakeholders Group are currently in the process of constituting themselves as a Community Interest Company to give them a formal status that will provide a coordinated 'one voice' for the area and enables the group to also submit for their own funding to invest into RopeWalks.

Mike Stubbs, Director of FACT and chair of the Stakeholders Group said:- "Following years of change RopeWalks is without doubt a unique and exciting offer. It complements Liverpool perfectly in the 21st Century and is increasingly a must experience district for visitors on any trip to the city. Historic buildings provide an amazing backdrop, mixed in with a cool, vibrant, contemporary and alternative vibe that provides a dose of real Liverpool for everybody, young or old. It really is a great mix. As chair of the RopeWalks Stakeholder Group I am excited about working towards finishing the RopeWalks job over the coming years with the great community we have here and would like to thank everybody who has contributed to making RopeWalks the place it is today. There is still though work to do. This is beginning with the Stakeholders making the natural progression into a Community Interest Company. This will set the scene for another round of regeneration over the next three – five years that will be just as much about animating and managing the existing spaces and assets within RopeWalks, under a community and business led model, as working towards completing the remaining physical developments in the area."

Councillor Nick Small, city council cabinet member for employment and skills, said:- "RopeWalks has been one of the great success stories of Liverpool in last decade or so but it is an area which still has a lot of potential to be unleashed. It is an area which has enormous energy, creativity and diversity and one where those who live and work there are working together to promote the RopeWalks as a distinctive area such as the Northern Quarter in Manchester. The recent success of the Bold Street Festival shows what can be achieved by this approach. One of the priorities is to improve the economic vibrancy in RopeWalks and attract more digital and media companies to create jobs but we also have to ensure that it continues to be well managed, clean and environmentally friendly."
World Day of Remembrance for Road Traffic Victims
ROADPEACE NorthWest invite those who have been bereaved or injured, together with those who support them, to a special remembrance of all road crash victims. It will take place at 1pm at the memorial to road crash victims in St. John's Gardens, William Brown Street, Liverpool, L3 8EL, on Sunday 21 November 2010.

The event will also be attended by the Lord Mayor of Liverpool, Councillor Hazel Williams, and other North-West mayors, representatives of the emergency services and others who deal with road crashes and support road crash victims.

The Lord Mayor will read a poem she has written for the occasion. She said:- "This event will be an opportunity for us to remember those killed and injured on our roads and our thoughts will be with their families and friends. It is also a reminder that we must do all we can to ensure that there are no further tragedies with the devastation they cause."

There will be a minute's silence and the release of 6 doves in memory of those who have died on our roads. On average, 6 people die each day in road crashes in this country. The daily toll has reduced from 10 to 6 per day in recent years.

At 3pm there will be a service of remembrance at the Parish Church of Our Lady and St. Nicholas, Old Churchyard, Chapel Street, Liverpool, L2 8TZ. During the service the names of loved ones who have died will be read. The Choir from St. Chad's R.C. and C. of E. High School, Runcorn and St. Nicholas' Singers will be performing. Following the service there will be refreshments and the opportunity for people to talk to each other.
Blues Granted Planning Permission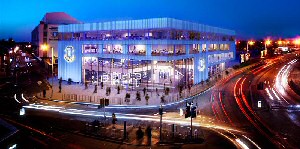 EVERTON Football Club has been granted planning permission to build a £9 million state-of-the-art retail and administration development on the existing Goodison Park footprint.

The new facility will be built on the site of the Club Everton lounge at the Park End of the stadium and will house a 900 square metre retail store, museum, cafe, a fan-focused hospitality lounge and office space. The 4- floor, self-funded development will also free up space within the corporate areas of Goodison, meaning capacity for corporate hospitality inside the stadium itself can be expanded.

Chief Executive, Robert Elstone, said:- "The new building is an exciting phase in the development of Goodison Park. It will help us grow our business by giving fans a new, purpose-built Club shop more than twice the size of Everton One, a new hospitality lounge targeted towards Evertonians wanting to socialise before and after games at Goodison and, at last, a proper home for the Everton Collection and other exciting attractions for our fans. It will also get the entire Everton team under one roof, something that is long overdue and an opportunity to further improve how we work as a team for the benefit of the fans."

Work will start before the end of the year and is expected to be completed in Autumn 2011. The project will be paid for entirely through the assistance of existing Club retail partner Kitbag and Stadium catering partner Sodexo.

Mr Elstone added:- "This new scheme is totally self-funded by partners so there is no net cost to the Club. In fact, it is cash-positive from the start."

Commenting on the decision, Tim Groom, Managing Director of Formrooms, the architects behind the design of the new development, said:- "It has been fantastic to work on a project that allowed us not only to be so creative, but also to work with a client who is so passionate about high quality design and achieving an end result that everyone associated with Everton Football Club can be proud of. The new development will be a gateway to the stadium and stands against a backdrop of one of England's most historic grounds, therefore it was crucial that whatever we designed was complementary to the existing area, while also reflecting the Club's ambition."