FILM REVIEW:- "BLACK SWAN"
Review written by Dariya Ibrayeva
DARREN Aranofsky's world is amazing. The main themes in his films are schizophrenia, talent, loneliness, desire and obsession. After the famous movie, Requiem for a Dream, he proved himself as an outstanding director and a master in manipulation of spectator's emotions. The viewers can immerse themselves in hero's consciousness, into the abyss, to find the hidden feelings and the suffering. Aranofski can easily make us feel disgust and pity for his characters. Black Swan is a movie about love of perfection, love of dance. In this film you can see the fantastic combination of grace and sophistication, intertwined with the gloom and danger.

Black Swan is staged to be a mind-twirl and is definitely not for everyone. It is a masterpiece that is just as much beautiful as it is nightmarish.

Nina Sayers (Natalie Portman) is a young ballerina in a New York City ballet company. She is beautiful, sexually naive and hardworking, but susceptible to mental illness. She lives with her overbearing mother, Erica (Barbara Hershey), a former ballet dancer, who is obsessed with Nina's career and exerts a suffocating control over her daughter. When charismatic artistic director, Thomas Leroy (Vincent Cassel), decides to replace prima ballerina Beth MacIntyre (Winona Ryder) for the opening production of their new season, Swan Lake, Nina has a chance to fulfil her dream and win the lead role. The Swan Queen is required to play both the sweet, virginal White Swan and the Black Swan, who represents guile and wickedness. Nina fits the White Swan role perfectly, however struggles with the Black Swan. Later, she meets Lily (Mila Kunis), another member of the ballet troupe. Lily is the personification of the Black Swan and has all that is hidden in Nina. To gain Swan Queen's title, Nina has to find the darker, more sensual side of herself, otherwise Lily will get the lead role. Lily makes friends with Nina and helps to unlock her life-force. Nina begins to get more in touch with her dark side - a recklessness that threatens to destroy her.

In Black Swan, Darren Aronofsky decided to show us the art of ballet from the different, heavy handed and unusual angle. He sells us this piece of art as something dark and off putting, starting from his decision to reveal what dance does to people's bodies. One mistake and you can crack a toe nail under your body weight. Black Swan has incredible style, but uses it not so much to dazzle but to confuse and intimidate. The result is that we can never be sure of what we're seeing.

Aronofsky is also fantastically playing with metaphors in this movie. For example, his camera doggedly keeps returning to the bent, bloodied toe wrapped beneath the silken ballet shoe, which shows us concealed pain which is destined gradually to work outwards. The heavy musical accompaniment generates a powerful psychological drama. Sometimes I did not even notice it because it was not a complement, it was a single entity with the film.

Regarding actors, I would like to mention that the whole cast is great. Undoubtedly, the main pearl of the film is Natalie Portman. She excels in this gripping ballet psychodrama and to my mind, deserves a nomination for the Best Actress. Only a truly gifted actress could feel so deeply that elusive line between the two origins of Nina's character, and Natalie Portman successfully got through that. Every detail complements this complex image: the despair and pain in her eyes, the panic in action, tremor in her voice and the most important thing - dance. Portman so subtly portrayed one of the most beautiful styles of dance - ballet, incredibly combining the weightlessness and the tenderness of the White Swan with sharpness and dynamics of the Black Swan. She was so natural that all the time I wanted to tell her: "Yes, I believe you".

Vincent Cassel is usually cast as a villain in American films. In Black Swan, he performed the role of exacting director, who is pushing the main heroine Nina to be less mannered and discover her darker side. In my opinion he was absolutely amazing and this role suited him perfectly.

I can't forget about Mila Kunis, who played the role of dark temptress Lily. She was so natural that probably I would like to see her more in this movie, however all the time she stayed on the background.

The way of filming, when the operator seemed to be watching the main character with a camera in his hands, is very original and reminds me one of the previous Aronofsky's films, The Wrestler (2008). The parallels between The Wrestler and Black Swan were marked by many people. And there was a reason. In fact, director Darren Aronofsky originally envisioned telling this story as part of the plot of The Wrestler and was actually developing a project that was about a love affair between a ballet dancer and a wrestler, but he realized pretty quickly that taking two worlds like wrestling and ballet was too much for one movie.

Like The Wrestler, the film is full of documentary detail and is devoted to a story of complete dedication to profession. But instead of a bloody and cruel ring, we find ourselves in a world of high art, which probably can be even more violent, and sometimes more bloody. Instead of the brutal hero Randy, we can see delicate and graceful heroine Nina, who dedicated all her life to ballet, is ready to strive for "ideal", beyond the point of exhaustion to psychosis. And if the hero of The Wrestler had to overcome physical limitations of his own body, the heroine of the ballet drama has to contend with psychological and sexual difficulties.

Being terrorised constantly; by mother at home, at work by demanding director and at night by dark dreams, the poor girl just hasn't much room to breathe and she slowly loses her mind. She keeps having visual hallucinations; her reflection in the mirror continues to stare at her after she has turned away; she is paranoiac that another dancer is plotting to take her role; Black Swan is admirable, thoughtful, self-pitying and disgusting. All these feelings are so strongly mixed that it is difficult to understand which one is stronger. The film has left an ambiguous impression, but what I can say for sure - it makes you think. This movie cannot leave you indifferent. And to my mind, even because of that it's worth watching.
Nina:- "I just want to be perfect"






Our popcorn rating = 4 out of 5
Good, but not perfect...
'An evening with Andy McNab'
Report by Patrick Trollope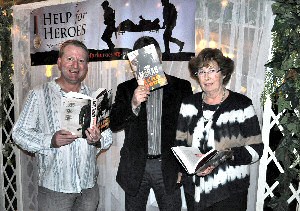 FORMBY Rotary Club in conjunction with Pritchards, held a fantastic charity evening event at the Tree Tops Country Hotel on Thursday, 27 January 2011. Before the event Andy McNab popped into Formby Village Pool to sign books with the public, but it was the evening that revealed more. The night time event was held to raise cash for 'Help for Heroes' and also included networking opportunities and a prize draw. Giving what proved to be a fascinating talk, the former member of the SAS and an author, Andy McNab, gave a very interesting talk about his time in the forces and also explained how he came to write books about it. This was a very interesting night that had every eye in the room transfixed on each and every word. In the interview he took time out to sign a few copies of his new book, "Zero Hour", and then went on to host a very interesting question and answer session.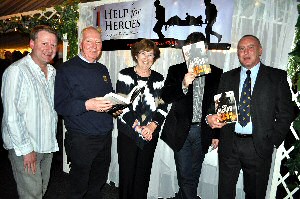 We have these fantastic audio clips taken from the event, with thanks to Andy, who gave us permission to record them. Sadly, for security reasons, we could not show his face on the two photographs. To see more about his new book which he is currently writing or to find out more about him and his other books go to:- andymcnab.co.uk and also for more information about Formby Rotary by using this link. Thanks Andy for delivering a very informative and entertaining night.
USHER PERFORMS AT THE LIVERPOOL ECHO ARENA
Pictures by Ian Fairbrother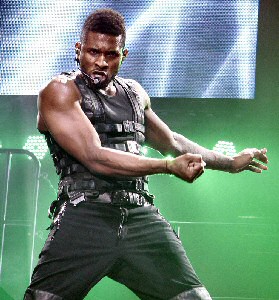 THE Multi Platinum selling recording artist Usher played to a packed out Liverpool Arena on Sunday, 30 January 2011. joining him on stage was special guest Tinchy Stryder as the main support. This R&B icon is on a tour the UK for the first time in 6 years and so successful was the event that an extra date has now been added to his tour, for Liverpool. Yes, if you missed the show, he is back on 24 February 2011. Click for availability of tickets at:- accliverpool.com.