Blind Sailing Association helps Henshaws feel the thrill of the open water
HENSHAWS group members from Liverpool have attended residential sail training weekends in North Wales, run by the UK North Blind Sailing Association, which is also Liverpool based. The weekends were arranged by Rob Owen, who was registered blind in 1993 and became involved in sailing through the Guide Dogs Adventure Group, he set up the UK North Blind Sailing Association with a group of like-minded friends, with the aim of involving blind and partially sighted people in sailing as a sporting and social activity.

The courses introduce people to sailing, with three visually impaired crew, one professional instructor and one volunteer sighted crew to each boat. "Sailing is an ideal sport for visually-impaired people. Because it's a confined space, once people have found out where everything is and got used to moving around the boat under sail, learning boat handling skills is then quite safe and enjoyable." says Rob.

Lillian Juma, who has been visiting the Henshaws Manchester resource centre after losing her sight suddenly, said about the sailing weekends:- "I just went along as it looked like fun, but it was more than just fun, I loved it, it was wonderful and very exciting. This is something I'd like to do competitively – I'm thinking of London 2012!" Lillian Joked

National Lottery funding paid for 44 blind people to take part in the courses and covered their transport, accommodation, food, boat hire and professional instructors and the charity managed to get other funding to help them buy a minibus and to enable them to run further courses of a similar nature this year. Rob has just found out that they are in the semi finals of the National Lottery Good Causes Awards, in the Best Sports Projects category, which aims to showcase the best projects funded by national lottery money, and are hoping to get through to the next round.

Rob added that:- "Visually impaired people can feel isolated and this gets them out of the house and gets them socialisingb and that can be the most difficult part. We need all the votes we can get as this is a very important competition, which will help Blind sailing gain national recognition"
Bill Milner, Merseyside Area Manager at Henshaws said:- "This project has improved the lives of many of the people we work with at Henshaws, and it would be great for them to gain national recognition."

To vote for UK Blind Sailing Association in the awards, and to help them to continue their great project, visit the National Lottery Awards website.
Hidden Merseyside
THIS year we are going to explore places in and around Merseyside that most people do not know about, yet are amazing laces to visit or to shop at. What we want is your help to find them. Email us to day to:- news24@southportreporter.com with your ideas as to where we should visit!

A NEW DOUBLE ACT IN SOUTHPORT AS POUNDBAKERY JOINS SAYERS CAFE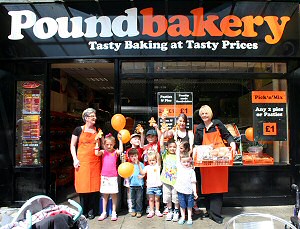 THE Sayers café, on Lord Street, in Southport, was opened by local tribute double act "Laurel and Hardy" almost 2 years ago now, but the duo have returned and now they have opened the town's first Poundbakery! Poundbakery, which is owned by Sayers, has been expanding throughout the North West, opening it's first of what is now 35 shops, just under a year ago. Until now the 2 brands have been operating completely on a standalone basis, but Southport's customers will find that this has changed. Southport is the first town to trial both of them together and it is hoped it will be the first of many across the North West.

Gill White, Area manager for Sayers and Poundbakery said:- "Poundbakery will be a great hit here in Southport and will complement the Sayers café just perfectly as it really doe have something for everybody. Customers looking for a quick 'on-thego' tasty lunch can take advantage of Poundbakery with its self serve counters, speedy service, tasty baking and tasty prices. Meanwhile people with more time on their hands can still enjoy a leisurely lunch or the famous Sayers breakfast in the café."

Cathy added:- "Poundbakery's success lies in its simplicity as our customers just get it, everything they buy costs a £1 such as any 2 pasties or pies for £1, large loaves for £1, treat yourself to 2 delicious fresh cream cakes for £1 and even freshly made sandwiches for £1 so lunchtimes need never be expensive again."
The Stylistics are heading to Liverpool....!
ON Monday, 28 November 2011, The Stylistics, who are the best-known Philadelphia soul groups of the 1970s, will be in the UK, in Liverpool! They are famed for their ballads, graced by soaring falsetto vocals and lush yet graceful productions, which has made them one of the most successful soul groups of all time. The band had twelve straight U.S. top ten hits, including Stop, Look, Listen (To Your Heart), You Are Everything, Betcha by Golly, Wow, I'm Stone in Love with You, Break Up to Make Up and You Make Me Feel Brand New. The group will be on stage from 7.30pm at the Liverpool Philharmonic on the Monday and tickets are from £22 to £28. To book and for more information go to:- liverpoolphil.com