No more kissing in North West – just hard and fast CPR to the Bee Gees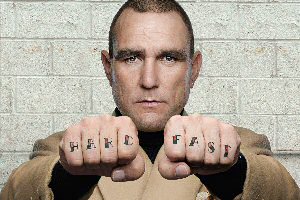 UNTRAINED bystanders in the North West should give the kiss a miss during CPR and concentrate on giving just chest compressions to the tune of Stayin' Alive, according to one of the UK's largest medical charities.

The British Heart Foundation (BHF) has become the first organisation in the UK to actively promote Hands-only Cardiopulmonary Resuscitation (CPR). Backed by the Resuscitation Council UK, the charity says anyone who doesn't have CPR training should now ignore the kiss of life in favour of hard and fast compressions in the centre of the chest.

A UK-wide poll by the BHF showed almost half (46%) of people in the North West were put off helping because of a lack of knowledge about CPR. Nearly a fifth (21%) worried specifically about the thought of the kiss of life or catching an infectious disease.

The survey also revealed almost half (42%) of respondents in the North West feared they'd be sued if they did something wrong, despite the fact there has never been a successful case of that kind in the UK. The BHF is urging people to put aside their concerns and intervene because without CPR of some kind there is a very small chance of someone surviving cardiac arrest.

But people in the North West were among the most likely to do CPR compared to some other regions in the UK; 48% said they'd stop and help someone in cardiac arrest.

So a national campaign, including a new TV advert featuring Hollywood hard man Vinnie Jones, will help show how simple Hands-only CPR can be, encouraging more people in the North West to help if somebody is in cardiac arrest. The charity is even urging people to hum the Bee Gees classic Stayin' Alive to get the tempo of chest compressions right.

Chest compressions with rescue breaths will continue to be part of gold standard CPR and taught during formal training, including on the BHF's Heartstart courses.

Ellen Mason, Senior Cardiac Nurse at the British Heart Foundation, said:- "The kiss of life can often be daunting for untrained bystanders who want to help when someone has collapsed with a cardiac arrest. Hands-only CPR should give lots of people in the North West the confidence and know-how to help save someone in cardiac arrest, the ultimate medical emergency. It's been shown that hard, fast and uninterrupted chest compressions are better than stopping compressions for ineffective rescue breaths. It's very simple; call 999 and then push hard and fast in the centre of the chest at a tempo similar to Stayin' Alive by the Bee Gees. If you're untrained or unconfident about the kiss of life give Hands-only CPR a go instead - it could help save someone's life."

The TV advert, showing throughout January, will reveal a compassionate side to Vinnie Jones as he performs Hands-only CPR to Stayin' Alive in a deserted warehouse, flanked by two dancing henchmen.

Former Chelsea footballer Jones said:- "There really shouldn't be any messing about when it comes to CPR. If you're worried about the kiss of life just forget it and push hard and fast in the centre of the chest to Stayin' Alive. Hands-only CPR should give 'Have A Go Heroes' the confidence to step in and help when somebody is in cardiac arrest."

Watch the advert and find out more about Hands-only CPR, including a training video presented by Vinnie Jones, at:- bhf.org.uk/handsonlyCPR.
Could you save a life? Find out how.. Join St John Ambulance Today!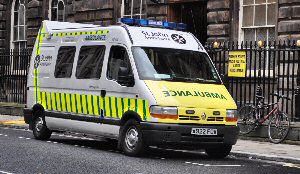 WITH over 1000 members in the Merseyside area, St John Ambulance are best known for their volunteer work at large, professional events, providing first aid cover and community first ain training, but they do far more than that! Many units have doctors and other medical professionals in them, who not only do volunteer work, but also help to train members to very high standards, with the very latest in training. To find out more, why not look at joining and learn how to save a life? It is vital work and most of the hidden work that St John Ambulance does is vital to your community. By joining it not only helps your local area, but also improves your CV! Also you children can join as well. Badgers start at age 5 and run up to aged 10. Cadets stat at age 10 and run up to age 16. Adults members are aged 16 plus. To find your nearest Unit, call 0151 298 28 38 or email volunteer@merseyside.sja.org.uk. Also for more information about St Jon ambulance go to:- sja.org.uk.
'Homecoming' for Liverpool artist Contemporary artist John Kirby exhibits at Walker Art Gallery
FROM Friday, 13 January 2012 until Sunday, 15 April 2012, the Walker Art Gallery will host the first retrospective of work by the Liverpool born artist, John Kirby. The Living and the Dead - Paintings and sculpture by John Kirby explores the themes of gender, religion, sexuality and race and Kirby's complex relationship with each of them. Comprising over 50 paintings and 10 sculptures The Living and the Dead - Paintings and sculpture by John Kirby brings together a group of work spanning over three decades, from early paintings made at the Royal College of Art in the 1980s to more recent works.

Highlights in the exhibition include Lost Boys (1991), an image of fighting altar boys that references Kirby's Catholic upbringing and is one of the artist's favourite paintings and White Wedding, (2006), depicting a civil partnership. The sculptures in the exhibition are a more recent development in his artistic practice but also a continuation of it, with his ceramic sculptures of heads and figures bearing a striking similarity to the figures found in his paintings.

Solitary figures in strange worlds dominate Kirby's work; this has led many people to compare his work to that of Réne Magritte. However Kirby cites the Polish-French Modern artist Balthus and American realist painter Edward Hopper as his major influences. The claustrophobic interiors charged with an uncomfortable eroticism seen in Balthus' paintings, and statements about the human condition in Hopper's, are themes that also underpin Kirby's work.

Originally from Tuebrook, Liverpool, John Kirby was born in 1949 into a deeply religious Catholic family. He left school at the age of 16 and worked as a shipping clerk in Liverpool. He then travelled to Calcutta to work with Mother Teresa in a children's home. It was only in the 1980s that he began to pursue an artistic career, studying at St Martins School of Art and the Royal College of Art in London.

He has exhibited extensively throughout Europe and the USA and his work is held in both private and public collections including that of artist David Hockey.

John Kirby says that:- "To be asked to show my work at the Walker Art Gallery is a great honour, a homecoming I couldn't have imagined even in my wildest dreams. As a child during the 1960s a favourite destination of mine was the Walker. My favourite paintings were Samson by Solomon J. Solomon and The Triumph of the Innocents by William Holman Hunt. It was in the Walker that I first encountered the naked body and felt bewildered stirrings. The heady combination of art, sex and religion was an intoxicating mix in those otherwise innocent times and something that heavily informed my work in later years."

Exhibition curator and head of fine art at the Walker Art Gallery, Ann Bukantas says:- "Not only is John from Liverpool with a great fondness for the Walker Art Gallery, but he is also an extraordinary artist. For many years we have been keen to work with him, not least because of his international reputation, so we're thrilled to be displaying his paintings and sculpture at the Walker and to be able to introduce his work to our visitors."

John Kirby is represented by Flowers Gallery.

For more information about The Living and the Dead - Paintings and sculpture by John Kirby and the Walker Art Gallery to go online at:- liverpoolmuseums.org.uk/johnkirby.

Sid you know that the Walker Art Gallery is located on William Brown Street, Liverpool and that admission is FREE?
It is open from 10am to 5pm every day and for more information visit:- liverpoolmuseums.org.uk/walker.

First Aid at School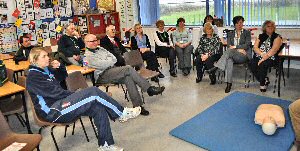 RANGE High School has now entered into the world of not just basic First Aid, but moved on a little further through a very generous benefactor, Mr Bernard Powell, who has made a most wonderful donation of a defibrillator to the school. 9 members of Range High School Staff were given instruction on how to operate the machine in case of a possible heart problem. This very small compact machine is designed to restore a casualty's heart rhythm after a cardiac arrest. It is for the use of the School, and of the local area, in the event of such an emergency, while the casualty is awaiting the arrival of an ambulance.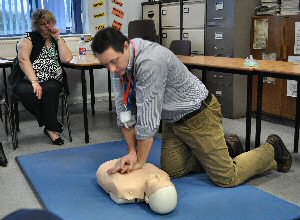 The pictures show the Staff members being trained on the 2 types available, one of which is now theirs. They were quite excited by the machine and also a little apprehensive. That was soon dispersed as they practised the operation on the mannequins, in groups of three. They also asked some very searching and interesting questions which were answered by the
instructor, thus putting them all at their ease. Let us hope it is not needed, but if it is, how wonderful that there are people now able to use it to save life.