Unwanted puppies and dogs handed in over festive period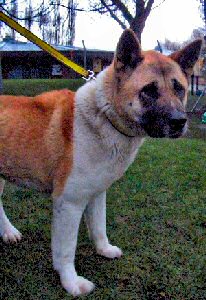 THEDogs Trust Merseyside has its hands and kennels full with 7, 5 week old puppies, which came to the Rehoming Centre just days after Christmas. Staff believe that the 4 males and 3 females may have been bred to be sold as Christmas presents and then abandoned when they didn't sell.

Georgina Lowery, Rehoming Centre Manager at Dogs Trust Merseyside, says:- "We really are full to the rafters with gorgeous puppies. It's shocking that so many people still buy puppies on a whim and don't understand the lifelong commitment involved. It's equally irresponsible when owners do not get their dogs neutered and allow them to breed, resulting in unwanted litters, which are then handed in to rescue centres like ourselves."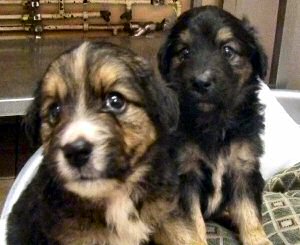 And it's not just puppies that suffer at this time of year. Just a couple of days before Christmas, staff found a 5 year old Akita chained to the Rehoming Centre gates. She was very thin and obviously frightened. Staff have named her Tinsel (photo on top of page) and she will be ready for re-homing in the New Year. Tinsel will need a home with someone used to large dogs where she will not be left for too long on her own. She can live with children over 12.

Dogs Trust Merseyside will be taking bookings for the puppies in the New Year and they will be ready to go home once they are eight weeks old.

If you are interested in re-homing a dog from Dogs Trust Merseyside, please call them on:- 0151 480 0660 or visit the centre at:- Whiston Lane, Huyton, Liverpool, L36 6HP.

Dogs Trust is the UK's largest dog welfare charity, caring for over 16,000 stray or abandoned dogs through its network of 18 Rehoming Centres across the UK and Ireland. For more information, why not visit their website?

Dogs Trust is working towards the day when all dogs can enjoy a happy life, free from the threat of unnecessary destruction.

DESPERATE SCOUSEWIVES, THE WIZARD OF OZ, THE CIGGIE RUN, LADIES DAY AND MUCH MORE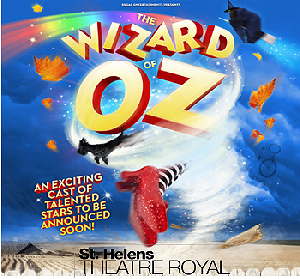 ST Helens Theatre Royal is delighted to announce its fabulous Spring 2012 Season, crammed full with a feast of exciting shows for audiences to enjoy throughout the 1st 6 months of the year. The Theatre Royal will continue to build on its growing reputation for presenting the best in local comedy plays, hosting and producing a plethora of exciting productions including Lynne Fitzgerald & Claire Bowles' hilarious play about the real housewives of Liverpool, Desperate Scousewives which opens the season from Wednesday, 25 January to Saturday, 28 January. Following this, Regal Entertainments' sell out smash hit production of John Evans' The Ciggie Run starring Brookside Favourite Louis Emerick will make a welcome return to the theatre from Wednesday, 8 February to Sunday, 12 February 2012. This side splittingly funny comedy follows three likely lads as they attempt to beat the credit crunch with a fag buying trip to Cuba, throw in a gangster with a pregnant teenage daughter and you're certainly in for a hysterical evening at the theatre.

April heralds the arrival of Katie Tracey's critically acclaimed play Ladies Day from Wednesday, 11 Aril to Sunday, 15 April 2012, which comes to the Theatre Royal after a sell out smash hit at the Liverpool Actors Studio in 2011. Directed by the one and only Pauline Daniels, Ladies Day charts 5 girls from a Liverpool biscuit factory as they visit Aintree Races for Ladies Day at the Grand National. Rounding off the season of plays, Bare Faced Cheek Productions return with their production of The Full Monty from Tuesday, 22 May to Saturday, 26 May 2012. Will the guys go all the way? Only one way to find out ladies... For younger audiences, we go over the rainbow and into the land of the Wizard of Oz for a wonderful Easter treat from Wednesday 4 April 2012 to Monday, 9 April 2012. Frank L Baum's classic tale will once more re-awakened on stage by Regal Entertainments, starring Leah Murphy (Aladdin, Peter Pan –both at St Helens Theatre Royal) as Dorothy and Radio City 96.7's Claire Simonsen as Glinda the Good Witch. The Spring Season also sees visits from Clive Webb & Danny Adams' Circus Hilarious Sunday, 26 February 2012, Vienna Festival Ballet with their stunning interpretation of Tchaikovsky's Swan Lake on Sunday, 1 April 2012 and Fireman Sam on Saturday, 12 May 2012, all of which are sure to keep your whole family entertained this spring.

Other season highlights include a visit from the hilarious Dave Spikey, Saturday, 18 February 2012, as he explores life's situations in which 'Words Don't Come Easy' in his brand new tour. There are also visits from Medium Colin Fry on Friday, 29 April and Psychic Phoebe Kelly, who will be joined by Radio City 96.7's Pete Price for an extra special evening on Saturday, 30 June 2012. Music plays a big part in the season with visits from renowned Irish singers Brendan Shine Thursday, 10 May and Dominic Kirwin Thursay, 17 May 2012, as well as an appearance from legendary group The Drifters on Friday, 4 May 2012. There is also a plethora of fantastic tribute acts including Magic of Motown on Friday, 16 March, The World's Best Michael Jackson Tribute Show, on Saturday, 24 March, then Dancing Queen – The Amazing ABBA Tribute Band on Sunday, 29 April 2012 and Lets Hang On, a tribute to Frankie Valley and the Four Seasons on Saturday, 9 June 2012.

These shows are just a number of the fantastic spring offering from the St Helens Theatre Royal. All performances are listed in more detail on the Theatre's website. For more news and updates and information, visit:- sthelenstheatreroyal.com.