New Pier Head landing stage open for business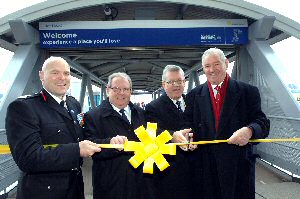 MERSEY Ferries new Pier Head landing stage has now opened for its first passengers. The £8 million home to the world famous Mersey Ferries was formally opened this morning, completing the award winning Pier Head Ferry Terminal development. £3.8 million of the scheme was funded by European match funding through the European Regional Development Fund (ERDF), and the landing stage will also boast Merseyside Fire and Rescue's (MFRS) river based community fire station. The operation of the facility will continue the ongoing collaboration between Merseytravel, MFRS and Peel Ports.

Neil Scales, Chief Executive of Merseytravel said:- "This has been a significant project for Merseytravel, and a long time coming. We are delighted to see the world famous Mersey Ferries calling once again at the spiritual home in front of the Three Graces. Our tourism strategy contributes more than £34 million and the equivalent of 742 full-time jobs to the region's economy each year."

Councillor Mark Dowd, Chair of Merseytravel added:- "We have made a significant investment in this scheme and now boast a world class departure point for the ferries. We know our passengers, from near and far, will appreciate the new facilities, and it demonstrates our commitment to the regions visitor economy."

Many elements were incorporated to make the landing stage as eco-friendly as possible. Neil Scales added:- ""t was important to make sure that as well as providing a comfortable waiting experience for ferry passengers, the landing stage reflected the environmental standards displayed in the landside ferry terminal building, which is recognised nationally for its sustainable credentials."

Rainwater will be harvested from the Pier Head Terminal building for recycling. Extensive use of insulation, key to any low energy design, has been used throughout to retain heat and to keep the structures cool in warm weather. Blue tinted glass has been incorporated to minimise both heat and glare from the sun, whilst river washed pebbles have been used for the roof finish because their pale grey colour helps to naturally reflect sunlight and to keep the structures cool.

Sir Howard Bernstein, Deputy Chair of the North West European Regional Development Fund Local Management Committee said:- "The new Pier Head landing stage represents an excellent improvement in facilities which will be felt by both visitors to the region and regular local users - the local economy, businesses and people will all benefit."

Charity ambassadors for 2012
A national charity is looking to recruit ambassadors locally in Merseyside to ensure disabled children and their families get the support they so desperately need.

Newlife Foundation is appealing for help as an increasing number of families of disabled and terminally ill children across the UK are struggling to cope with cuts to services and the rising cost of living. This is reflected in calls to the charity's national helpline, which have more than doubled in the last year.

The role of Newlife ambassadors is two-fold. The first is to raise the charity's profile across the county so that more parents are encouraged to access the range of Newlife services, including its Nurse Helpline, equipment grants and support for those with life-limiting conditions.

The second is to initiate and support fundraising opportunities. Newlife Foundation has provided 124 families in Merseyside with equipment grants totalling £176,145.35; however, the need is growing.

The charity is unique in guaranteeing that 100% of donations goes directly to help children in need, and allows fundraisers to ring-fence their cash to support families in their own county. So local ambassadors know that any funds they raise will benefit local children.

Newlife ambassadors come from all walks of life including builders, property developers and retired professionals such as teachers, solicitors, doctors, nurses and social workers; from business people to mums and dads who are concerned about child healthcare. The charity provides full support for all Newlife ambassadors, including presentation packs.

Speaking at the launch of the national ambassadors' scheme, Newlife's CEO Sheila Brown said:- "Becoming a volunteer ambassador is probably the closest you can get to directly influencing and improving the life of a disabled child in your area. We don't spend money on sending you pens and junk mail, advertising on bill boards or paying celebrities. Newlife uses its funds to help real children in real cities, towns and villages across the UK and the ambassador programme helps us to reach families so they know they are not alone."

Sheila, who was awarded the OBE for services to child health, added:- "It won't cost you anything to become an ambassador, but the job will bring its own rewards. If you feel you have something to give and want to make 2012 a year to remember please contact us by calling our community fundraising team on freephone on:- 0800 988 4640, email us or visit our website."
Man arrested and bailed on suspicion of a racially aggravated public order offence
MERSEYSIDE Police confirm that a 20 year old was released on Police bail on Sunday, 8 January 2012, pending further enquiries, following a suspected racially aggravated incident at Anfield on Friday, 6 January 2012. The incident is reported to be under investigation by officers in the Force's Liverpool North CID and football unit, with the assistance and cooperation of Liverpool Football Club.