Calling all Southport Manufacturers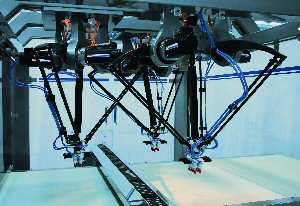 THE British Automation and Robot Association (BARA) is looking for all Southport manufacturers that wish to take advantage of the latest government funding to improve efficiencies and create more jobs. The initiative available to all sizes and types of manufacturers, but mainly small and medium sized enterprises, aims to improve competitiveness, raise productivity and ultimately create more jobs for the region. The programme involves the Government paying for an independent Automation Consultant to visit the premises, carry out a detailed assessment and write a report. Southport Manufacturers to Benefit from Jobs Created by Robots!

Contrary to common belief, almost without exception, automation and robotics actually increase the number of jobs and raise profit margins through greater capacity and efficiency.

Mike Wilson Chairman of BARA said:- "The recently launched government funded Automating Manufacturing Programme will provide great assistance to companies looking to use automation to improve competitiveness and drive growth. We at BARA are aware that there are many Southport companies that would qualify and benefit. Together we could help make UK manufacturing some of the best in the world and create more jobs that Southport needs."

It takes 5 minutes to apply for a government funded Automating Manufacturing review and will result in a totally independent automation expert carrying out an initial assessment, visiting premises to conduct a confidential detailed review and provide a report. To apply please contact via sending an email for further information to Grant Collier.
Energy price cut announcement sparks new price war
THE announcement from 1 of the big 6 energy suppliers that they would cut their gas prices could sparks a price war. EDF Energy said gas bills will be cut by 5% after a decline in wholesale prices. It is thought the other energy firms will follow suit with similar price cuts. The news comes on the same day as a report from the consumer group Which? that placed EDF among the worst for customer satisfaction.
The report stated that the 6 major energy companies received over four million complaints in 2011, with billing being a common problem for customers. However, most don't make a claim for compensation and as a result, £4 million of compensation remains unclaimed.

Danny Jatania, CEO of Pockit said that they welcome the cuts in energy bills, but there are still more ways for customers to enhance savings. Danny said:- "Whether the energy companies increase or decrease their prices, there will always be a large contingent of people who are paying over the odds for their gas and electricity and savings can be made by shopping around. Customers shouldn't simply be searching in terms of price comparison, they should also pay closer attention to other benefits they can receive from the energy firms that will help them save money. For example, many cashback rewards can be generous and are definitely worthwhile. Some companies are also fitting smart meters that will help customers to save money by providing accurate bills. Quite often, customers begin to make savings when they are aware of their bills and the current prices they are being charged but the report from Which? shows that too many costumers aren't taking this seriously enough. Once all the energy firms convert to simpler pricing structures, it will be much easier for customers to assess how much they are paying and how their payments can be reduced."

New look Aquax UK set to grow in 2012
ON London, 11 January 2012 the P1 AquaX UK is set to go from strength to strength in 2012 thanks to progressive category changes, the introduction of modified skis and a major overhaul of the calendar.

This season AquaX UK will be contested by riders in three new classes whilst Promoter Powerboat P1 has added an all-new AquaX UK Cup in response to massive interest from potential new riders. All 5 races are being staged alongside the P1 SuperStock national powerboat championship in a combined event under the title 'Grand Prix of the Sea'.

"We have had an incredible response to our 1st season of racing and lots of potential new riders have contacted me to say they'll be racing in AquaX this season. We have had very positive feedback from the riders and now have a clear strategy to broaden the series' appeal." commented AquaX Championship Manager Lisa Barsby.

The change in format is designed to make AquaX even more accessible so the Amateur and Elite categories are gone opening the new classes to more riders. Technically skis remain strictly stock except for handling modifications and like for like (no performance gain) replacement parts.

Newcomers will still qualify for the reduced rate RYA Race licence fee and stand a chance of collecting the Rookie of the Year Award at the end of the season. The age limit in the 200 class will be lowered to 16 years at the time of competition, whilst in all other classes will remain at 17 years at the time of competition.

The 2012 AquaX Championship Classes are as follows:-

► AquaX 200 - modified 2-stroke and stock naturally aspirated 4-stroke 160bhp and below

► AquaX 250 - stock 4-stroke including turbo/supercharged 250bhp and below

► AquaX 300 - stock 4-stroke including turbo/supercharged 300bhp and below

Championship points will not be awarded in the AquaX Cup as its purpose is to spice up competition for the overall winner on the day. The AquaX Cup is open to all, including those with modified craft falling outside the new class structure, but who want to experience the thrill of racing in AquaX.

"AquaX Cup opens up the racing and makes it more competitive for all the riders as it brings more potential skis into the ring. Although there are no points, the AquaX Cup riders can fight for overall victory and if they win the race can claim the top step of the podium and the weekend's glory." added Barsby.

New venues Eastbourne and Hull join favourites from last season Plymouth, Cowes and Liverpool:- Barsby said:- "We have a new-look calendar with two new venues and much easier access for the racers. I am really looking forward to July when we will team up with the Eastbourne Extreme Festival giving us the opportunity to launch skis from the beach and create a really colourful and exciting atmosphere. Hull is another new venue with a great marina location in walking distance from Hull's city centre. The high banks of the river Humber will provide excellent views of the race course, allowing the spectators to get close to the action."

P1 'Grand Prix of the Sea' events 2012:-

► Saturday, 19 May to Sunday, and 20 May – Plymouth

► Saturday, 16 Juneto Sunday, and 17 June – Hull

► Saturday, 14 July to Sunday, 15 July – Eastbourne

► Saturday, 25 August to Sunday, 26 August – Cowes

► Saturday, 15 September to Sunday, 16 September in Liverpool, but it is subject to change!

The 2012 P1 AquaX UK Series is being launched on Thursday, 12 January 2012, at the Autosport International Show for the second year running. Both P1 AquaX and Superstock UK will be exhibiting on Stand 6245 throughout the show until 6pm on Sunday, 15 January 2012.