A new era is a turnaround for Liverpool!
Photographs and video by Patrick Trollope.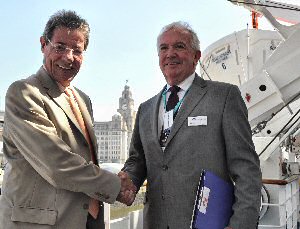 LIVERPOOL has again started a new chapter in its maritime history, as it re-launched as a turnaround cruise destination. The well loved luxury liner, formally known as the Cunard Countess, now the Ocean Countess, was back in Liverpool on Tuesday, 29 May 2012, as she took centre stage, becoming the first cruise liner to take on passengers for the start of a cruise in the River Mersey, after a staggering 40 year gap.
On the day the newly elected Mayor of Liverpool, Joe Anderson who led a 2 year campaign to get the cruises to start and finish in the city said:- "This is the dawn of a new era for Liverpool's cruise industry. I have fought hard for turnaround status for our city, because I know how important it is; for our economy, for our tourism offer and for our unrivalled reputation as a major maritime city. I'm so delighted that the hard work has paid off and the momentous day when Liverpool welcomes its first turnaround cruise is finally here. The arrival of Ocean Countess is a symbol of Liverpool's renaissance as a major cruise port. We can now look forward to a brighter, stronger, more prosperous future for our cruise industry. It will create and sustain many jobs and make Liverpool the preferred choice for thousands from all over the world. It's a fantastic day for our city."
To mark this historic departure, 17,593 grt, 541ft vessel was given a fantastic civic send-off, under an amazing blue sky and in calm waters. Just before the Cruise and Maritime Voyages' Ocean Countess sailed off on the scheduled 8 night Diamond Jubilee cruise to the Scottish Highlands & Islands, the Liner Terminal turned into a stage. But even before that, passengers had been greeted by Liverpool's Town Crier, Terry Stubbings.
Plus inside the terminal they got treated to live music by a local Ukulele band! But the highlight for many would have been, an amazing performance by opera singer Danielle Thomas was delivered against the background of ringing of church bells. But just to add to the occasion and to complete the event confetti cannons where used to deluging the landing stage with red white and blue confetti. But the honour of the "scattered silver coins" ceremony, an accent ritual of wishing the vessel and all who sail on her well, went to Countess of Derby. She also delivered a fantastic speech alongside Her namesake liner on the landing stage.
just before the passengers boarded we joined a select few members of the press, business community and council onboard Ocean Countess to take a look around and also to have lunch and sample the atmosphere that the passengers where soon to enjoy. We have to say that we found Her very impressive and the food and drink was on par with what Cunard offered on the QE2, if not better.
Liverpool was the birthplace of the cruise liner industry, despite some ports clams in resent years, but it was fantastic to see this historic re-birth after years of decline.
Chris Coates, Commercial Director, Cruise & Maritime Voyages (CMV) said:- "Cruise & Maritime Voyages are delighted to be the first cruise operator sailing from Pier Head. We are firmly committed to developing our business on Merseyside and the wider North West region."
We would like to thank both Cruise & Maritime Voyages (CMV)'s Operations Director, Richard Barstow and Commercial Director Chris Coates, for not only entertaining us all on the day, but also for showing Liverpool its commitment to the City and also supporting our heritage. Thanks to them and a few other operators, Liverpool can once again enjoy its maritime heritage.
Also keep an eye on the web, as a new website is also being launched. Set up by Culture Liverpool, in partnership with Liverpool Vision, it will provide a range of information about cruises to and from Liverpool, highlighting the City's attractions and tourism offers.
Liverpool City Council's Cabinet Member for Culture and Tourism, Councillor Wendy Simon, said:- "A city like Liverpool, with its proud maritime heritage, deserves to be a major cruise destination, so it's absolutely wonderful to see this becoming a reality. Liverpool is so much more than a port of call or a 1 night stop over, it is a place which demands to be explored and discovered. Turnaround facilities means thousands of cruise tourists can spend longer in our city, and fully experience all that we have to offer. And there's so much to experience. Liverpool is a city like no other, and passengers on-board the Ocean Countess who witness our civic ceremony will see that this is a city that likes to do things differently. It's this uniqueness which we believe will keep cruise tourists coming back to our city again and again."
Sadly for owners of the Cruise & Maritime Voyages, some of the party atmosphere was lost that night, following an overnight electrical fault onboard Ocean Countess. The fault resulted in the loss of main engine power for 3 hours, so the ship had to be diverted to the port of Holyhead in Anglesey, as a precautionary measure. Full power and services was then restored.
Richard Bastow, Operations Director of Cruise & Maritime Voyages commented:- "The safety and comfort of our passengers is our main priority and we are really sorry for this disruption to the start of their cruising holiday."
But after seeing what we did on-board, we do not think passengers would be to disappointed by that slight disruption. We truly speak for many of the region when we say:- "Good luck to Cruise & Maritime Voyages and we look forward to seeing them back in the Mersey later this year!"
Please enjoy our video highlights and also our photograpic coverage of this historic inauguration day.
Cruise and Maritime Voyages' Ocean Countess Stats

Gross Tonnage
17,593grt
Registry
Madeira
Classification
Lloyds Register
Passenger Capacity
800
Cruising Speed
17.5 knots
Passenger Decks
7
Lifts
2
Electric Current
110/220V AC
Stabilised and air conditioned
Officers & Crew
International
Cruise Staff & Entertainers
British & International
Dimensions
Length
537ft (164m)
Beam
75ft (23m)
Draft
20.3ft (6.40m)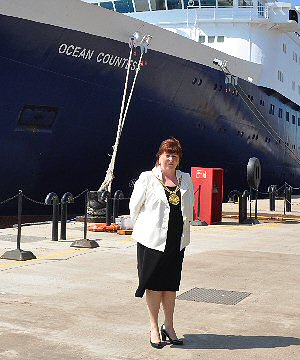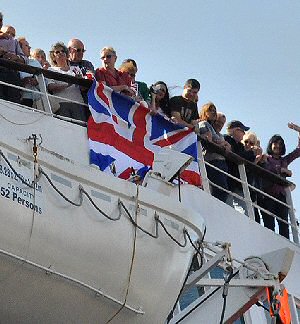 PAGE 1 of 8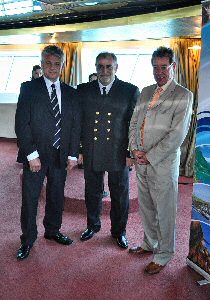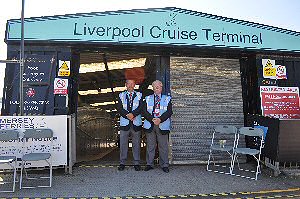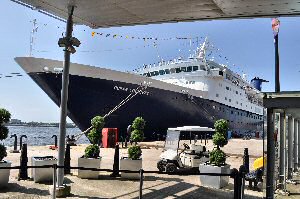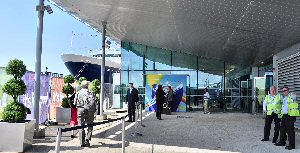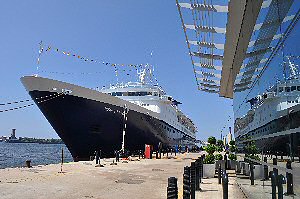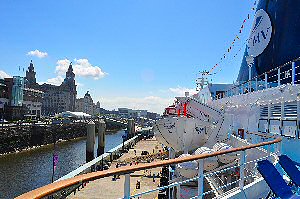 Did you know??? CMV has now launched its new 2013 Preview Brochure and next year will be the company's 4th year of operating cruises from Liverpool since their launch in 2009? The Ex UK cruise specialist operates the 2 classic and traditional style ships Ocean Countess and Marco Polo. Both ships are highly rated on independent websites and this year were nominated for a number of top awards.
The company is established as a major player in the UK cruise business and since its formation in 2009, expects to have carried more than 120,000, mainly British cruise passengers, by the end of summer. The new programme features the 2 CMV cruise ships Marco Polo and the Ocean Countess, each carrying up to 800 passengers. They are offering a choice of 60 cruising holidays sailing from:- London Tilbury, Hull, Newcastle, Edinburgh Leith, Liverpool and Bristol Avonmouth.
The public are also being encouraged to book early, by 31 July 2012, to secure the cabin of their choice, with a saving of up to 25% on published full fares. Prices on early bookings will also be fully guaranteed against surcharge. In addition FREE port parking and a complimentary 'Bon Voyage Cabin Pack' which includes wine, chocolates and a fruit selection will be offered for bookings made by the end of the Jubilee holiday weekend.
Chris Coates said:- "Our research, based on customer satisfaction questionnaires, shows that 95% of our passengers rated the enjoyment of their CMV cruise experience as excellent or good. Our feedback also shows that convenient departure ports and interesting itineraries coupled with top quality service, delicious food and outstanding entertainment are our recipe for success. For 2013 we will continue to provide a traditional maritime experience for our guests. We will be exploring new horizons in addition to our perennial favourites and taking our passengers to many of the places not always accessible by the larger resort ships."
You can visit:- cruiseandmaritime.tv for more details of their new programme and also did you know you can also take a look closer look still via their main website?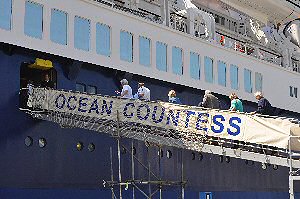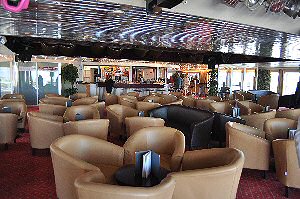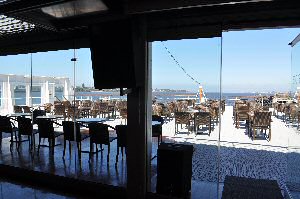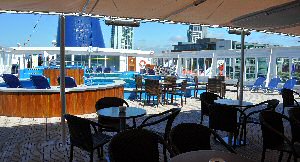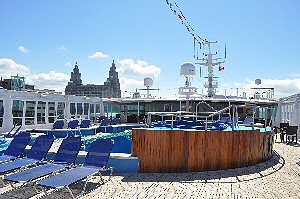 If you like the photos, please order them and do not copy them. Keep this site online.... Click on here to find out how you can get you copy of these photos.