RESIDENTS URGED TO MARK DEAF AWARENESS WEEK BY FOLLOWING CHARITY'S TOP TIPS
DURING Deaf Awareness Week, 6 May 2013 to 12 May 2013, charity Action on Hearing Loss is urging Southport residents to follow some top communication tips to avoid excluding or making everyday life more difficult for family, friends or colleagues with hearing loss.

Action on Hearing Loss is inviting people to visit the charity's website and view videos highlighting how difficult communication is for people who live life without sound. Visitors are asked to take part in a fun challenge to lipread and guess what is said in examples of everyday conversation; and see just how confusing they can be for people who are deaf.

The charity is promoting the following top tips during Deaf Awareness Week:-
► Make sure you have the person's attention before you start speaking.

► Places with good lighting (so that you can be lipread) and little or no background noise are best for conversations.

► Face the person so you can be lipread and speak clearly, using plain language, normal lip movements and facial expressions.

► Check whether the person understands what you are saying and, if not, try saying it in a different way.

► Keep your voice down as it's uncomfortable for a hearing aid user if you shout and it looks aggressive.

► Learn fingerspelling or some basic British Sign Language (BSL).

Chief executive of Action on Hearing Loss, Paul Breckell, says:- "1 in 6 Southport residents have some form of hearing loss and many will avoid social occasions or have difficulty at work because they struggle to follow conversations when speaking with people who are not deaf aware. During Deaf Awareness Week, we are encouraging everyone to follow our communication tips and help remove unnecessary barriers preventing people with hearing loss from joining in everyday fun conversations or important discussions."

Action on Hearing Loss is also encouraging Southport residents to 'ZIP IT!' during Deaf Awareness Week by holding a sponsored silence in school, college or workplace to raise vital funds for the charity's life-changing work supporting people with hearing loss.

Step out to celebrate bluebells and birdsong
Photo below of Gorse Covert, at RSPB Burton Mere Wetlands, was taken and supplied by Ron Thomas.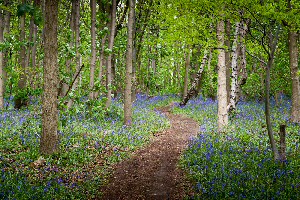 THERE'S a sight to behold at RSPB Burton Mere Wetlands this spring; one of the best bluebell woods in the region. Each spring, the nature reserve's Gorse Covert, a 3.4 hectare semi-natural ancient woodland, bursts into colour with a blanket of bluebells and people are invited to celebrate the arrival of these popular flowers.

Despite flowering later than last year due to the long winter, most of the flowers are now beginning to emerge, creating a stunning sight. Hundreds of visitors to the Dee Estuary reserve were delighted last year to see such a pristine area of the iconic British flower.

Duncan Halpin, Visitor Officer Intern at Burton Mere Wetlands, said:- "When I came here last May as a visitor, I was blown away by the intensity of the bluebell woodland. The contrast of the deep blue against the greenery of the trees creates a lovely setting for a relaxing stroll. It's the ideal place to enjoy a walk on a spring afternoon."

The woodland, Gorse Covert, can be enjoyed independently by all visitors to the reserve, however a 'Bluebells and Birdsong' guided walk will be held on Saturday, 18 May 2013, from 10am to noon. Enjoy a stroll into the heart of the bluebell woodland and with the help of a guide, discover more about other interesting flowers and wildlife. The nesting birds will also be in fine voice, adding to the tranquil atmosphere and creating the perfect opportunity to gain tips on how to pick out the songs of different birds.

The cost is £5 per person, discounted to £3 for RSPB members. This includes a hot drink and a snack in the reception hide and covers the entry fee to the reserve for non-members.
To book a place, phone:- 0151 353 8478 or via email.
For more information about Burton Mere Wetlands and the full events programme for the Dee Estuary reserve please see:- rspb.org.uk/deeestuary.